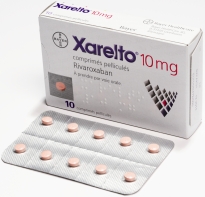 比較像是廣告,給大家純粹參考:
The product of a joint development programme between Bayer and Johnson & Johnson, Xarelto (rivaroxaban) is a new oral anticoagulant. It is indicated for the primary prevention and treatment of venous thromboembolism (VTE) following orthopaedic surgery. Clinical trials are also ongoing to evaluate Xarelto (rivaroxaban) for stroke prevention in patients with atrial fibrillation and acute coronary syndrome.
Xarelto (rivaroxaban) is now in phase III development, where it is being evaluated in more than 40,000 patients. At the end of October 2007, Bayer submitted a Marketing Authorisation Application to the EMEA for approval to market Xarelto (rivaroxaban) for VTE prevention after major orthopaedic surgery of the lower limbs. Data from the pivotal RECORD 3 trial were used to support the submission.
In July 2008, the companies received the green light from European regulators for the use of Xarelto (rivaroxaban) for VTE prevention in adult patients undergoing elective hip or knee replacement surgery.
Filing for regulatory approval in the US is expected in 2008.
The burden of VTE
VTE is the formation of a blood clot or thrombus in the vein, which may occlude the vein or rupture and lodge elsewhere in the body, such as in an artery.
VTE encompasses both deep-vein thrombosis (DVT) and pulmonary embolism (PE), in which clots form in the deep veins of the leg rupture and become lodged in the pulmonary artery. After heart attack and stroke, it is the third most common cardiovascular disease.
In the US alone, it is estimated that two million people are affected by VTE. Of these, 60,000 die from PE, which occurs when a clot in the deep veins of the leg breaks away and becomes lodged in the pulmonary artery. In the majority of cases VTE is a silent disease, producing no overt symptoms and as a consequence it is probably under-diagnosed.
Patients undergoing major orthopaedic surgery (hip or knee replacements and hip fracture) are at an especially high risk of developing VTE. Without anticoagulant therapy, between 40% and 50% of patients undergoing hip replacement surgery suffer VTE. This rises to 70–80% in hip fracture surgery.
Targeting coagulation factor Xa
The formation of a blood clot is the end product of a highly regulated enzymatic cascade process called the coagulation cascade. Factor Xa is the critical link in the coagulation cascade, where the extrinsic and intrinsic pathways meet to form the common pathway. Its formation enables the conversion of prothrombin to thrombin, which catalyses the formation of fibrin from fibrinogen. Since Factor Xa is the only enzyme that can cleave prothrombin to thrombin, it is central to the clotting cascade.
Xarelto (rivaroxaban) is a direct Factor Xa inhibitor that can be administered orally. A once-daily dose produces 24-hour inhibition of Factor Xa and thrombin generation levels. By contrast, Arixtra, an approved direct Factor Xa inhibitor, has to be administered as a once-daily subcutaneous injection. Low molecular weight heparins such as enoxaparin that currently underpin anticoagulant therapy for VTE prevention also have to be administered by injection.
If approved, Xarelto (rivaroxaban) would offer the convenience of oral administration without the need for coagulation monitoring. This would be a major step forward in anticoagulant therapy.
Xarelto supported by large patient database
With more than 40,000 patients expected to receive Xarelto (rivaroxaban) in clinical trials, it is considered to be the most studied oral direct Factor Xa inhibitor in development.
Clinical trial data on this new drug are certainly very encouraging, with evidence from the pivotal phase III RECORD3 (Regulation of Coagulation in major Orthopaedic surgery reducing the Risk of DVT and PE) trial suggesting that rivaroxaban may be superior to standard therapy for VTE prevention following orthopaedic surgery.
In this trial, in which 2,531 patients underwent total knee replacement surgery, DVT, non-fatal PE and death (composite primary endpoint) occurred in 9.6% of rivaroxaban-treated patients compared with 18.9% of enoxaparin-treated patients (RRR 49%; p<0.001).
A significantly greater reduction in risk of developing major VTE (the composite of proximal DVT, non-fatal PE and VTE-related death) was also observed in this trial: 1.0% of rivaroxaban-treated patients versus 2.6% of enoxaparin-treated patients (RRR 62%; p=0.01).
Rivaroxaban-treated patients also had a much lower frequency of symptomatic VTE, another secondary endpoint (1.0% vs. 2.7%; RRR 64%). Consistent with other trial data, the frequency of major bleeding events was similar to enoxaparin (0.6% vs. 0.5% respectively).
Marketing commentary
Standard anticoagulants include oral agents, such as the vitamin K antagonist warfarin, and aspirin, together with injectable heparins, which are currently the mainstay of VTE prevention following orthopaedic surgery.
Data from the Xarelto (rivaroxaban) clinical trials programme suggest the time is fast approaching when a once-daily, oral anticoagulant that has a low propensity to interact with other medicines and doesn't require regular monitoring becomes a clinical reality. In Europe it is now poised to compete with Boehringer Ingelheim's Pradaxa (dabigatran etexilate), which was also recently approved.
原始網頁連結:http://www.drugdevelopment-technology.com/projects/xarelto/