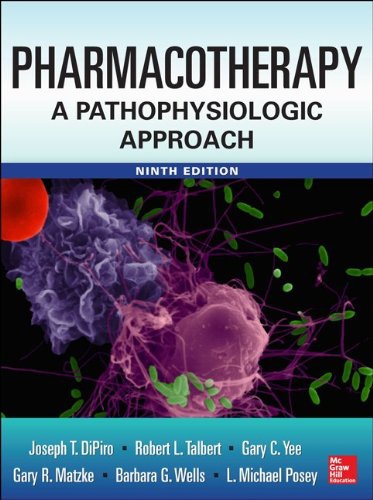 Pharmacotherapy: A Pathophysiologic Approach
Update
10/16/2013
New Guidelines for Management of Acute Pancreatitis
Joseph T. DiPiro
Executive Dean and Professor, South Carolina College of Pharmacy, University of South Carolina, Columbia and Medical University of South Carolina, Charleston
Topic: In August 2013, the American College of Gastroenterology (ACG) revised and updated the guidelines for management of acute pancreatitis (AP) including definitions, diagnosis and management.1
Background: Acute pancreatitis is one of the most common gastrointestinal diseases accounting for significant morbidity and health care expense. The percentage of hospital admissions related to pancreatitis continues to increase.
New Information: The ACG guidelines update the definitions of acute pancreatitis and provide revised recommendations for diagnosis, initial management, use of endoscopic retrograde cholangiopancreatography, and the role of antibiotics, nutrition and surgery.
Two distinct phases of AP are described: 1) early phase (within 1 week), characterized by the systemic inflammatory response syndrome (SIRS) and/or organ failure; and 2) a late phase (longer than 1 week), characterized by local complications.
Only selected recommendations from the guideline are presented here:
The diagnosis of AP is most often established by the presence of two of the three following criteria: abdominal pain consistent with the disease, serum amylase and/or lipase greater than three times the upper limit of normal, and/or characteristic findings from abdominal imaging.

Hemodynamic status should be assessed immediately upon presentation and resuscitative measures begun as needed.

Aggressive hydration, defined as 250-500 mL per hour of isotonic crystalloid solution should be provided to all patients, unless cardiovascular and/or renal comorbidities exist. Early aggressive intravenous hydration is most beneficial in the first 12 to 24 hours and may have little benefit beyond that point.

In patients with severe volume depletion, manifested as hypotension and tachycardia, more rapid repletion (bolus) may be needed.

Lactated Ringer's solution may be the preferred isotonic crystalloid replacement fluid.

Fluid requirements should be reassessed at frequent intervals within 6 hours of admission and for the next 24 to 48 hours. The goal of aggressive hydration should be to decrease the blood urea nitrogen.

Antibiotics should be given for an extrapancreatic infection, such as cholangitis, catheter-acquired infections, bacteremia, urinary tract infections, and pneumonia.

Routine use of prophylactic antibiotics in patients with severe acute pancreatitis is not recommended.

The use of antibiotics in patients with sterile necrosis to prevent the development of infected necrosis is not recommended.

In patients with infected necrosis, antibiotics known to penetrate pancreatic necrosis, such as carbapenems, quinolones, and metronidazole, may be useful in delaying or sometimes totally avoiding intervention, thus decreasing morbidity and mortality.

Routine administration of antifungal agents along with prophylactic or therapeutic antibiotics is not recommended.

In mild AP, oral feedings can be started immediately if there is no nausea and vomiting, and abdominal pain has resolved.

In mild AP, initiation of feeding with a low-fat solid diet appears as safe as a clear liquid diet.

In severe AP, enteral nutrition is recommended to prevent infectious complications. Parenteral nutrition should be avoided unless the enteral route is not available, not tolerated, or not meeting caloric requirements.
Interpretation and Application: The recommendations provide guidance to clinicians to establish the severity of AP and detailed recommendations on acute treatment and management.
- DiPiro JT. New Guidelines for Management of Acute Pancreatitis. Pharmacotherapy: A Pathophysiologic Approach, October 16, 2013. http://www.accesspharmacy.com
Related to Chapter 46 Pancreatitis, in Pharmacotherapy: A Pathophysiologic Approach, 8th Edition, Joseph T. DiPiro, Robert L. Talbert, Gary C. Yee, Gary R. Matzke, Barbara G. Wells, L. Michael Posey. McGraw-Hill, New York, 2011.
Reference
Tenner S, Baillie J, DeWitt J, et al. American College of Gastroenterology Guideline: Management of Acute Pancreatitis. Am J Gastroenterol. 2013;108:1400–1415. [

PubMed® abstract

]