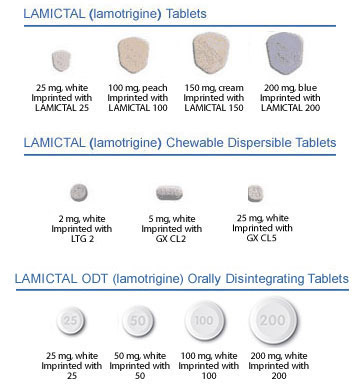 Lamictal也出口溶錠了
News Author: Deborah Brauser
May 21, 2009 — Lamotrigine (Lamictal, GlaxoSmithKline) orally disintegrating tablets (ODT) have been approved by the US Food and Drug Administration (FDA) for maintenance treatment of bipolar 1 disorder acute mood episodes and as an antiseizure treatment of epilepsy. This is the only antiepileptic treatment currently available in an orally disintegrating formulation.
This new "disintegrating on the tongue" format is an important factor for clinicians treating chronic disorders in which patients may have difficulty swallowing the medications they need. In fact, one large recent survey study showed that 23% of patients in a general practice setting reported difficulty swallowing.
"Patients with epilepsy or bipolar disorder can have difficulty swallowing tablets. Unfortunately, this problem may go unrecognized, because many patients don't discuss this issue with their healthcare providers," said Daniel Lieberman, MD, associate professor and clinical director of the George Washington University Department of Psychiatry and Behavioral Sciences, Washington, DC, in a news release. "Orally disintegrating tablets...offer an option for [these] patients."
These new disintegrating tablets were approved on the basis of their demonstrated bioequivalence to Lamictal tablets and were developed in collaboration with Eurand NV. Lamotrigine is indicated with other medications for the long-term treatment of bipolar 1 disorder to lengthen the time between mood episodes in people aged 18 years or older, and to treat certain types of seizures, along with other medications, for those aged 2 years or older or alone for those aged 16 years or older.
Lamotrigine ODT will be available in 25-, 50-, 100-, and 200-mg doses, with an expected commercial availability by early July 2009. Patients should be advised to keep their same prescribed dose when switching from tablets to the new ODT formulation. For those new to lamotrigine, patient titration kits will be available containing 5 weeks of treatment.
Warnings and precautions regarding the drug include cases of serious rashes. The rash rarely causes death. These skin reactions are more likely to happen within the first 2 to 8 weeks of treatment and occur most often in children between 2 and 16 years of age. The risk of developing a rash is higher if taking lamotrigine while also taking valproate or divalproex sodium or if taking a higher starting dose of lamotrigine or increasing the dose of lamotrigine faster than prescribed.
Lamotrigine (in both formulations) can also cause other types of allergic reactions or serious problems that may affect parts of the body such as the liver or blood cells.
In addition, because all antiepileptic medications increase the risk for suicidal thoughts or behavior in patients taking these drugs for any indication, any unusual changes in mood or behavior should be monitored by the clinician and the patient, as well as by the patient's family and caregivers.
Finally, medication errors have occurred in the past because the names Lamictal and lamotrigine were confused with the names of other commonly used medications. Depictions of all Lamictal formulations are shown in the medication guide that accompanies the product. Patients should be strongly advised to visually inspect their tablets to verify that they are the correct drug and formulation each time they fill their prescription. Common adverse effects of lamotrigine include dizziness, headache, blurred or double vision, lack of coordination, sleepiness, nausea, vomiting, insomnia, tremor, rash, fever, abdominal pain, back pain, tiredness, and dry mouth.
Clinical Implications
The FDA has approved an orally disintegrating tablet formulation of lamotrigine for the treatment of epilepsy and bipolar I disorder. The tablets are intended to improve compliance in patients who have difficulty swallowing, a condition that affects an estimated 23% of individuals in general practice settings.

Lamotrigine orally disintegrating tablets are bioequivalent to lamotrigine tablets and will be available in 25-, 50-, 100-, and 200-mg strengths. Lamotrigine tablets are available in 25-, 100-, 150-, and 200-mg strengths.

Lamotrigine orally disintegrating tablets may cause serious rashes. The rash occurs mainly within 2 to 8 weeks of treatment, and children aged 2 to 16 years are more likely to develop the rash.