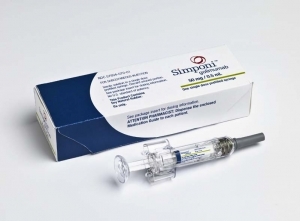 上次也跟各位提過這個藥物:
The US Food and Drug Administration (FDA) has approved golimumab (Simponi Aria, Janssen Biotech, Inc), intravenous (IV) formulation in combination with methotrexate, for the treatment of moderately to severely active rheumatoid arthritis (RA), the company has announced today.
Golimumab is a tumor necrosis factor (TNF) inhibitor previously approved for subcutaneous injection in patients with moderate to severe RA.
The SIMPONI ARIA dose regimen is 2 mg/kg given as an intravenous infusion at weeks 0 and 4, then every 8 weeks thereafter, according to the company.
Because patient injection technique may vary, giving golimumab IV in an infusion center ensures the patient is getting the proper dose, John Hardin, MD, director of osteoarthritis at the Arthritis Foundation in Atlanta, Georgia, and a professor of medicine at Albert Einstein College of Medicine in Bronx, New York, told Medscape Medical News. "Logistically, it's easier in some cases with IV infusions" as well, Dr. Hardin added.
The approval follows a phase 3 international multicenter, randomized, double-blind, placebo-controlled (Golimumab, an Anti-TNF-alpha Monoclonal Antibody, Administered Intravenously, in Subjects with Active Rheumatoid Arthritis Despite Methotrexate Therapy [GO-FURTHER]) trial of 592 adults with active RA despite methotrexate (MTX) treatment. Results at 24 weeks were published online June 1, 2012, in the Annals of Rheumatic Diseases. Results at 52 weeks were reported in a company press release November 12, 2012, and presented at the 2012 Annual Meeting of the American College of Rheumatology (ACR).
The study included patients with active RA (at least 6 tender and 6 swollen joints) who had received MTX for 3 or more months.
Patients were randomly assigned in a 2-to-1 ratio to receive either golimumab 2 mg/kg IV over the course of 30 (±10) minutes or placebo, combined with MTX, at weeks 0 and 4 and then every 8 weeks thereafter.
The primary endpoint was the proportion of patients with a 20% improvement in their ACR score (ACR20) at week 14. This was achieved by 58.5% (231/395) of the patients in the IV golimumab group compared with 24.9% (49/197) of the patients in the placebo group (P < .001).
Placebo patients with less than 10% improvement at week 16 could cross over (early escape) to golimumab and receive it at weeks 16 and 20. All patients in the placebo group crossed over to IV golimumab at week 24.
Radiographs of the hands and feet were obtained at baseline, week 24 (week 16 for the early-escape group), and week 52. Radiograph progression was evaluated using the modified van der Heijde-Sharp (vdH-S) score, which measures the degree of joint destruction.
At week 24, patients in the IV golimumab group had a mean change (±standard deviation) in total vdH-S score of 0.03 (±1.90) from baseline compared with a mean change of 1.09 (±3.19) in those patients who received placebo (P < .001).
At week 52, patients randomly assigned to receive IV golimumab had a mean change of 0.13 (±3.11) from baseline compared with a mean change of 1.22 (±3.98) in those who crossed over from placebo to IV golimumab (P < .001).
Secondary endpoints included ACR50 at week 24, improved European League Against Rheumatism (EULAR)/Disease Activity Score (DAS) 28-C-reactive protein (CRP), improved Health Assessment Questionnaire score, and structural damage inhibition on radiography.
At week 24, ACR50 was achieved by 34.9% of the patients in the IV golimumab group and 13.2% of the patients in the placebo group (P < .001). ACR70 was achieved by 17.7% of patients in the IV golimumab group and 4.1% of the patients in the placebo group (P < .001). Most patients maintained that response through week 52 (ACR20, 82%; ACR50, 71.7%; ACR70, 60.9%; EULAR/DAS 28 CRP good/moderate response, 80%).
Adverse Events
At week 24, adverse events (AEs) had occurred in 53% of patients in the IV golimumab group and 49% of those in the placebo group; serious AEs occurred in 4% of patients in the IV golimumab group and 2% of those in the placebo group.
At week 52, the rate of AEs was 65% in the IV golimumab group, and the rate of serious AEs was 9% in those who received IV golimumab.
The most common AEs were "infections and infestations," including upper respiratory tract infection, urinary tract infection, and nasopharyngitis. Upper respiratory tract infection was the only AE reported in more than 5% of patients, with the exception of exacerbation of RA in the placebo+MTX group (5.6% of patients).
No serious opportunistic infections occurred through week 52. In the IV golimumab group, a single case of tuberculosis was reported and a patient died from a myocardial infarction secondary to community-acquired pneumonia.
Brian Kenney, senior director of global immunology and biotechnology, pharmaceutical communication, and public affairs at Janssen Global Services, LLC, commented on the development in an email interview with Medscape Medical News. IV golimumab is "an important, new anti-TNF-alpha therapeutic option for patients and rheumatologists, in particular, for adults living with moderately to severely active [RA] who are candidates for and naive to biologic therapy and who may be unwilling or unable to self-administer a subcutaneous treatment like once-monthly Simponi," he said.
Dr. Hardin has disclosed no relevant financial relationships.