September 22, 2010 — The US Food and Drug Administration (FDA) today announced approval of fingolimod (Gilenya, Novartis), the first of the long-anticipated oral treatments for multiple sclerosis (MS). Fingolimod is approved to reduce relapses and delay disability progression in patients with relapsing forms of MS, an FDA release notes.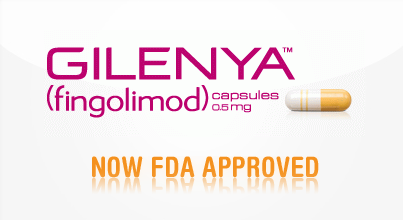 "Gilenya is the first oral drug that can slow the progression of disability and reduce the frequency and severity of symptoms in MS, offering patients an alternative to the currently available injectable therapies," Russell Katz, MD, director of the Division of Neurology Products at the Center for Drug Evaluation and Research, said in the FDA statement.

Patients should be monitored for bradycardia when starting fingolimod therapy, and treatment is also associated with an increased risk for infection, the release adds. Macular edema has also occurred, and ophthalmologic evaluation is recommended for those taking the drug.

The drug will be available in 0.5-mg capsules, the FDA statement notes.

A release from Novartis adds that fingolimod has been approved with a Risk Evaluation and Mitigation Strategy (REMS) to "inform patients and healthcare providers on the safe use and serious risks of Gilenya in treating relapsing forms of MS. The approved REMS includes a medication guide for patients and a letter and safety information guide for healthcare providers."

The company also initiates a 5-year, worldwide postauthorization safety study to monitor particular safety outcomes and a voluntary pregnancy registry to provide more data on use of fingolimod in women with MS who are pregnant or may become pregnant.

The approval was largely expected after fingolimod received a unanimous endorsement from the FDA's Peripheral and Central Nervous System Drugs Advisory Committee in June.

Given orally, fingolimod acts as a superagonist to sphingosine-1-phosphate receptors on the surface of thymocytes and lymphocytes, reducing the overall number of circulating lymphocytes available to mount an autoimmune reaction to the myelin sheath surrounding axons in MS.

The most frequent adverse reactions reported by patients taking fingolimod in clinical trials include headache, influenza, diarrhea, back pain, elevation of liver enzyme levels, and cough, the FDA statement notes.

A statement from the National MS Society (NMSS) "applauds" the approval.

"The FDA's approval of the first oral disease-modifying therapy is a significant step for people with MS and helps address the unmet need for additional therapies," said NMSS Chief Medical Officer Aaron Miller, MD, professor of neurology and medical director of the MS Center at Mount Sinai Medical Center in New York City.

The release cautions though that the long-term safety of the drug is unknown. "Other phase 3 clinical trials of fingolimod, including one involving people with primary progressive MS, are still under way, as are extension studies involving those who've completed fingolimod trials," the NMSS release notes. "These and other postmarketing studies should provide additional data on the safety and efficacy of fingolimod."

Cladribine (Merck) was also in the race for first oral agent for the treatment of MS in the United States. Although the drug was previously granted fast-track status by the FDA in 2006, the agency refused to file the company's new drug application in November 2009 amid speculation about "tabulation errors" and potential safety concerns. In August 2010, however, the FDA accepted the company's application and granted it priority review.

Cladribine was recently approved in Russia and Australia and is under review by the European Commission and other regulatory agencies.

Other oral MS treatments in development include laquinimod (Teva), teriflunomide (Sanofi-Aventis), and BG-12 (Biogen).
HIGHLIGHTS OF PRESCRIBING INFORMATION
INDICATIONS AND USAGE
GILENYA is a sphingosine 1-phosphate receptor modulator indicated for the treatment of patients with relapsing forms of multiple sclerosis to reduce the frequency of clinical exacerbations and to delay the accumulation of physical disability.
DOSAGE AND ADMINISTRATION
Recommended dose: 0.5 mg orally once daily, with or without food.

WARNINGS AND PRECAUTIONS
Decrease in heart rate and/or atrioventricular conduction after first dose of GILENYA: Observe all patients for signs and symptoms of bradycardia for 6 hours after first dose. Obtain baseline ECG before first dose if not recently available in those at higher risk of bradyarrhythmia. Patients receiving Class Ia or Class III antiarrhythmic drugs, beta blockers, calcium channel blockers, those with a low heart rate, history of syncope, sick sinus syndrome, 2nd degree or higher conduction block, ischemic heart disease, or congestive heart failure are at increased risk of developing bradycardia or heart blocks. (5.1)
• Infections: GILENYA may increase the risk of infections. A recent CBC should be available before initiating treatment with GILENYA. Monitor for signs and symptoms of infection during treatment and for two months after discontinuation. Do not start GILENYA treatment in patients with active acute or chronic infections. (5.2)
• Macular edema: Can occur with or without visual symptoms. An ophthalmologic evaluation should be performed before starting GILENYA and at 3-4 months after treatment initiation. Monitor visual acuity at baseline and during routine evaluations of patients. Patients with diabetes mellitus or a history of uveitis are at increased risk and should have regular ophthalmologic evaluations. (5.3)
• Decrease in pulmonary function tests with GILENYA: Obtain spirometry and diffusion lung capacity for carbon monoxide (DLCO) when clinically indicated.

DESCRIPTION
Fingolimod is a sphingosine 1-phosphate receptor modulator. Chemically, fingolimod is 2-amino-2-[2-(4-octylphenyl)ethyl]propan-1,3-diol hydrochloride. Its structure is shown below:

Fingolimod hydrochloride is a white to practically white powder that is freely soluble in water and alcohol and soluble in propylene glycol. It has a molecular weight of 343.93.
GILENYA is provided as 0.5 mg hard gelatin capsules for oral use. Each capsule contains 0.56 mg of fingolimod hydrochloride, equivalent to 0.5 mg of fingolimod.
Each GILENYA 0.5 mg capsule contains the following inactive ingredients: gelatin, magnesium stearate, mannitol, titanium dioxide, yellow iron oxide.
Mechanism of Action
Fingolimod is metabolized by sphingosine kinase to the active metabolite, fingolimod-phosphate. Fingolimod-phosphate is a sphingosine 1-phosphate receptor modulator, and binds with high affinity to sphingosine 1-phosphate receptors 1, 3, 4, and 5. Fingolimod-phosphate blocks the capacity of lymphocytes to egress from lymph nodes, reducing the number of lymphocytes in peripheral blood. The mechanism by which fingolimod exerts therapeutic effects in multiple sclerosis is unknown, but may involve reduction of lymphocyte migration into the central nervous system.