John V. Fahy, M.D., and Burton F. Dickey, M.D.

The lungs are remarkably resistant to environmental injury, despite continuous exposure to pathogens, particles, and toxic chemicals in inhaled air. Their resistance depends on a highly effective defense provided by airway mucus,1-7 an extracellular gel in which water and mucins (heavily glycosylated proteins) are the most important components. Airway mucus traps inhaled toxins and transports them out of the lungs by means of ciliary beating and cough

Paradoxically, although a deficient mucous barrier leaves the lungs vulnerable to injury, excessive mucus or impaired clearance contributes to the pathogenesis of all the common airway diseases.1-4 This review examines the normal formation and clearance of airway mucus, the formation of pathologic mucus, the failure of mucus clearance that results in symptoms and abnormal lung function, and the therapy of mucus dysfunction.

STRUCTURE AND FUNCTION OF THE NORMAL AIRWAY
Epithelial surfaces in contact with the outside environment are protected by mechanical barriers (e.g., keratinized skin) and chemical barriers (e.g., gastric acid). Mucosal surfaces are wet epithelia that have a mucous barrier as part of their protective mechanism.1-7Mucus layers vary widely in composition and structure; for example, they are thick and adherent to the epithelium in the gut, but thin and mobile in the airway.
Surface Epithelial Cells
The surface epithelium of intrapulmonary airways is composed of two principal cell types — ciliated and secretory
These cells are present in similar numbers and form a mosaic. Secretory cells have been further divided into subtypes based on their microscopical appearance (e.g., Clara, goblet, and serous cells). However, studies indicate great structural, molecular, and functional plasticity in secretory cells.10-14 Therefore, it is simplest to refer to them generically as "secretory cells." Besides mucins, secretory cells release a variety of antimicrobial molecules (e.g., defensins, lysozyme, and IgA), immunomodulatory molecules (e.g., secretoglobins and cytokines), and protective molecules (e.g., trefoil proteins and heregulin) constitutively and inducibly; these can become incorporated into mucus.15,16
Submucosal Glands
In large airways (luminal diameter, >2 mm), submucosal glands contribute to the secretion of mucins and liquid (Figure 1). Each gland is connected to the airway lumen by a superficial ciliated duct that propels secretions outward and a deeper nonciliated collecting duct.17,18 The body of the gland is located between the spiral bands of smooth muscle and the cartilage plates. Mucous cells constitute approximately 60% of the gland volume, and based on studies in primates, it has been estimated that half as much intracellular mucin is stored in submucosal glands as is stored in surface epithelial cells.19 Serous cells, located distally, make up the remaining approximately 40% of the gland and secrete proteoglycans and numerous antimicrobial proteins. In pathologic states, the volume of submucosal glands can increase to several times the normal volume.20,21
Mucus Gel Layer
A gel is a dilute network that holds shape; thus, although it is composed mostly of liquid, it has many physical characteristics of a solid. Mucus is a gel with properties of both a soft (deformable), elastic solid and a viscous fluid.1,4,5,22,23 Normal mucus is 97% water and 3% solids (mucins, nonmucin proteins, salts, lipids, and cellular debris). Mucins, exceedingly large glycoproteins (up to 3×106 D per monomer) with regions rich in serine and threonine residues linked by their hydroxyl side groups to sugar chains (O-glycosylation), account for less than 30% of the solids.3,4,6,15,24Mucins are 50 to 90% carbohydrate, and they are highly anionic because most of their terminal sugars contain carboxyl or sulfate groups. There are 17 genes encoding mucins in the human genome, of which the gene products of seven are secreted and the remainder is membrane-bound.3,4,6 Five of the secreted mucins have terminal cysteine-rich domains that can form disulfide bonds resulting in polymers that impart the properties of a gel (Figure 2). Two of these polymers, MUC5AC and MUC5B, are strongly expressed in the airways and are detected in similar quantities in human mucus.3,4
MUC5AC and MUC5B form homotypic polymers (i.e., MUC5AC monomers bond only with MUC5AC, and MUC5B monomers bond only with MUC5B), structured as long single chains rather than branches (Figure 2). They form the mucus gel both by entanglement in a mesh and by noncovalent calcium-dependent cross-linking of adjacent polymers.1,3 The glycan side chains bind large amounts of liquid (hundreds of times their weight), which allows mucus to act as a lubricant and the gel layer to serve as a liquid reservoir for the periciliary layer.2 The hydration of mucus dramatically affects its viscous and elastic properties, which in turn determine how effectively it is cleared by ciliary action and cough.1-5,22 Healthy mucus contains 3% solids, with the consistency of egg white. However, mucin hypersecretion or dysregulation of surface liquid volume may increase the concentration of solids up to 15%, resulting in viscous and elastic mucus that is not easily cleared.1,5,22,, In addition, dehydrated mucus adheres more readily to the airway wall. 23,25
Since infection is often initiated by the recognition of host epithelial surfaces by microbial sugar-binding proteins, mucin glycans help sequester pathogens by providing a diverse "glycoprotein landscape" for interaction with these microbial proteins, and patterns of glycosylation can change during inflammation.3,5,26 In addition, the mucus gel layer acts as a solid physical barrier to most pathogens.1,3,5,7 However, the pore size of the gel mesh is sufficiently large (approximately 500 nm) that it is readily penetrated by small viruses with hydrophilic capsids; this has implications for microbial infection and gene therapy.5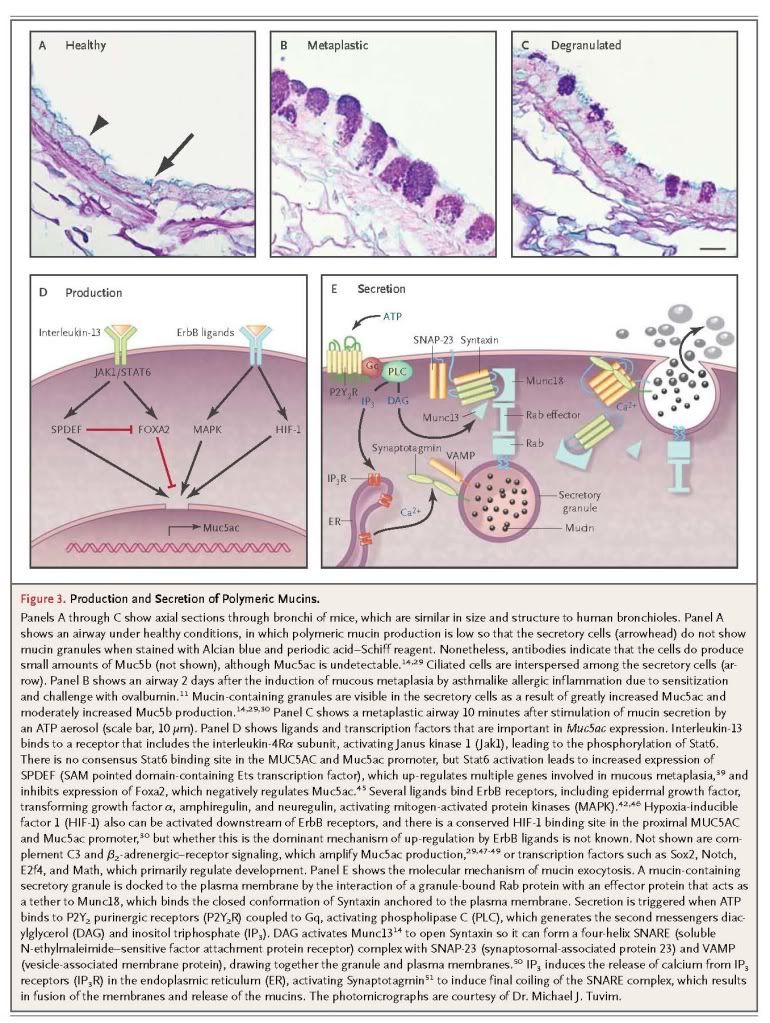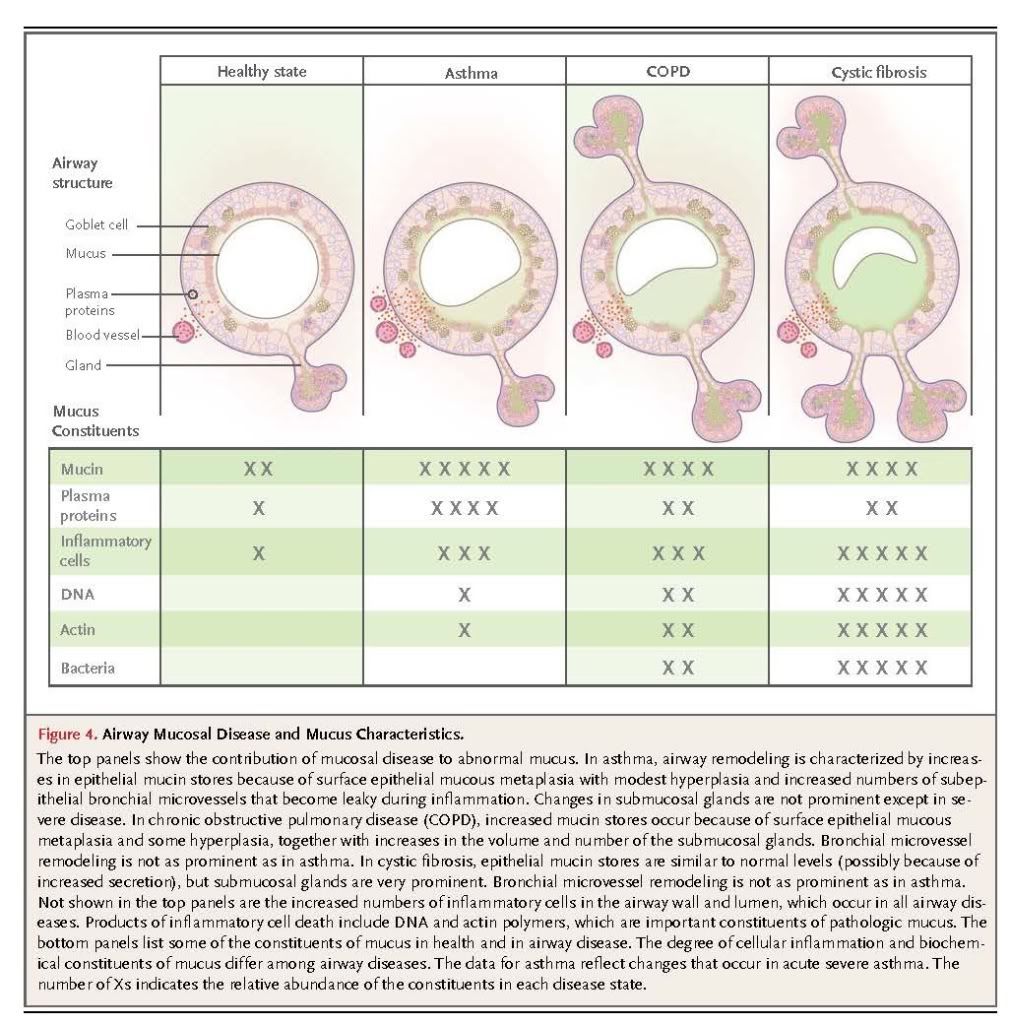 The accumulation of mucus results from some combination of overproduction and decreased clearance, and persistent accumulation can lead to infection and inflammation by providing an environment for microbial growth.
The principal symptoms of impaired mucus clearance are cough and dyspnea. Cough is caused by the stimulation of vagal afferents in the intrapulmonary airways or the larynx and pharynx.75,76 Patients often infer that laryngopharyngeal stimulation, described as "a tickle in the throat," results from "postnasal drip," since they recognize that gravity causes mucus to descend from the nasopharynx but are generally unaware that it also ascends from the lungs by ciliary action. Dyspnea is caused when mucus obstructs airflow by occupying the lumen of numerous airways.21,65-67 Physical signs of impaired mucus clearance include cough, bronchial breath sounds, rhonchi, and wheezes. Retained mucus and inflammatory exudates may appear as localized atelectasis or linear or branched opacities on plain radiographs of the chest, and as luminal filling in proximal airways or tree-in-bud opacities in peripheral airways on computed tomographic examination.77 It is important to recognize the role of mucus in clinical presentation. It is necessary to clear mucus from the airway lumen in order to resolve symptoms and allow effective delivery of aerosol therapies. In addition, the presence of mucus may be a sign of underlying inflammation or infection that may warrant additional treatment.