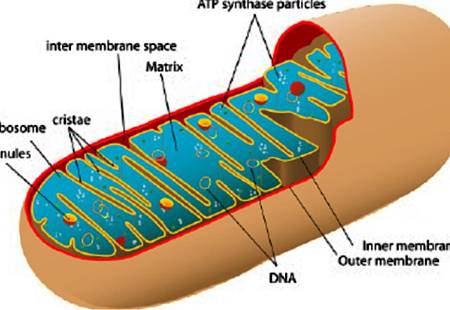 Mitochondria are mobile organelles that exist in dynamic networks. They continuously join by the process of fusion and divide by the process of fission. Mitochondria are derived from eubacterial endosymbionts that are capable of aerobic respiration; this finding was proposed independently by Merezhkovsky in 1905 and by Margulis in 1967.1 First described as "bioblasts" by Altmann in 1890, it was Benda's 1898 observation of their heterogeneous morphologic features, sometimes ball-shaped and other times linear, that inspired the name mitochondrion, from the Greek words mitos (meaning thread) and chondrion (meaning granule).2 Lewis and Lewis's 1914 observations established the field of mitochondrial dynamics. They noted, "Any one type of mitochondria such as a granule, rod or thread may at times change into any other type or may fuse with another mitochondrium [sic], or it may divide into one or several mitochondria."3The once secret, dynamic lives of mitochondria are revealed by confocal, live-cell imaging with the use of potentiometric dyes or mitochondria-targeted fluorescent proteins (see Fig. 1 in theSupplementary Appendix, available with the full text of this article at NEJM.org).
Most mitochondrial proteins, including all those involved in fission and fusion, are nuclear-encoded.4Mutations in 228 nuclear and 13 mitochondrial genes cause rare monogenic syndromes in which mitochondrial dysfunction is unequivocally central to the pathogenesis of the disease. Examples of these syndromes include the MELAS syndrome (mitochondrial encephalomyopathy, lactic acidosis, and strokelike episodes caused by mutation of mitochondrial transfer RNAs), and Leigh's disease (caused by mutations in genes related to oxidative phosphorylation).4 In contrast, disorders of mitochondrial structure are just emerging as mechanisms of disease. Although some disorders of mitochondrial dynamics result from monogenic mutation, most reflect changes in the function or activity of fission and fusion mediators triggered by changes in the cellular milieu. There is an emerging recognition that disordered mitochondrial dynamics contribute to the pathogenesis of complex diseases that are not classically considered to involve mitochondria; these diseases include cancer, cardiovascular disease, and neurodegenerative diseases. Recent identification of the molecular mediators of mitochondrial dynamics (Table 1
) and recognition of their post-translational regulation by an extensive network of kinases, phosphatases, and ubiquitination mediators offer a new understanding of cell biology and novel therapeutic targets. Fission and fusion fine-tune fundamental cellular processes such as calcium homeostasis and the generation of ATP and reactive oxygen species and consequently have important roles in cell-cycle progression, apoptosis, mitophagy, and oxygen sensing.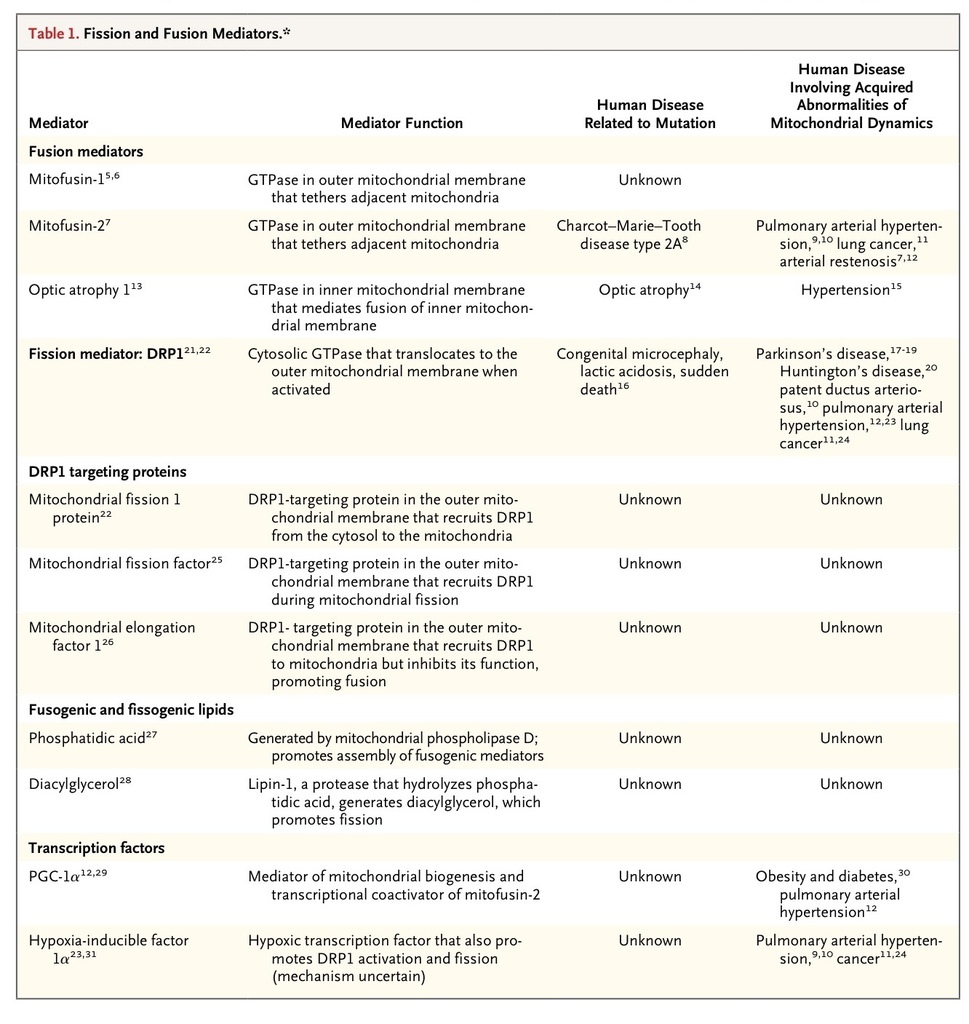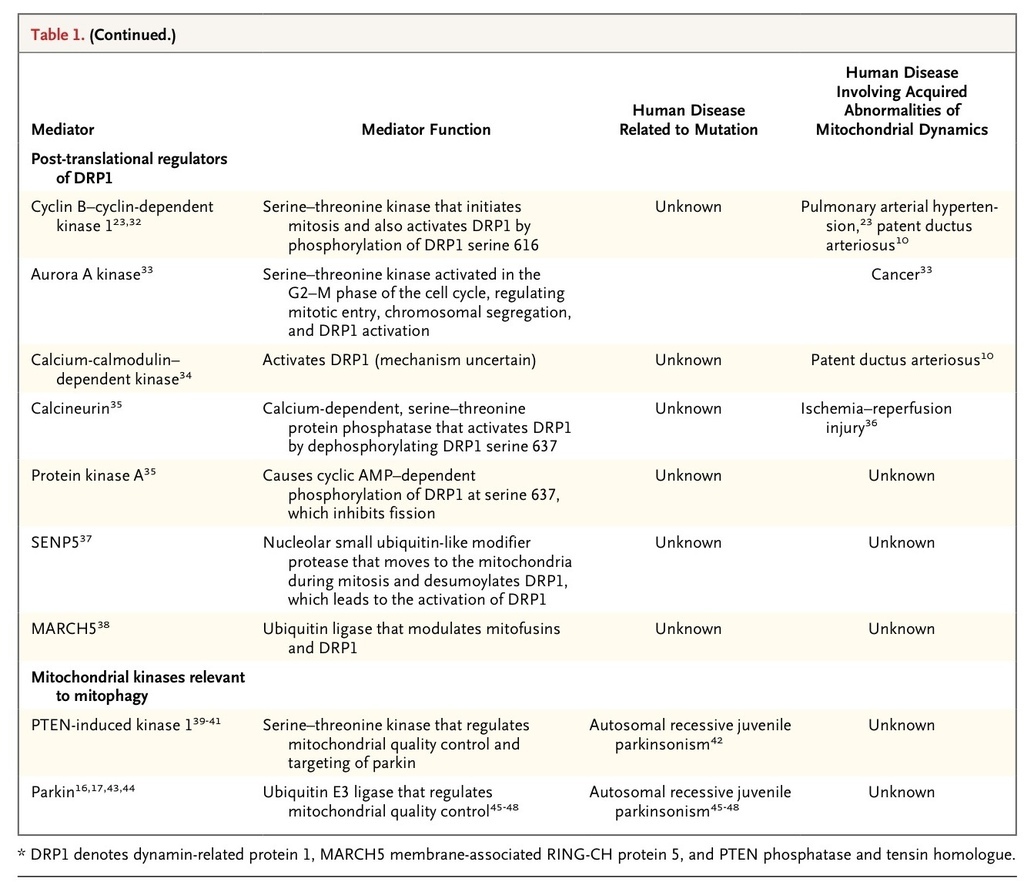 Although ATP generation is the primary function of the mitochondria (Figure 1FIGURE 1
Mitochondrial Metabolism and Dynamics.), much of the impact of mitochondrial dynamics relates to effects of structure on the nonbioenergetic capabilities of the organelle. Five noncanonical mitochondrial capabilities are centrally involved in the form–function dynamic of the mitochondria (Figure 2FIGURE 2
Mitochondrial Fusion and Fission.). These relationships are bidirectional, meaning they both alter and are altered by mitochondrial dynamics. First, mitochondria are linked to the endoplasmic reticulum at specialized regions of membrane adherence called mitochondria-associated membranes, which facilitate calcium flux into the mitochondria. Mitochondria-associated endoplasmic reticulum membranes allow localized increases in calcium levels to propagate throughout a cell in wavelike patterns.49 This endoplasmic reticulum–mitochondria connection has implications for calcium homeostasis and metabolism. Close coupling of these organelles increases mitochondrial calcium levels, which may initiate apoptosis50 or, at physiologic levels, enhance oxidative metabolism by activating pyruvate dehydrogenase.51 Mitochondria–endoplasmic reticulum connectivity is regulated by mitofusin-2 and can create microdomains that facilitate fission9,27 (Figure 2B, inset).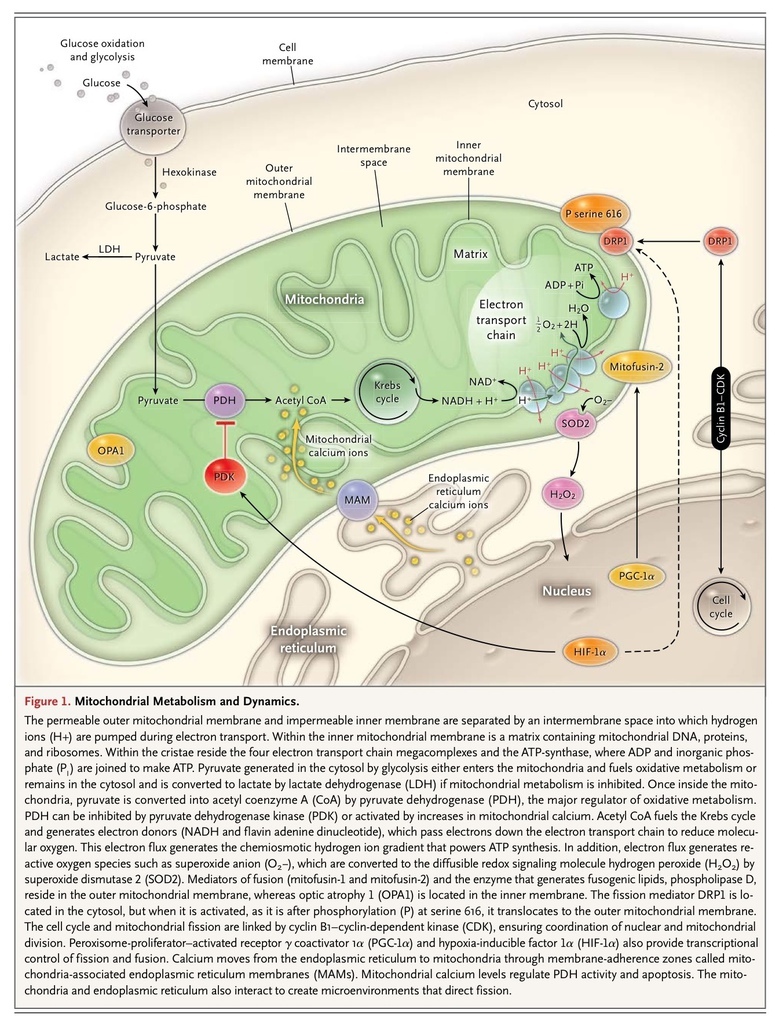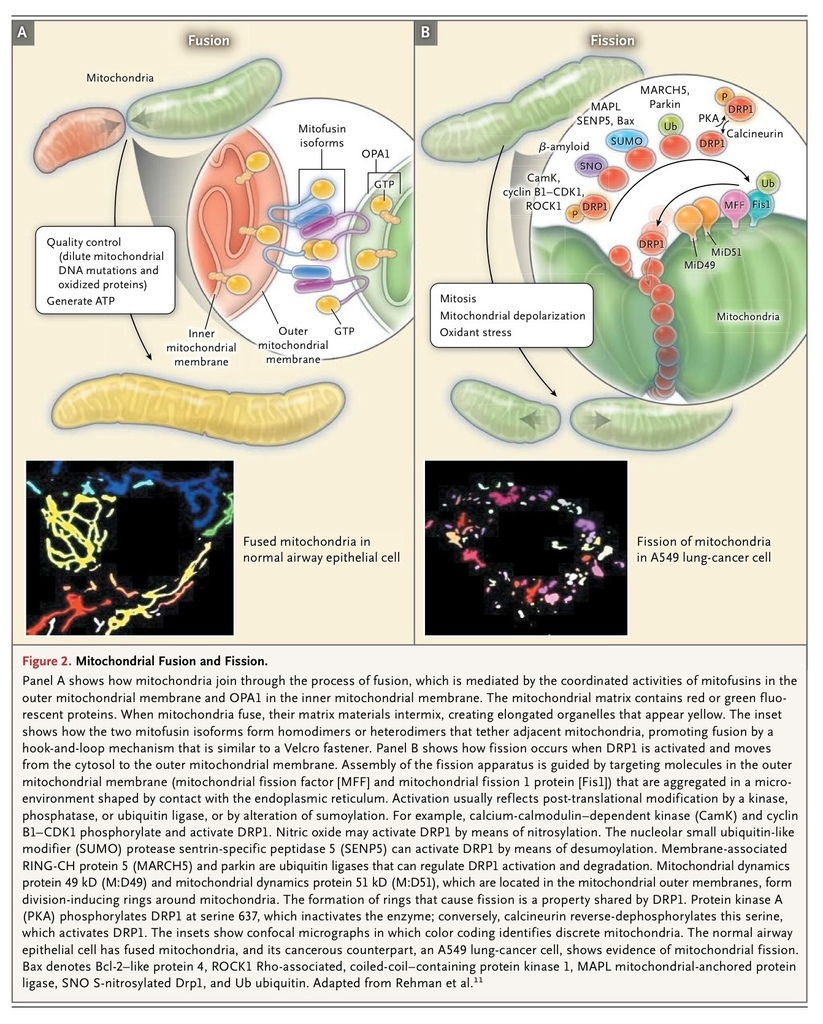 Second, mitochondrial numbers are regulated by mitochondrial biogenesis to meet the energy demands of the cell and compensate for cell damage. This process is mediated by peroxisome-proliferator–activated receptor γ coactivator 1α (PGC-1α), which is relevant to mitochondrial dynamics since it is a transcriptional coactivator of the fusion mediator mitofusin-2 (Table 1).12,29
Third, mitochondria have a quality-control program called mitophagy. Mitophagy maintains cellular health by selectively enclosing damaged, depolarized mitochondria in autophagic vacuoles for elimination by lysosomes (Figure 3A
).52,53 Fission isolates depolarized mitochondria while coordinated down-regulation of fusion mediators prevents network reintegration, thereby facilitating mitophagy.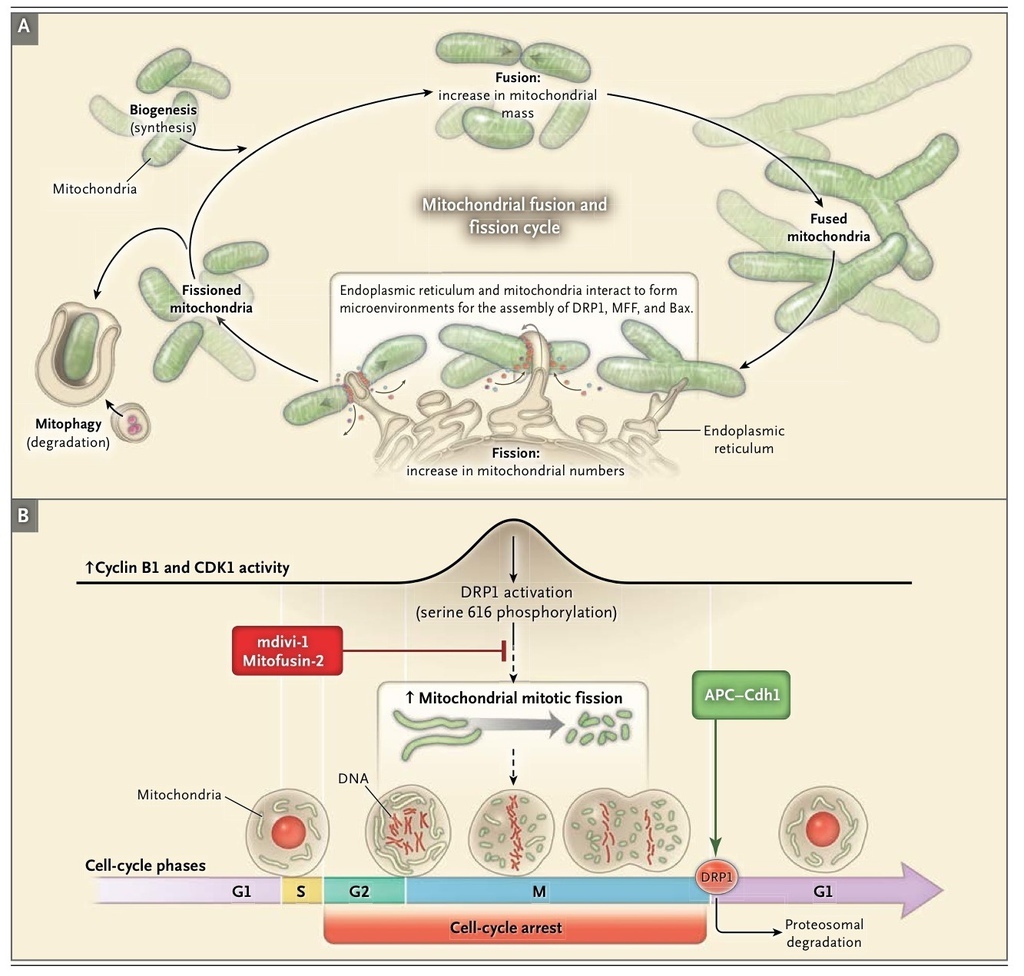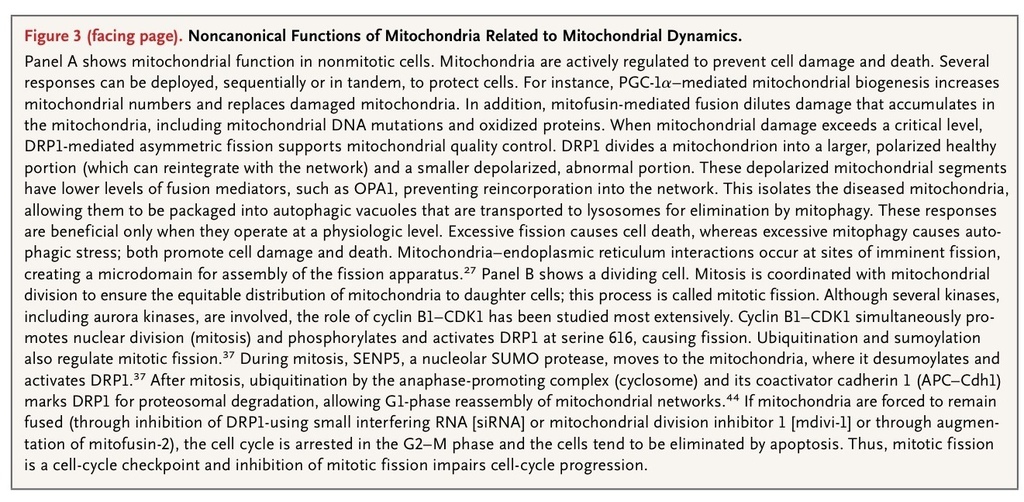 Fourth, mitochondria actively traverse the cytosol on dynein and kinesin tracks.54 It is uncertain whether mobility and mitochondrial dynamics have an obligatory relationship; however, dynein, a molecular motor for mitochondrial transport, also regulates fission.55
Fifth, mitochondria are oxygen sensors in cells within the homeostatic oxygen-sensing system, such as pulmonary arterial and ductus arteriosus smooth-muscle cells.56 These specialized mitochondria vary production of diffusible reactive oxygen species by the electron transport chain in proportion to cellular oxygen levels, permitting redox regulation of ion channels, enzymes, and transcription factors.56 Mitochondrial dynamics are an early step in this redox signaling mechanism.10,23
Fission creates smaller, more discrete mitochondria, which, depending on the context, are more capable of generating reactive oxygen species, facilitating mitophagy, or accelerating cell proliferation. Fusion results in a more interconnected mitochondrial network that enhances communication with the endoplasmic reticulum. Fusion also allows diffusion of matrix content among mitochondria (Figure 2A), diluting the accumulated mitochondrial DNA mutations57 and oxidized proteins. Both fission and fusion are mediated by a small number of highly conserved, guanosine triphosphatases (GTPases)58,59 (Figure 2 and Table 1). Fission is mediated by dynamin-related protein 1 (DRP1),60,61 a cytosolic protein that on activation translocates to the outer mitochondrial membrane. Here, DRP1 multimerizes, creating a ringlike structure that constricts and divides the organelle21,22 (Figure 2B). Video 1, available at NEJM.org, shows the dynamic nature of fission and fusion when a photoactivated green fluorescent protein–labeled mitochondrion divides (fission) and then fuses with a red fluorescent protein–labeled mitochondrion to create a fused yellow mitochondrion. DRP1 is actively targeted to the outer mitochondrial membrane by non-GTPase receptor proteins such as mitochondrial fission protein 1 (Fis1),22 mitochondrial fission factor (MFF),25 and mitochondrial elongation factor 126 (Figure 2B and Table 1). Assembly of the fission apparatus is assisted by the endoplasmic reticulum, which contacts the mitochondria, creating a microdomain for assembly of DRP1, MFF, and proapoptotic proteins62 (Figure 2B andFigure 3A).
DRP1 activity is rapidly regulated by the opposing effects of phosphorylation at two key serines. Phosphorylation of serine 616 increases DRP1 activity, whereas phosphorylation of serine 637 decreases it. Each serine is targeted by different kinases and phosphatases, thereby linking mitochondrial fission to crucial cellular processes (Figure 2B, inset; and Table 1). For example, phosphorylation of serine 616 by the mitosis initiator, cyclin B1–cyclin-dependent kinase (cyclin B1–CDK1), activates DRP1 coordinating fission to cell division23,32 (Figure 3B), whereas phosphorylation by calcium-calmodulin–dependent kinase (CamK) links fission to intracellular calcium.34 Phosphorylation of serine 637 by protein kinase A inactivates DRP163; conversely, dephosphorylation of serine 637 by the calcium-sensitive protein phosphatase, calcineurin, activates DRP1 (Figure 2B and Table 1). The ratio of serine 616 to serine 637 phosphorylation determines DRP1 activity and reflects the aggregate effects of many kinases and phosphatases (Figure 2). DRP1 activity is also post-translationally regulated by the ubiquitin ligase membrane–associated RING-CH protein 5 (MARCH5)38 and by small ubiquitin-like modifier type 1 (SUMO1)37 (Table 1and Figure 2B). Our understanding of the role of DRP1 and fission in disease states has been advanced by the availability of mitochondrial division inhibitor 1 (mdivi-1), a small molecule that inhibits the GTPase activity of DRP1, prevents multimerization, and inhibits fission.64
Fusion is mediated by mitofusin-1 and mitofusin-2 isoforms in the outer mitochondrial membrane and by optic atrophy 1 (OPA1) protein in the inner mitochondrial membrane13 (Table 1 and Figure 1A). Mitofusins are targeted to the mitochondria by sequences in their transmembrane and C-terminal domains.65 With cytosolic amino and carboxyl termini, mitofusins initiate fusion by creating homodimeric or heterodimeric, antiparallel, coiled-coil linkages between adjacent mitochondria5(Figure 2A, inset). Mitofusin-2 is also located in the endoplasmic reticulum, where it alters morphologic features and promotes endoplasmic reticulum–mitochondrial tethering,65 thereby enhancing mitochondrial calcium uptake.9 OPA1 has eight splice variants, each with differential fusion activity and mitochondrial protease susceptibility.6 The fusion mediators also regulate mitochondrial metabolism, and when they are down-regulated or dysfunctional, there is generally a reduction in mitochondrial oxidative capacity.6 Fusion and fission are guided by lipids generated by mitochondrial phospholipase D, notably phosphatidic acid.27 The small, negatively charged lipid head group of phosphatidic acid causes negative curvature of lipid bilayers and recruits adaptor proteins, promoting fusion.27 However, phosphatidic acid can be hydrolyzed by lipin-1, creating diacylglycerol, which promotes fission.28
DISEASES INVOLVING MITOCHONDRIAL DYNAMICS
Disorders of mitochondrial dynamics are implicated in neurodegenerative, neoplastic, endocrine, and cardiovascular diseases. The therapeutic implications of the mitochondrial dynamics pathway for these diseases are reviewed in Figure 4
.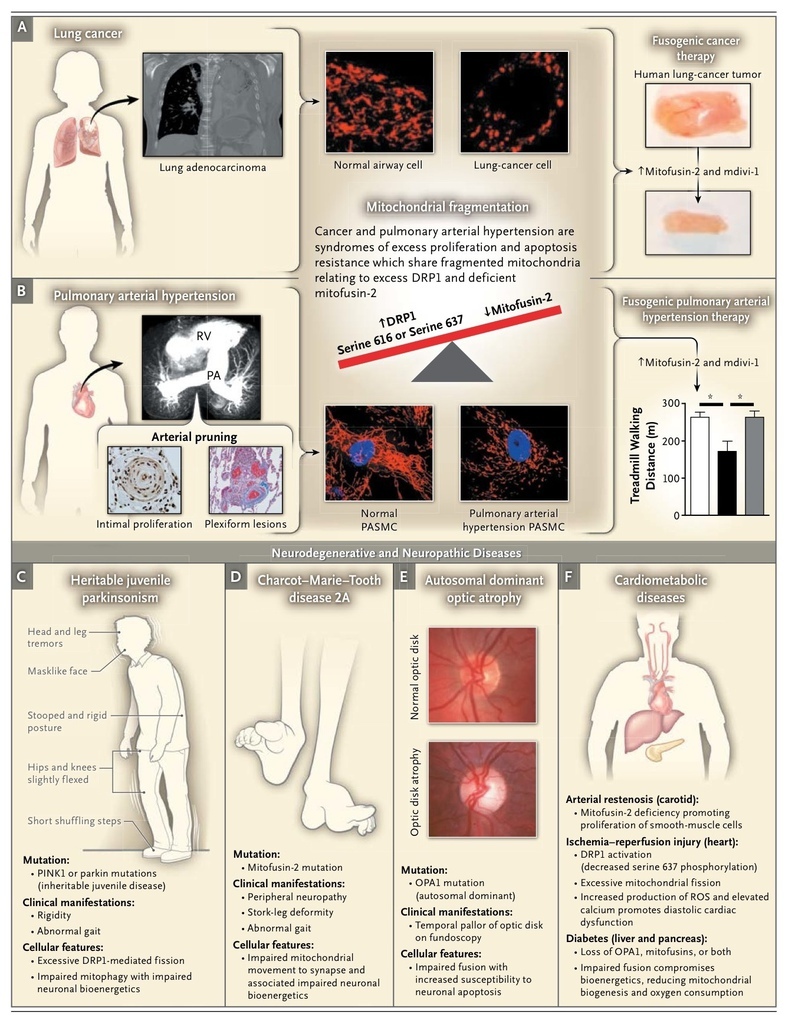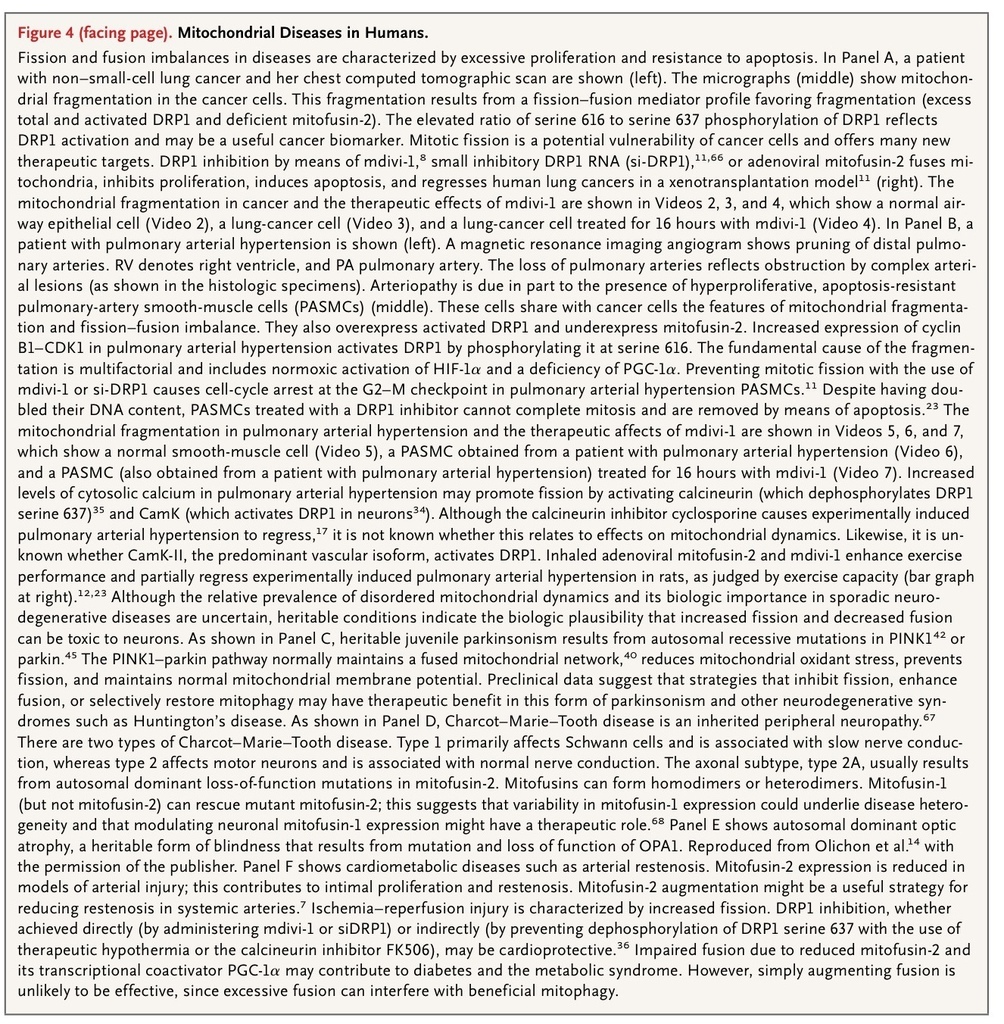 FUTURE DIRECTIONS
Mitochondrial dynamics are involved in the mechanisms of a variety of human diseases and may offer therapeutic targets. Before attempts are made to manipulate mitochondrial dynamics therapeutically, further evaluation is required to identify the optimal molecular targets and define safe and effective doses of fission and fusion modulators that selectively target the relevant cellular populations. Additional pharmacologic or molecular modulators of fission and fusion are needed. Qi et al.101 recently described a small, rationally designed peptide inhibitor (P110) that prevents DRP1 activation and fission by interfering with the protein–protein interaction between DRP1 and its mitochondrial adaptor target protein, Fis1. Validation of the use of peripheral cells (i.e., fibroblasts) to assess fission and fusion and metabolism is required. The usefulness of measuring mediators of mitochondrial dynamics in peripheral blood as disease biomarkers merits study. Future research directions are highlighted in Table 1 in the Supplementary Appendix.