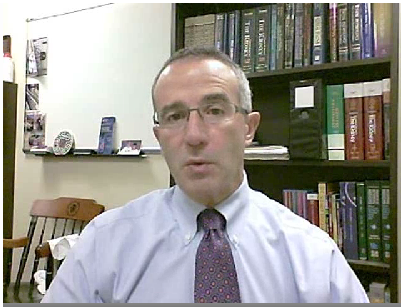 之前也有跟各位討論過:
ACEI與ARB併用之討論
來看看另外的觀點
Hello. This is Jeffrey Berns, Editor-in-Chief of Medscape Nephrology.
你可以連上這邊看影片:
http://www.medscape.com/viewarticle/817488_1
Do you have patients in your practice who are on combined renin-angiotensin-aldosterone system (RAAS) blockade with an angiotensin receptor blocker (ARB) and an angiotensin-converting enzyme (ACE) inhibitor? If so, you probably ought to think about stopping one or the other of those drugs.
I call to your attention a paper just published in the New England Journal of Medicine, with Linda Fried as the first author.[1] This was an excellent randomized controlled trial among US veterans, almost all men, with type 2 diabetes, a urinary albumin/creatinine ratio greater than 300 mg/g creatinine, and an estimated glomerular filtration rate (GFR) between 30 and 89.9 mL/min/1.73 m2.
After participants with elevated serum potassium levels at baseline were excluded, the subjects were placed on losartan 100 mg/day, and once stable on that dose, were then randomly assigned to receive either placebo or lisinopril in a dose of 10-40 mg/day.
The study was stopped early. The drug combination provided no benefit to major primary and secondary endpoints of the study, which included the rate of GFR decline, occurrence of cardiovascular events, occurrence of end-stage renal disease, or mortality. On average, the GFR declined between 2.7 and 2.9 mL/min/1.73 m2 per year.
In addition, patients receiving the active drug combination had an excess occurrence of hyperkalemia and acute kidney injury. The hazard ratio for hyperkalemia was 2.8, and for acute kidney injury, it was 1.7. No benefit, excess risk, and the study was stopped early.
Reassessing Dual RAAS Blockade
Given these outcomes, I believe it would be reasonable to very carefully assess each of our patients who are on dual RAAS blockade, and stop one or the other of these drugs. I would include aliskiren in the mix here, as previous studies -- including ONTARGET[2] and ALTITUDE[3] -- have found similar results of excess risk without benefit.
Let me remind everyone also that there is really no evidence whatsoever to suggest that RAAS blockade, monotherapy or otherwise, is beneficial in slowing progression of chronic kidney disease in people who do not have proteinuria.
Finally, before I sign off, a series of papers on renal physiology will be coming out in Clinical Journal of the American Society of Nephrology (CJASN) over the upcoming year or so.[4] The first is just coming out now, on proximal tubule function and response to acidosis. This is a phenomenal series, comprising 17 or 18 articles altogether -- an excellent opportunity to refresh our memories about some basics of renal physiology.
Thanks for listening. This is Jeffrey Berns, Editor-in-Chief of Medscape Nephrology and from the Perelman School of Medicine in Philadelphia.
References
Fried LF, Emanuele N, Zhang JH, et al; VA NEPHRON-D Investigators. Combined angiotensin inhibition for the treatment of diabetic nephropathy. N Engl J Med. 2013;369:1892-1903.

Abstract

ONTARGET Investigators, Yusuf S, Teo KK, et al. Telmisartan, ramipril, or both in patients at high risk for vascular events. N Engl J Med. 2008;358:1547-1559.

Abstract

Parving HH, Brenner BM, McMurray JJ, et al; ALTITUDE Investigators. Cardiorenal end points in a trial of aliskiren for type 2 diabetes. N Engl J Med. 2012;367:2204-2213.

Abstract

Curthoys NP, Moe OW. Proximal tubule function and response to acidosis. Clin J Am Soc Nephrol. 2013 Aug 1. [Epub ahead of print]