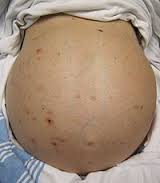 PPIs增加肝硬化腹水患者自發性細菌性腹膜炎風險
A higher rate of recent PPI use was seen in patients with cirrhosis who had SBP versus those who did not.
Spontaneous bacterial peritonitis (SBP) is a common complication in cirrhosis. High rates of spontaneous bacterial translocation and compromised host defenses in patients with cirrhosis seem to play a major role in the development of SBP. Use of acid-suppressive therapy, with its predisposition to bacterial overgrowth and bacterial translocation, might heighten the risk for developing SBP.
To assess whether proton-pump inhibitor (PPI) use was associated with SBP in hospitalized patients with cirrhosis, investigators conducted a retrospective case-control study. Among 1309 patients admitted to a single tertiary care center during a 4-year period, researchers identified 65 cases (patients with cirrhosis and SBP) and 65 controls (patients with cirrhosis and ascites but no evidence of SBP) and assessed their previous use of PPIs.
Use of PPIs in the previous 7 days was higher in cases than in controls (71% vs. 42%; P<0.001). Notably, 68% of cases had no documented indication for PPI use. After adjusting for Child-Pugh-Turcotte score, multivariate analysis demonstrated a 70% lower likelihood of developing SBP among patients with no PPI use in the previous 90 days versus patients with PPI use in the previous 7 days (odds ratio, 0.29; P=0.005).
Comment: This study, although retrospective, suggests that proton-pump inhibitor use is associated with higher rates of spontaneous bacterial peritonitis in patients with cirrhosis. The overutilization of PPIs continues to be an issue, especially for long-term and high-dose use, which have been linked to such adverse outcomes as ventilator-associated pneumonia in ICU patients (Ann Intern Med 1994; 120:653 [Free full-text Annals article PDF | PubMed® abstract]). Randomized controlled trials are needed to validate the association between PPI use and SBP. Meanwhile, clinicians should be vigilant in making sure PPIs are used appropriately.
— Atif Zaman, MD, MPH
Published in Journal Watch Gastroenterology April 20, 2012
Nosocomial Pneumonia in Mechanically Ventilated Patients Receiving Antacid, Ranitidine, or Sucralfate as Prophylaxis for Stress Ulcer

:

A Randomized Controlled Trial
Ann Intern Med. 1994;120(8):653-662. doi:10.7326/0003-4819-120-8-199404150-00005
Objective: To assess three anti-stress ulcer prophylaxis regimens in mechanically ventilated patients for bacterial colonization, early- and late-onset nosocomial pneumonia, and gastrointestinal bleeding.
Design: Randomized controlled trial.
Patients: Consecutive eligible patients with mechanical ventilation and a nasogastric tube. Of 258 eligible patients, 244 were assessable.
Setting: Medical and surgical intensive care units.
Intervention: At intubation, patients were randomly assigned to receive one of the following: antacid (a suspension of aluminum hydroxide and magnesium hydroxide), 20 mL every 2 hours; ranitidine, 150 mg as a continuous intravenous infusion; or sucralfate, 1 g every 4 hours.
Measurements: Using predetermined criteria, the incidence of gastric bleeding, gastric colonization, early-onset pneumonia, and late-onset pneumonia was assessed in patients intubated for more than 24 hours.
Results: Of 244 assessable patients, macroscopic gastric bleeding was observed in 10%, 4%, and 6% of patients assigned to receive sucralfate, antacid, and ranitidine, respectively (P > 0.2). The incidence of early-onset pneumonia was not statistically different among the three treatment groups (P > 0.2). Among the 213 patients observed for more than 4 days, late-onset pneumonia was observed in 5% of the patients who received sucralfate compared with 16% and 21% of the patients who received antacid or ranitidine, respectively (P = 0.022). Mortality was not statistically different among the three treatment groups. Patients who received sucralfate had a lower median gastric pH (P < 0.001) and less frequent gastric colonization compared with the other groups (P = 0.015). Using molecular typing, 84% of the patients with late-onset gram-negative bacillary pneumonia were found to have gastric colonization with the same bacteria before pneumonia developed.
Conclusion: Stress ulcer prophylaxis with sucralfate reduces the risk for late-onset pneumonia in ventilated patients compared with antacid or ranitidine.
另外補充一下:
Spontaneous ascitic fluid infection:又分為三種subtypes
Spontaneous Bacterial Peritonitis (SBP):診斷SBP之標準為 Ascites PMN≧250 cells/mm3, bacteril growth in ascites culture, no evidence of intra-abdominal surgical treatable source of infection。
SBP之pathogenesis可能是:enteric flora translocate across the gut mucosa 進入mesenteric lymphatics 造成 bacteremia 最後再seeding到 ascites由於抗菌補體不足無法清除細菌,造成SBP。
最常見的菌種為Gram-negative bacteria 以E.coli 最多;其他如 Pneumococci (gram positive);Klebsiella也可見到;最罕見的是 anaerobes。
Monomicribial non-neutrocytic bacterascites (MNB): 診斷標準為 Pure bacteril growth in ascites culture, PMN<250 cells/mm3, no evidence of intra-abdominal surgical treatable source of infection。
Culture-negative neutrocytic ascites (CNNA): 診斷標準為 Ascites fluid culture no growth; Ascites PMN≧250 cells/mm3; No antibiotics have been given; The elevated PMN has no other explaination such as hemorrhage, pancreatitis, TB, peritoneal carcinomatosis。
CNNA 常常是因為culture technique不夠敏感所造成,目前由於ascites culture 多直接打入blood culture bottles,這樣的方法較為敏感CNNA也因而減少許多。
SBP, MNB, CNNA多發生於嚴重的liver disease,臨床上主要的症狀為 abdominal pain, tenderness, fever, mental status change, ileus。
治療方面當 ascites PMN≧250 cells/mm3 and/or infectious signs/symptoms 發生時,均應及早投予empirical antibiotics待細菌培養出來後再依敏感度給予抗生素。
至於MNB到底該不該給予抗生素呢?大部分的MNB臨床症狀與SBP 相當,因此應給予抗生素,少部分MNB無臨床症狀,則不需使用抗生 素。
Secondary bacterial peritonitis大致上又分為gut perforation及non- perforation 兩種type,應給予抗生素,並考慮手術治療。
Iatrogenic (polymicrobial bacterascites): 由於paracentesis針刺到腸子所 引起,ascites culture常呈multiple organisms, ascites PMN<250 cells/mm3。視臨床症狀考慮給予抗生素。