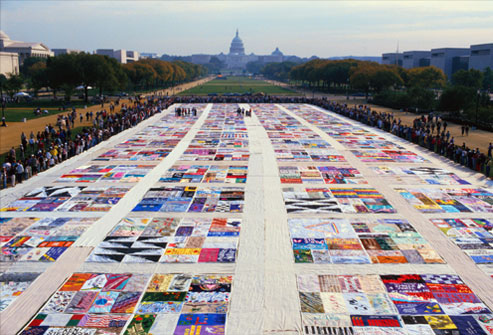 AIDS Memorial Quilt on display at the National Mall in Washington, D.C.
AIDS-related illnesses have killed more than 39 million people worldwide since 1981. And it's not over. About 1.1 million Americans are among the 35 million people worldwide who are now living with HIV, the virus that causes AIDS. How did we get here?
Circa 1900: From Apes to Humans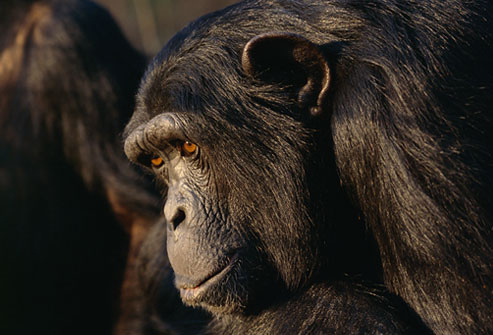 Around 1900, a hunter gets the AIDS virus from a chimpanzee.
Between 1884 and 1924, somewhere near modern-day Kinshasa in West Central Africa, a hunter kills a chimpanzee. Some of the animal's blood enters the hunter's body, possibly through an open wound. The blood carries a virus harmless to the chimp but lethal to humans: HIV. The virus spreads as colonial cities sprout up, but deaths are blamed on other causes.
1981: First Cases Recognized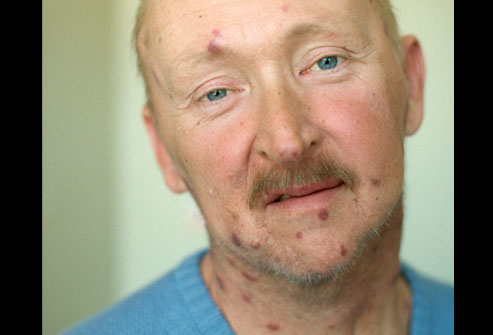 Kaposi's sarcoma, an AIDS-related cancer.
In June, the CDC publishes a report from Los Angeles of five young gay men with fatal or life-threatening PCP pneumonia. Almost never seen in people with intact immune systems, PCP pneumonia turns out to be one of the major "opportunistic infections" that kill people with AIDS. On the Fourth of July, the CDC reports that an unusual skin cancer -- Kaposi's sarcoma or KS -- is killing young, previously healthy men in New York City and California.
1982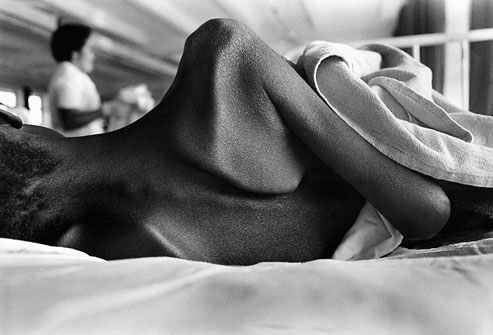 In sub-Saharan Africa, AIDS is called "slim disease."
▪ The CDC calls the new disease acquired immune deficiency syndrome or AIDS. AIDS affects people with hemophilia, convincing scientists that the disease spreads by an infection in contaminated blood.
▪ Gay men form the first AIDS advocacy groups.
1983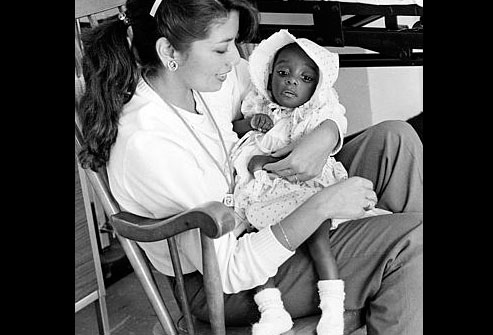 ▪ The CDC warns that AIDS may spread by heterosexual sex and by mother-to-child transmission.
▪ The U.S. Public Health Service asks "members of groups at increased risk for AIDS" to stop donating blood.
▪ Experts confirm the heterosexual spread of AIDS in Africa.
▪ Public fear grows. False rumors of "household spread" surface. In New York, reports arise that landlords are evicting AIDS patients.
1983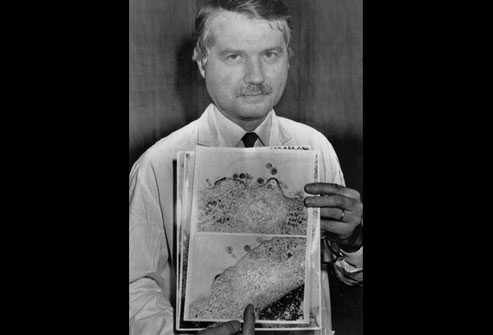 Drs. Montagnier (shown) and Barre-Sinoussi discover the AIDS virus.
Pasteur Institute researchers Luc Montagnier and Francoise Barre-Sinoussi find a virus in the swollen lymph gland of an AIDS patient. They call it lymphadenopathy-associated virus or LAV. Meanwhile, UCSF researcher Jay Levy finds ARV -- AIDS-related virus. Not until 1986 does everybody agree to call it HIV: human immunodeficiency virus.
1984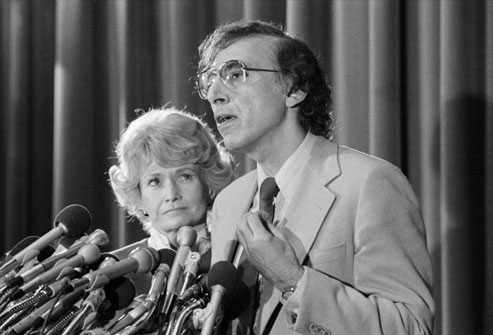 HHS Secretary Margaret Heckler, shown with Robert Gallo.
National Cancer Institute (NCI) researcher Robert Gallo detects an AIDS virus he calls HTLV-III. Later, it turns out to be LAV from a sample sent by the Montagnier lab -- but not before HHS Secretary Margaret Heckler gives Gallo full credit. Heckler predicts a vaccine in two years but does not specifically fund AIDS research.
1985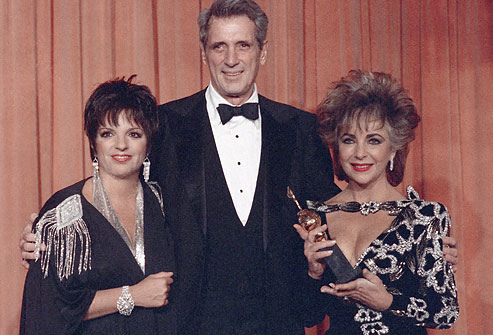 Rock Hudson, with Liza Minelli and Elizabeth Taylor, outspoken AIDS advocates.
▪ Actor Rock Hudson dies of AIDS.
▪ As AIDS hysteria builds, school officials bar Ryan White from going to class in Indiana because he has the disease.
▪ Actress Elizabeth Taylor becomes the founding international chairman of AmFAR, the American Foundation for AIDS Research.
1985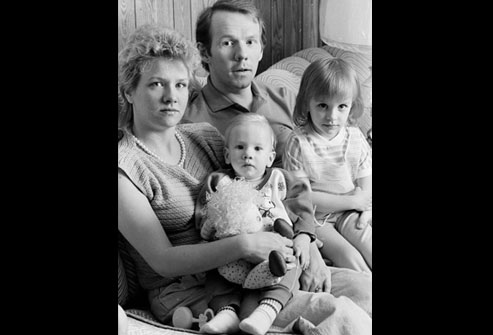 The Burk family in 1985. The father, mother, and son have HIV.
▪ First HIV test licensed; blood banks begin screening donations.
▪ Atlanta is the site of the first International AIDS Conference.
▪ A scathing government report blasts the HHS for lack of AIDS funding.
▪ Larry Kramer's AIDS play, The Normal Heart, shocks New York audiences.
▪ The Burk family shows how HIV/AIDS affects the heterosexual community. Patrick Burk (top of photo) got the virus from hemophilia treatments around 1983.
1986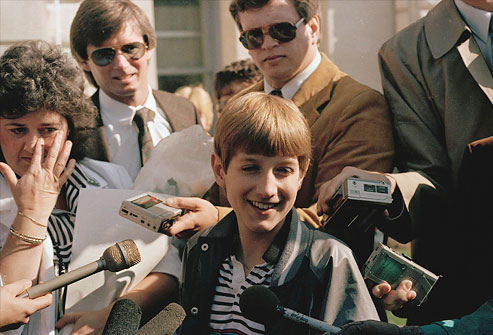 AIDS patient and advocate Ryan White, 15, wins battle to attend school.
▪ Surgeon General C. Everett Koop urges parents to have a "frank and open conversation" about AIDS with their children and teens.
▪ Work on the first panel of the AIDS quilt begins.
▪ For the first time, President Reagan publicly utters the word "AIDS."
1987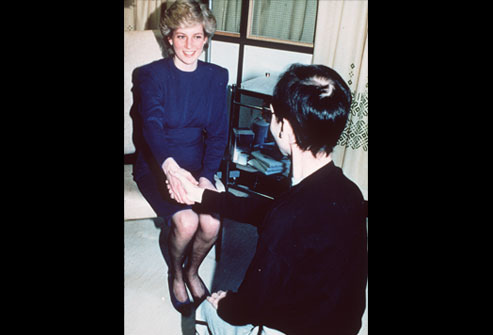 Princess Diana reaches out to people with AIDS.
▪ Photographers capture pictures of Princess Diana hugging people with AIDS.
▪ The AIDS quilt goes on display with 1,920 panels. By 1996, the quilt will cover the entire National Mall in Washington, D.C.
1987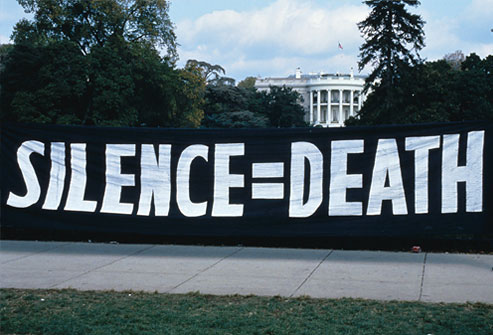 ACT UP forms and adopts its enduring motto.
▪ New Yorkers form ACT UP to protest the $10,000 per year cost of AZT. It adopts the motto "SILENCE=DEATH."
▪ President Reagan makes his first speech on AIDS.
▪ The U.S. forbids immigration by people with HIV, a policy reversed in 2010 by President Obama.
▪ Entertainer Liberace dies of AIDS.
1988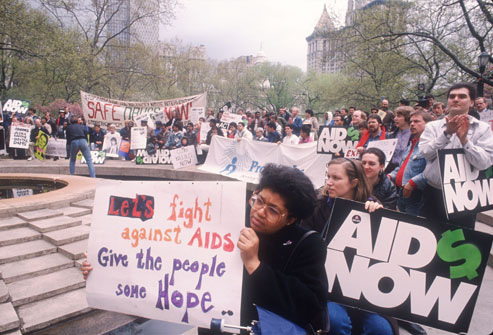 AIDS protests grow louder.
▪ Protests by ACT UP shut down the FDA. Within a week, the FDA begins a "fast-track" policy allowing public access to lifesaving drugs still in clinical trials.
▪ People observe the first World AIDS Day on Dec. 1.
1989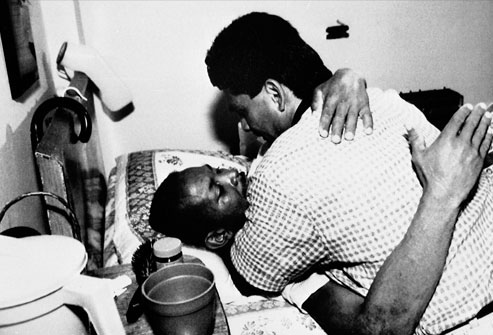 Boxer Roberto Duran hugs former boxing champ Esteban De Jesus, dying of AIDS.
▪ Scientists find that even before AIDS symptoms develop, HIV reproduces wildly in the blood. The goal of treatment shifts to keeping HIV at low levels.
▪ Photographer Robert Mapplethorpe dies of AIDS.
1991-1992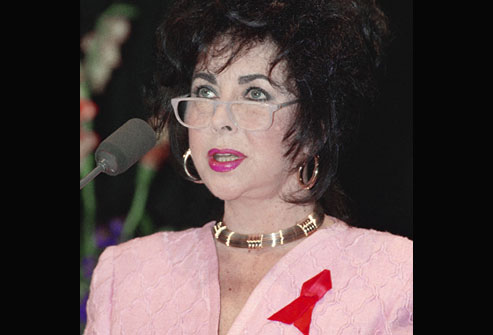 Elizabeth Taylor addresses the International AIDS Conference in Amsterdam.
▪ The red ribbon becomes a symbol of AIDS awareness.
▪ Athlete Magic Johnson announces he is HIV positive.
▪ Queen lead singer Freddie Mercury dies of AIDS.
▪ AIDS becomes the leading cause of death in U.S. men aged 25-44.
▪ The FDA licenses the first rapid HIV test.
1993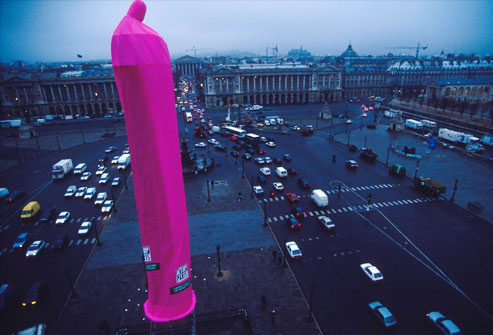 A monumental safe-sex message in Paris.
▪ ACT UP and retailer Benetton put a giant condom on the Place de la Concorde in Paris.
▪ A play about the AIDS epidemic, Angels in America, wins the Pulitzer Prize.
▪ The CDC launches condom ads on TV.
1994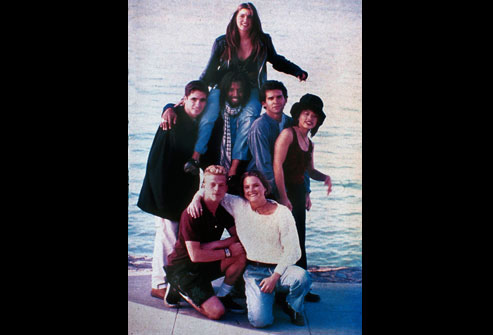 MTV's "The Real World" cast member Pedro Zamora, standing at left.
AIDS patient and activist Pedro Zamora becomes a cast member on MTV's The Real World: San Francisco. One day after the season finale airs, he dies at age 22.
1996-1997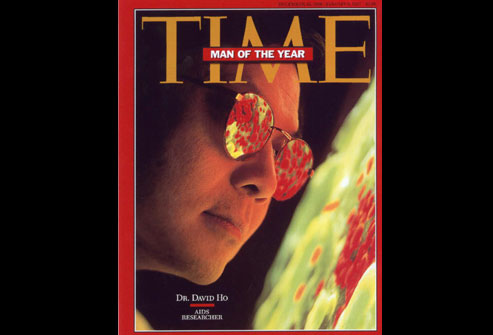 David Ho, MD, early champion of drug "cocktails," is Time's 1996 Man of the Year.
A treatment breakthrough: The AIDS drug cocktail -- highly active anti-retroviral therapy or HAART -- can cut the HIV viral load to almost invisible levels. Hope surges when AIDS researcher David Ho, MD, suggests treatment may eliminate HIV from the body. He's wrong -- it's later found that HIV can hide in cells -- but U.S. AIDS deaths decline by more than 40%.
1998-2000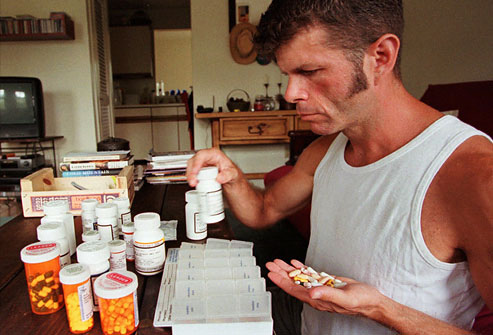 HIV treatment works -- but it means many different pills, many times a day.
Awareness grows that HAART has serious side effects. Treatment failures highlight the need for newer, more powerful drugs. The FDA later approves new classes of drugs that make HIV treatment safer, easier, and more effective. But the drugs do not cure AIDS.
2001-2002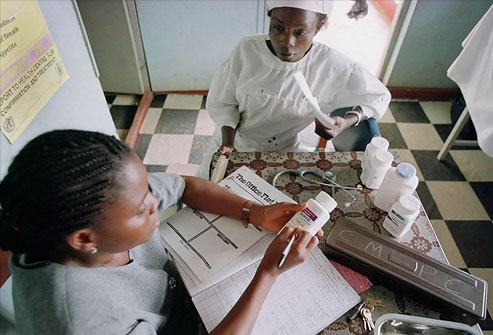 Countries in sub-Saharan Africa approve the purchase of generic drugs from abroad.
▪ UN Secretary General Kofi Annan proposes the Global Fund to Fight HIV/AIDS, TB, and malaria. The purpose of the Global Fund is to mobilize, manage, and distribute funds to fight HIV/AIDS.
▪Treatment is still totally unavailable to the vast majority of people living with HIV. Only 1% of the 4.1 million sub-Saharan Africans with HIV receive anti-HIV drugs.
2003-2005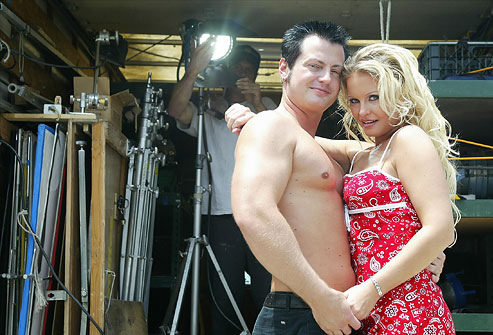 Vivid Entertainment was one of the few adult film companies to insist on condom use.
▪ The California porn industry experiences an HIV outbreak.
▪ President Bush announces the $15 billion President's Emergency Plan for AIDS Relief. Critics say the prevention part of the plan overemphasizes saying no to sex altogether. But the plan provides much-needed HIV/AIDS-treatment funds to 15 nations.
2006-2007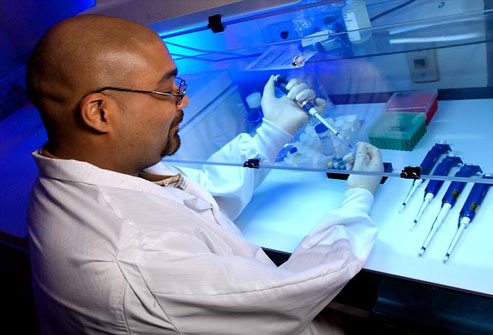 Despite the failure of the most promising HIV vaccine to date, the quest continues.
▪ Studies show that HIV treatment extends life by 24 years, at a cost of $618,900.
▪ Merck's HIV vaccine fails in clinical trials -- the latest in a long line of vaccine failures. But new vaccines are still in development.
▪ UNAIDS recommends adult male circumcision after research shows it halves HIV transmission from women to men in high-risk regions.
2008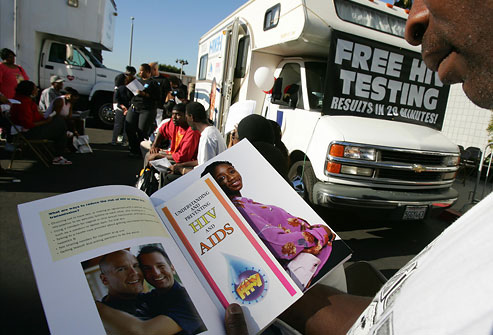 HIV infections rise in young gay men, especially young African-Americans.
▪ The CDC says research shows HIV in America is worse than we'd thought: 1.1 million infected, up 11% from 2003.
▪ New HIV infection rates soar among men who have sex with men.
2008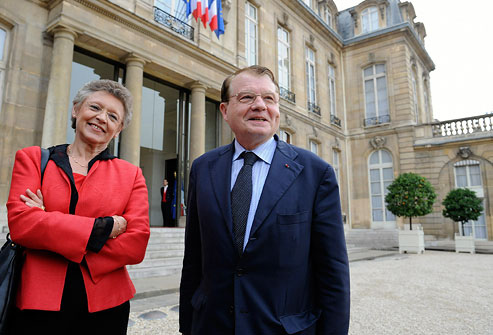 HIV researchers Barre-Sinoussi and Montagnier win Nobel Prize.
▪ Luc Montagnier and Francoise Barre-Sinoussi receive the Nobel Prize in medicine for the discovery of HIV.
▪ Of the 33 million people now living with HIV, 3 million are getting treatment. That's less than a third of those who need treatment right away. Yet for the first time, global AIDS deaths decline.
2009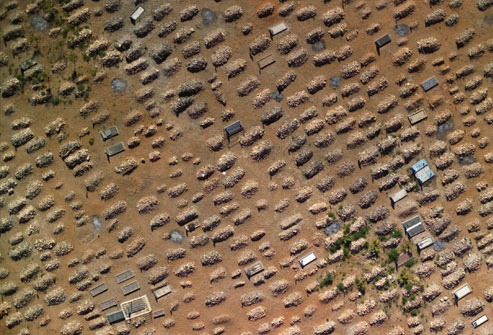 A graveyard in South Africa, where 250,000 died of AIDS in a single year.
UNAIDS says the global spread of AIDS peaked in 1996 with 3.5 million new infections. Deaths peaked in 2004, at 2.2 million. Yet AIDS Day 2009 brings grim figures: 2.7 million new HIV infections and 2 million AIDS deaths in the previous year. More than half of those who need it get no treatment.
2009-2010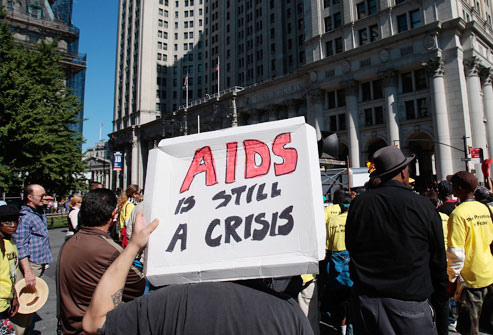 AIDS: How soon we forget.
Polls show most Americans no longer consider AIDS a major problem. They're wrong. New infections continue to soar. Over half are in men who have sex with men, but 31% are in heterosexuals. African Americans -- 12% of the U.S. population -- get 45% of new HIV infections.
2012-2014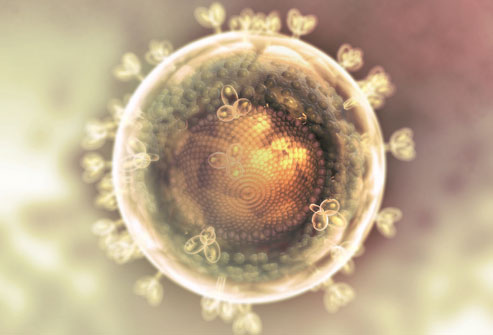 HIV-neutralizing antibody may lead to new vaccines.
In 2012, the FDA approved use of a tenofovir/emtricitabine combination to lower the chance of HIV in people who are at high risk of getting it. Sold under the brand name Truvada, the drug prevents HIV from attacking cells in the body. You take it every day and use other safe-sex practices as well. There are also more than a dozen antibodies that target HIV. One of them, PGT 128, may prevent about 70% of viruses from infecting cells in lab tests.