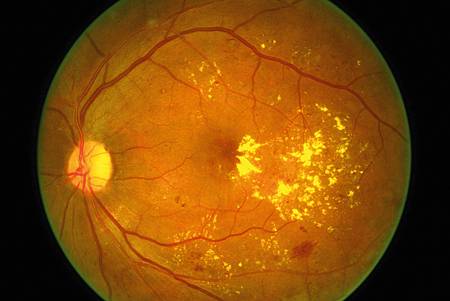 Diabetic macular edema, a manifestation of diabetic retinopathy that impairs central vision, affects approximately 750,000 people in the United States and is a leading cause of vision loss.1 The costs associated with visual disability and treatment of diabetic macular edema are high.2 The increasing prevalence of diabetes worldwide highlights the importance of diabetic macular edema as a global health issue.3

Vascular endothelial growth factor (VEGF) is an important mediator of abnormal vascular permeability in diabetic macular edema.4,5 Intravitreous injections of anti-VEGF agents have been shown to be superior to laser photocoagulation of the macula, the standard treatment for diabetic macular edema since the 1980s.6-13 In 2013, an estimated 90% of retinal specialists in the United States reported using anti-VEGF therapy for initial management of vision loss from diabetic macular edema involving the macular center.14
Three commonly used intravitreous VEGF inhibitors — aflibercept (Eylea, Regeneron Pharmaceuticals), bevacizumab (Avastin, Genentech), and ranibizumab (Lucentis, Genentech) — have been shown to be beneficial and relatively safe for the treatment of diabetic macular edema,6,15-18 but only aflibercept and ranibizumab are approved by the Food and Drug Administration (FDA) for this indication. Bevacizumab, which is not approved by the FDA for any ocular indication, is widely used for off-label treatment of diabetic macular edema in repackaged aliquots containing approximately 1/500th of the systemic dose used in cancer therapy. On the basis of the Medicare allowable charges, the approximate cost for a single intravitreous injection is $1,950 for aflibercept (at a dose of 2.0 mg), $50 for bevacizumab (under the assumption that 10 mg is used to repackage a 1.25-mg dose), and $1,200 for ranibizumab (at a dose of 0.3 mg).
To provide comparative efficacy and safety data, the Diabetic Retinopathy Clinical Research Network (DRCR.net), sponsored by the National Institutes of Health, conducted a randomized clinical trial to compare intravitreous aflibercept, bevacizumab, and ranibizumab for the treatment of diabetic macular edema involving the center of the macula and causing vision impairment.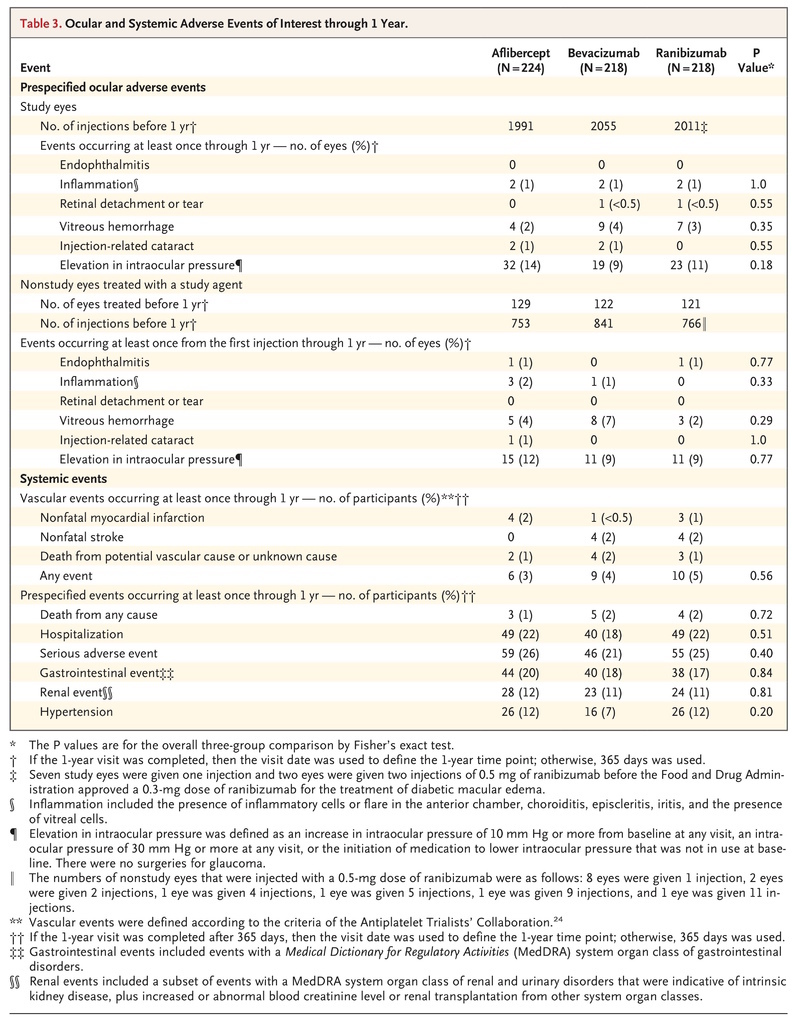 DISCUSSION
In this comparative-effectiveness, randomized clinical trial of center-involved diabetic macular edema causing decreased visual acuity, treatment with intravitreous aflibercept, bevacizumab, or ranibizumab was associated with a substantial improvement in mean visual acuity by 1 month, with the improvement sustained through 1 year with the use of a standardized retreatment protocol. On average, greater improvement was seen with aflibercept than with the other agents, although the magnitude of the greater effect of aflibercept lacked clinical applicability because it was dependent on initial visual acuity. When initial vision loss was mild (20/32 to 20/40, representing 51% of study eyes), there was little difference in mean visual acuity at 1 year among the three agents. At worse initial levels of vision, aflibercept had a clinically meaningful advantage; for example, an improvement in the visual-acuity letter score of at least 15 (3 Snellen lines) was observed in 63% more aflibercept-treated eyes than bevacizumab-treated eyes (67% vs. 41%) and in 34% more aflibercept-treated eyes than ranibizumab-treated eyes (67% vs. 50%). The effect of bevacizumab on reducing macular edema was less than that of the other two agents in both initial-visual-acuity subgroups. Irrespective of initial visual acuity, few eyes treated with any one agent had substantial loss of visual acuity.
The median number of injections was 9 or 10 in the three groups. Laser photocoagulation was performed in fewer aflibercept-treated eyes than eyes treated with the other agents, a finding that probably reflects the greater proportion of aflibercept-treated eyes with resolution of central-subfield–involved diabetic macular edema. The three compounds differ in structure, growth factor specificity, and VEGF-binding affinity, but the ways in which these differences may relate to in vivo efficacy is not fully understood.25-28
Rates of death, serious adverse events (including death), hospitalization, and prespecified systemic adverse events were similar in the three treatment groups. Although significant differences among treatment groups in the frequency of major cardiovascular events were not identified, a post hoc analysis showed that more participants in the ranibizumab group than in the other two groups reported adverse events when the MedDRA system organ classes of cardiac disorders and vascular disorders were combined. In light of the inconsistent cardiovascular associations among our study and prior trials,6,29-31 the statistical association between ranibizumab and cardiovascular events that was observed only in our post hoc analysis may be due to chance.
In a prior DRCR.net trial comparing ranibizumab with laser photocoagulation for the treatment of diabetic macular edema, there was no evidence of an increased cardiovascular risk with ranibizumab.6 A post hoc analysis of previous trials involving persons with age-related macular degeneration showed that aflibercept might be associated with a greater risk of stroke than ranibizumab among persons 85 years of age or older,32 but our trial did not show an increased risk of stroke with aflibercept. One prior trial of anti-VEGF agents for age-related macular degeneration suggested that bevacizumab might have greater systemic toxicity than ranibizumab,33 but this was not confirmed by a recent Cochrane Collaboration meta-analysis.34 With respect to ocular complications, endophthalmitis occurred rarely (in association with 0.02% of the injections), and no significant difference in intraocular inflammation was observed among the three groups.
We could not identify evidence of confounding or bias to explain the results. Participants and outcome assessors were unaware of the treatment-group assignments. With regard to the results for bevacizumab, a central pharmacy repackaged the agent into single-use vials that underwent independent testing for sterility, purity, and potency before use, and this standard may not always be feasible in clinical practice. Lower-than-expected concentrations of bevacizumab in products obtained from pharmacies have been reported, although the potential effect on treatment outcomes is unknown.35 When applying the results of this study to clinical practice, one should consider the eligibility criteria for this study, such as visual acuity, retinal thickness, and prior treatment for diabetic macular edema. The results may not apply to eyes with persistent or recurrent diabetic macular edema that are already being treated with anti-VEGF agents.
In conclusion, intravitreous aflibercept, bevacizumab, and ranibizumab were effective and relatively safe treatments for diabetic macular edema causing vision impairment. When initial visual-acuity loss was mild, there was, on average, little difference in visual acuity at 1 year among the three agents. However, at worse levels of initial visual acuity, aflibercept was more effective at improving vision.