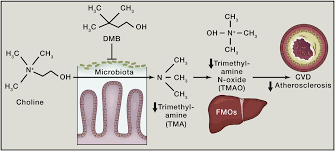 Cell. 2015 Dec 17;163(7):1585-95. doi: 10.1016/j.cell.2015.11.055.
SUMMARY
INTRODUCTION
Recent studies suggest gut microbes are participants in atherosclerosis development. Specifically, choline, phosphatidylcholine and carnitine, trimethylamine (TMA)-containing nutrients abundant in foods like meat, egg yolk and high fat dairy products, serve as dietary precursors for trimethylamine N-oxide (TMAO) generation in mice and humans, a metabolite that accelerates atherosclerosis in animal models (Koeth et al., 2013; Tang et al., 2013; Wang et al., 2011). Blood TMAO levels are associated with risks for both prevalent atherosclerotic heart disease and incident major adverse cardiac events in multiple independent cohorts (Koeth et al., 2013; Lever et al., 2014; Mente et al., 2015; Tang et al., 2014; Tang et al., 2013; Troseid et al., 2015; Wang et al., 2011; Wang et al., 2014b). TMAO lowering interventions are thus of considerable interest for their potential therapeutic benefit (Brown and Hazen, 2015).
TMAO formation in mammals occurs via a two-step metaorganismal pathway (Koeth et al., 2013; Wang et al., 2011). Specifically, following nutrient ingestion, gut microbes form TMA, and then host hepatic flavin monooxygenases (FMOs) catalyze the conversion of TMA into TMAO (Koeth et al., 2013; Wang et al., 2011). Recent studies highlight the importance of both TMAO and host hepatic FMO3, the primary FMO responsible for TMAO production, as important regulators in host lipid and sterol metabolism, as well as atherosclerosis development (Bennett et al., 2013; Koeth et al., 2013; Shih et al., 2015; Wang et al., 2011; Warrier et al., 2015). In addition, recent microbial transfer studies confirm that both choline-diet enhanced atherosclerosis susceptibility and TMA/TMAO formation are transmissible traits (Gregory et al., 2015). Accordingly, the concept of "drugging the microbiome" to inhibit the metaorganismal pathway responsible for TMAO generation is of interest as a potential therapeutic approach for prevention of atherosclerosis. Toward that end, recent studies confirm that suppression of the host enzyme, FMO3, through antisense oligonucleotide-based approach, results in reduction of both circulating TMAO levels and diet-enhanced atherosclerosis in animal models (Miao et al., 2015; Shih et al., 2015). However, while numerous beneficial effects with FMO3 inhibition have been noted, FMO3 inhibition is also accompanied by several untoward side effects, including hepatic inflammation (Shih et al., 2015; Warrier et al., 2015). It is also well established that humans with genetic defects in FMO3 suffer from Fish Odor Syndrome due to the accumulation of TMA and its noxious odor (Cashman et al., 2003), reducing the appeal of FMO3 as a potential therapeutic target for inhibition. Reduction in TMAO levels by non-lethally targeting the gut microbial pathway(s) involved in TMA production has not yet been explored as a potential therapeutic approach to inhibit atherosclerosis.
RESULTS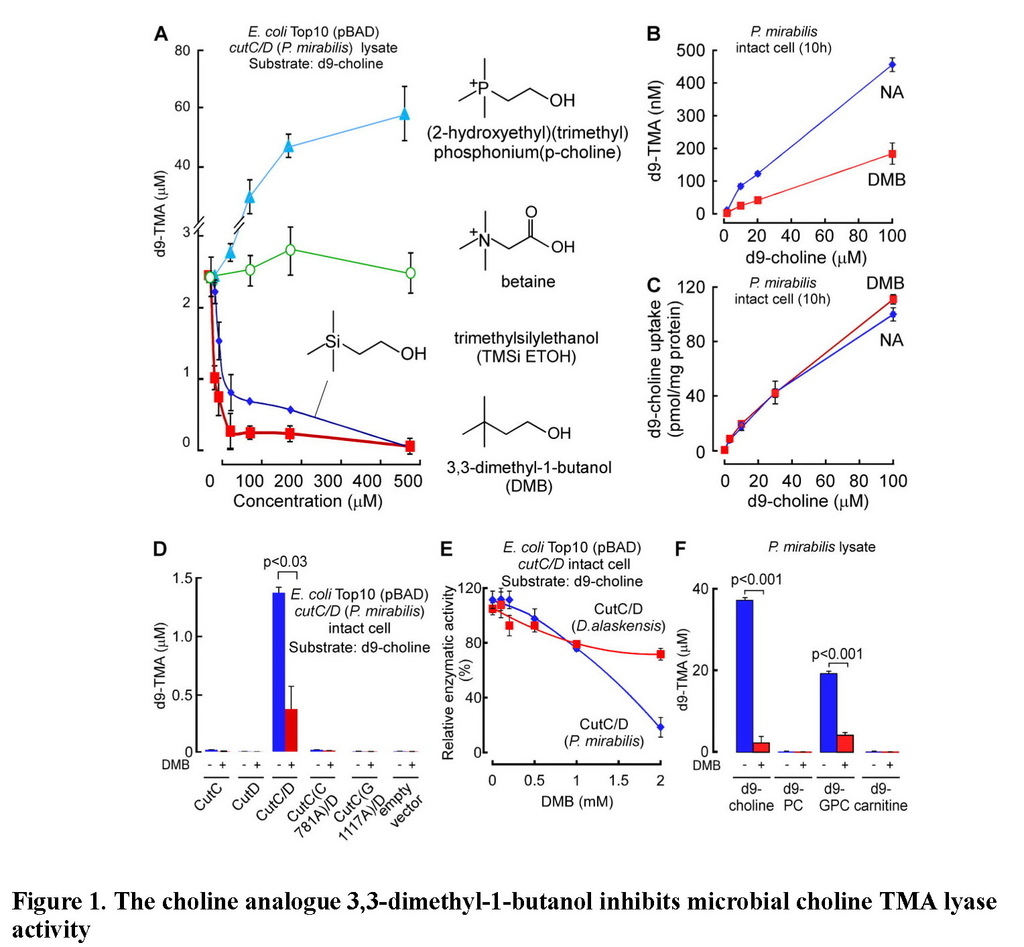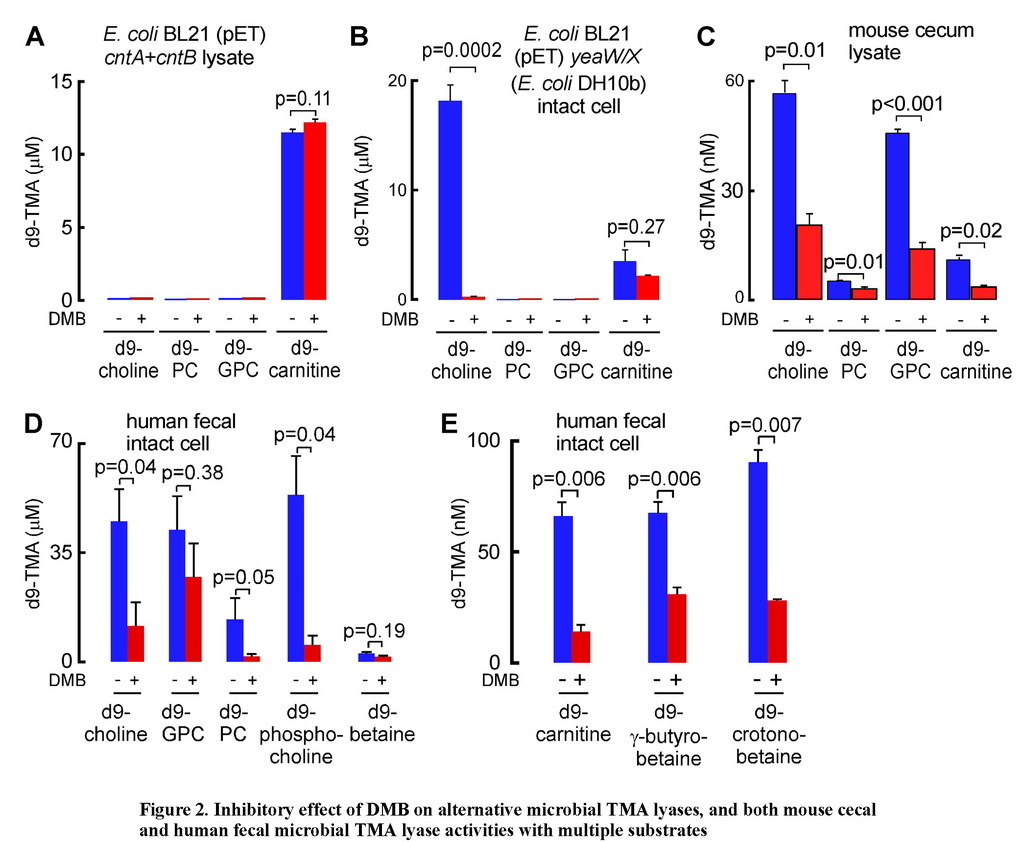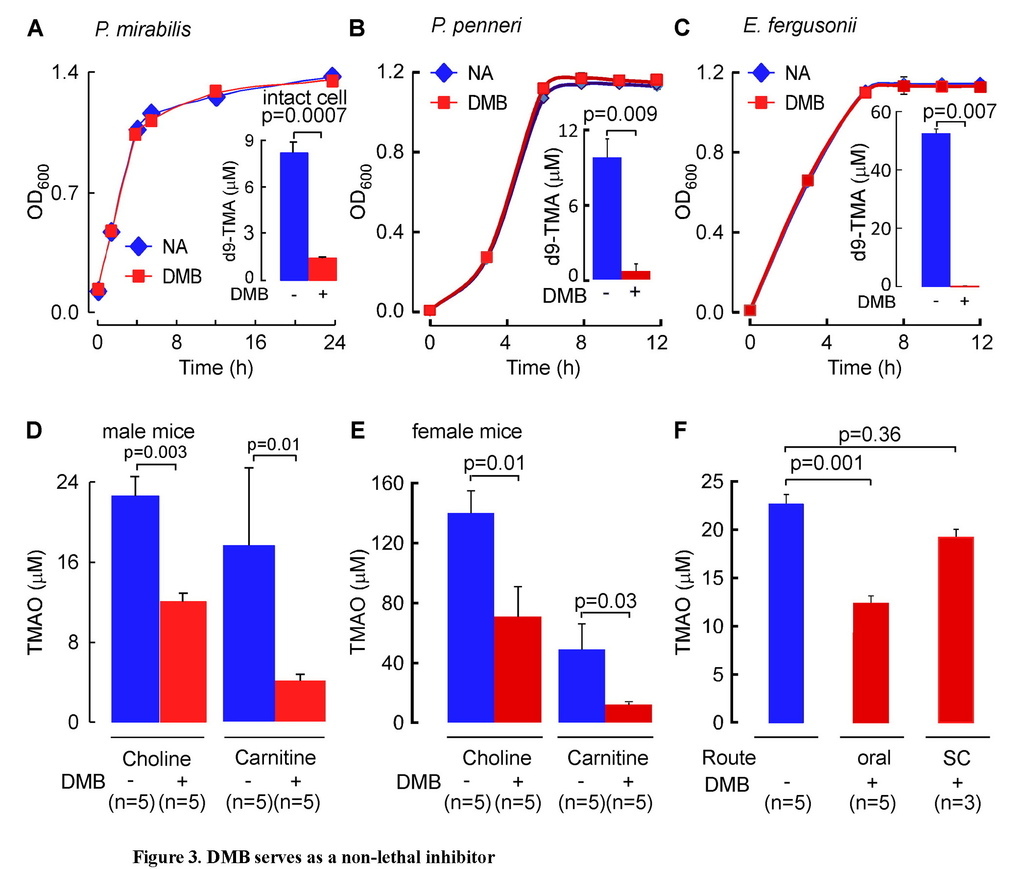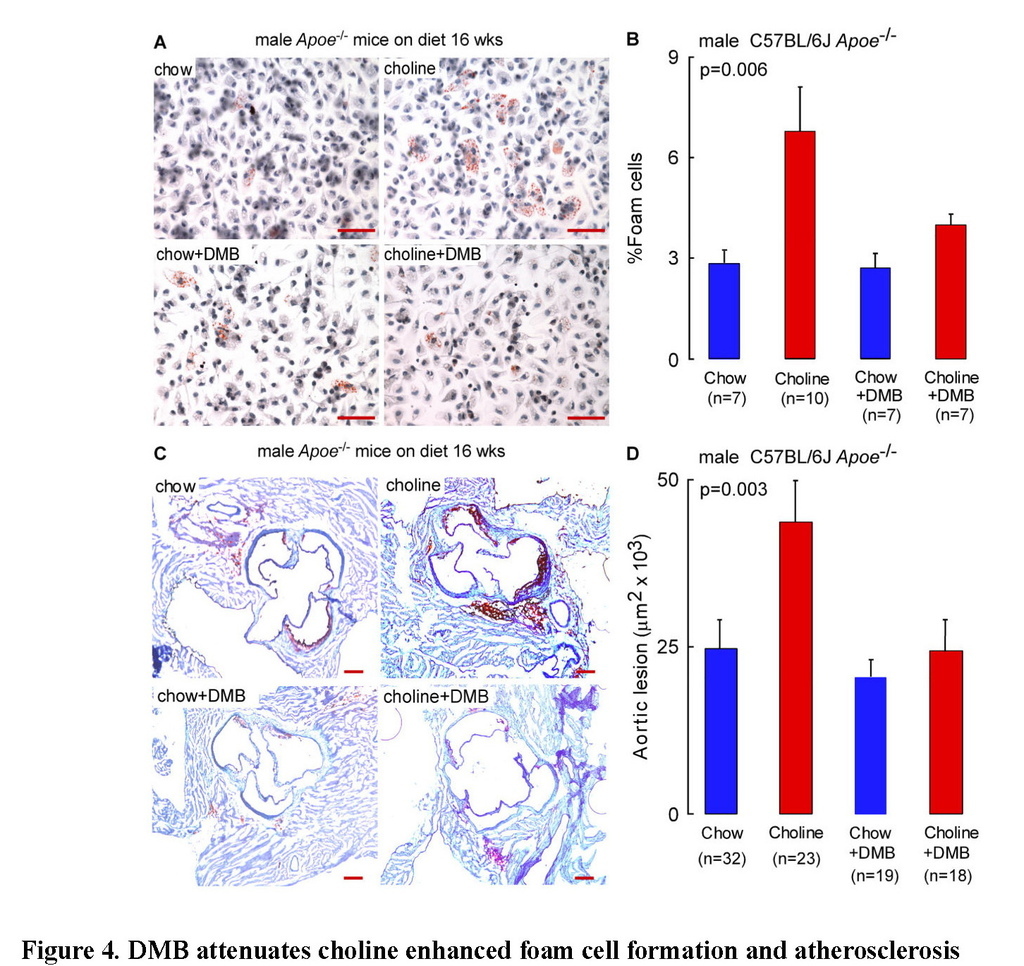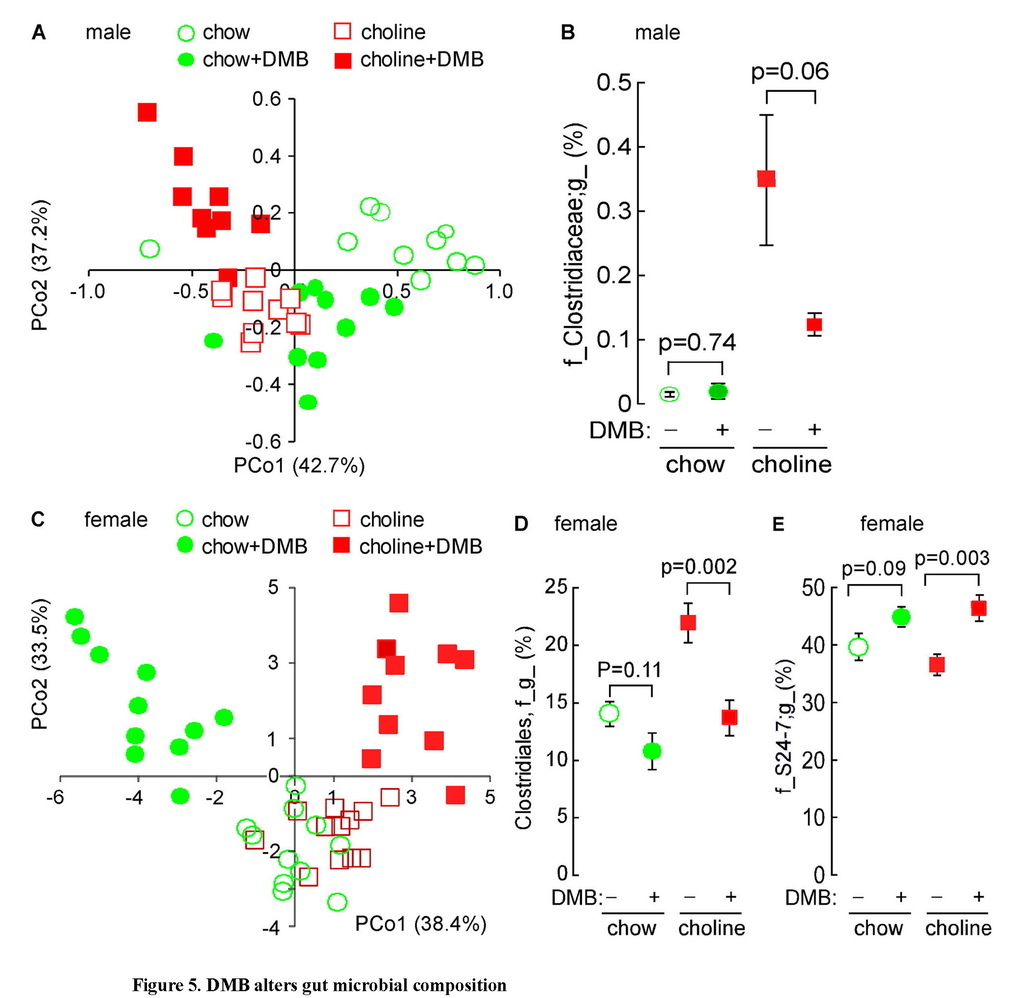 For female mice, the order Clostridiales and the genus Ruminococcus were each highly positively correlated with both plasma TMA and TMAO levels, as well as atherosclerotic lesion area (Table S4). Similarly, prevalence of the taxon Lachnospiraceae was highly associated with TMA and TMAO levels and showed a trend toward increased aortic root plaque area. It is also interesting to note that the proportion of the taxa Clostridiales, the most abundant bacterial order observed in cecum, was positively correlated to plasma TMA levels (r=0.35, p=0.03), and many Clostridiales species have been reported to cleave choline (Moller et al., 1986). Further, female mice placed on a choline-supplemented diet showed a significant increase in the proportions of this taxon, and exposure to DMB induced a significant decrease in the proportions of this taxon (Figure 5D; Table S4). In contrast, proportions of S24-7, an abundant family from Bacterioidetes, showed significant inverse associations with both atherosclerotic plaque area and TMA levels and a trend toward reduced plasma TMAO (Figure 5E; Table S4). Indeed, within the female mice, examination of the impact of DMB on multiple taxa associated with TMA or TMAO levels and atherosclerotic plaque extent indicates that provision of the agent induced a reduction in the levels of many bacterial taxa positively associated with levels of TMA, TMAO, or aortic root lesion area, and conversely, a rise in the proportions of many of the bacterial taxa negatively associated with TMA, TMAO or aortic lesion area (Table S4).
Discussion
Recent advances identify a pivotal role for gut microbiota in multiple phenotypes associated with cardiometabolic diseases. A causal role for the involvement of gut microbes is in part based on the fulfillment of one of Koch's postulates - namely, the transmission of a disease related phenotype with transplantation of gut microbial organisms to a new host (Cho and Blaser, 2012; Cox et al., 2014; Dumas et al., 2006; Gregory et al., 2015; Koch, 1880; Sandhu and Chase, 1986). The recognition of gut microbes as participants in cardiovascular and metabolic disease pathogenesis suggests pharmacological interventions aimed at "drugging the microbiome" may potentially serve as a therapeutic approach for the treatment of cardiometabolic diseases. Toward this end, in the absence of knowledge of specific microbial enzyme activities or their metabolites mechanistically linked to disease phenotypes, therapeutic approaches, aside from dietary restrictions, have thus far instead focused on altering gut microbial community composition through use of either defined microbial compositions (probiotics) or non-microbial substances that may secondarily foster alteration in microbial community structure (prebiotics) (Petschow et al., 2013). Multiple lines of evidence show the meta-organismal pathway involved in TMAO production is mechanistically linked to atherosclerosis susceptibility (Bennett et al., 2013; Gregory et al., 2015; Koeth et al., 2013; Wang et al., 2011). However, the effect of small molecule antagonists for the critical initiating microbial TMA lyase step on atherosclerosis development has not yet been reported.
The present studies provide proof of concept for the idea that inhibiting microbial TMA production, through microbial TMA lyase inhibition, may serve as a potential therapeutic approach for the prevention or treatment of atherosclerosis (Figure 6). DMB, a structural analogue of choline, served as a preliminary tool compound to inhibit microbe-dependent TMA and host TMAO formation from multiple distinct TMA containing nutrients in vitro and in vivo. Moreover, DMB provision, despite no significant effects on circulating cholesterol, choline and other pro-atherogenic risk factors, inhibited choline diet-dependent accumulation of both macrophage cholesteryl ester accumulation (foam cell formation) and aortic root atherosclerotic plaque development. In addition to attenuating plasma levels of TMAO, DMB promoted reduction in proportions of some microbial taxa that are associated with plasma TMA and TMAO levels, and aortic plaque extent. While the impact of DMB on microbial composition was noticeable, and one might anticipate that there is less selective pressure for development of resistance against a non-lethal enzyme inhibitor compared to an antibiotic, the fact that there is any change in microbial composition induced by DMB suggests some degree of selective pressure is occurring with exposure to the agent, and thus raises the possibility of development of resistance.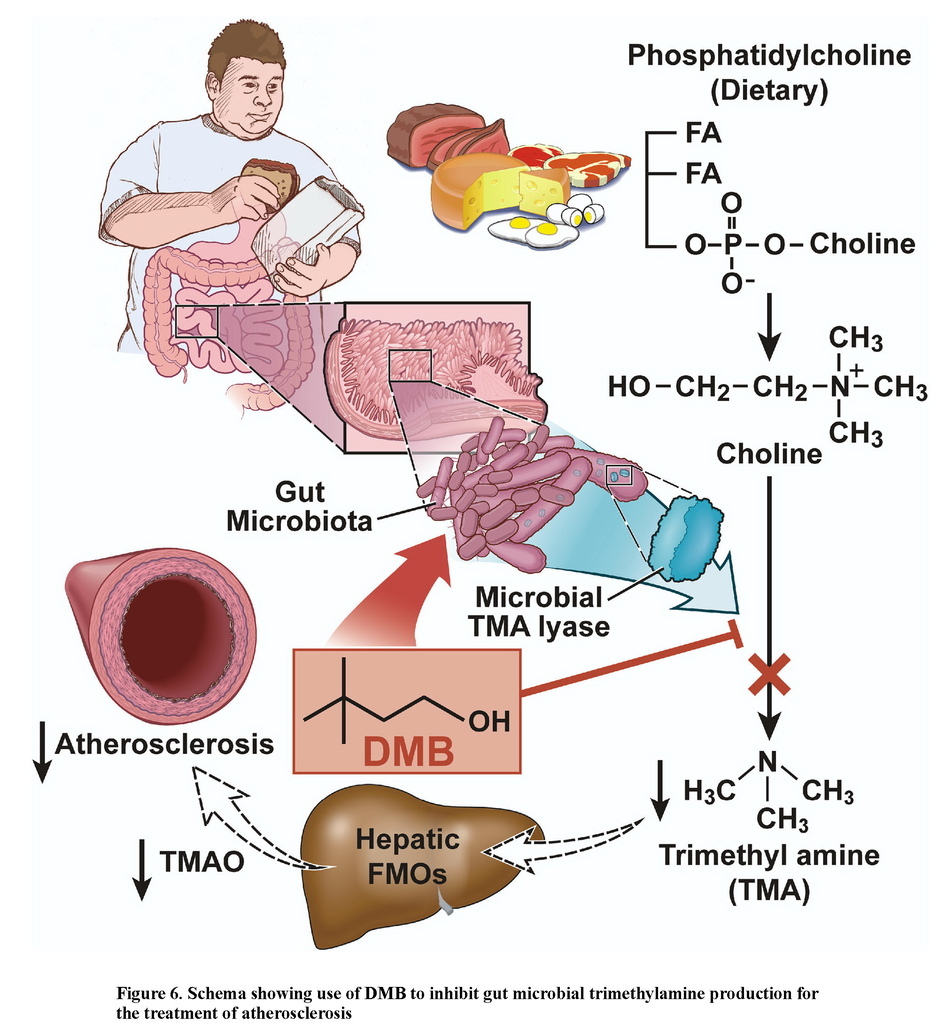 Gut microbes serve as a filter for our largest environmental exposure–what we eat. They also function, fundamentally, as a dynamic endocrine organ, generating biologically active metabolites in response to specific nutrient inputs that can enter the circulation and elicit biological effects at distant sites within the host (Brown and Hazen, 2015). The present studies suggest development of selective, non-lethal microbial enzyme inhibitors that target causative pathways, once they are revealed, may serve as an effective and complementary strategy to current approaches for the prevention and treatment of cardiometabolic diseases.
EXPERIMENTAL PROCEDURES
More complete experimental procedures are provided in Supplemental Experimental Procedures.
Supplementary Material
1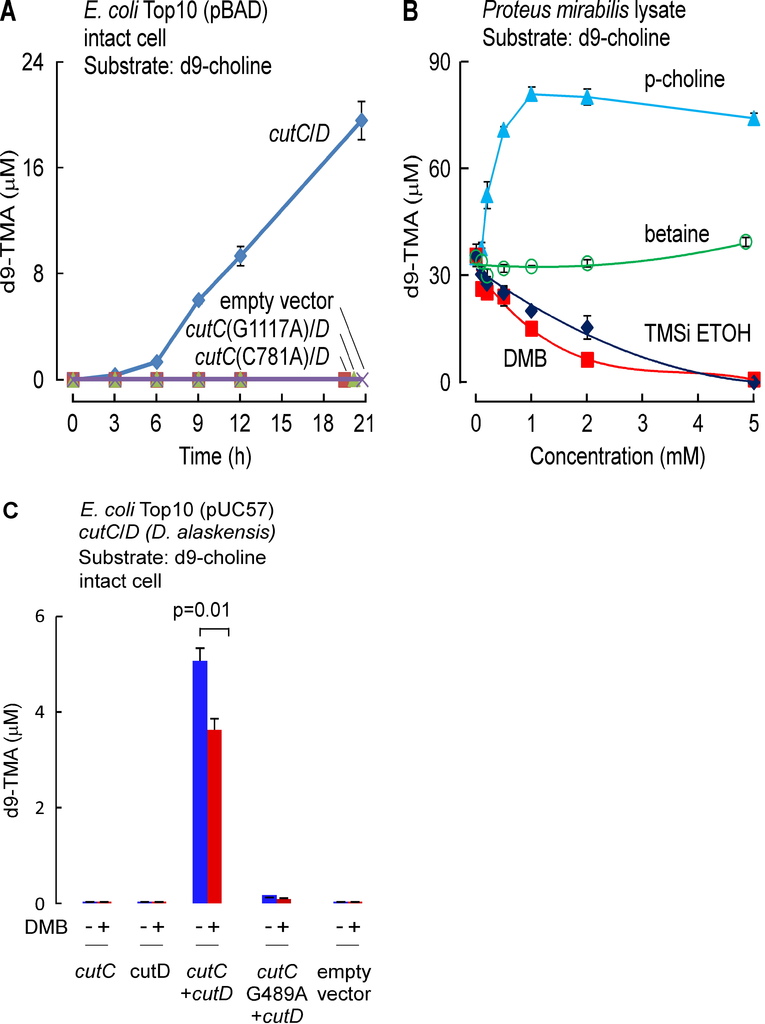 2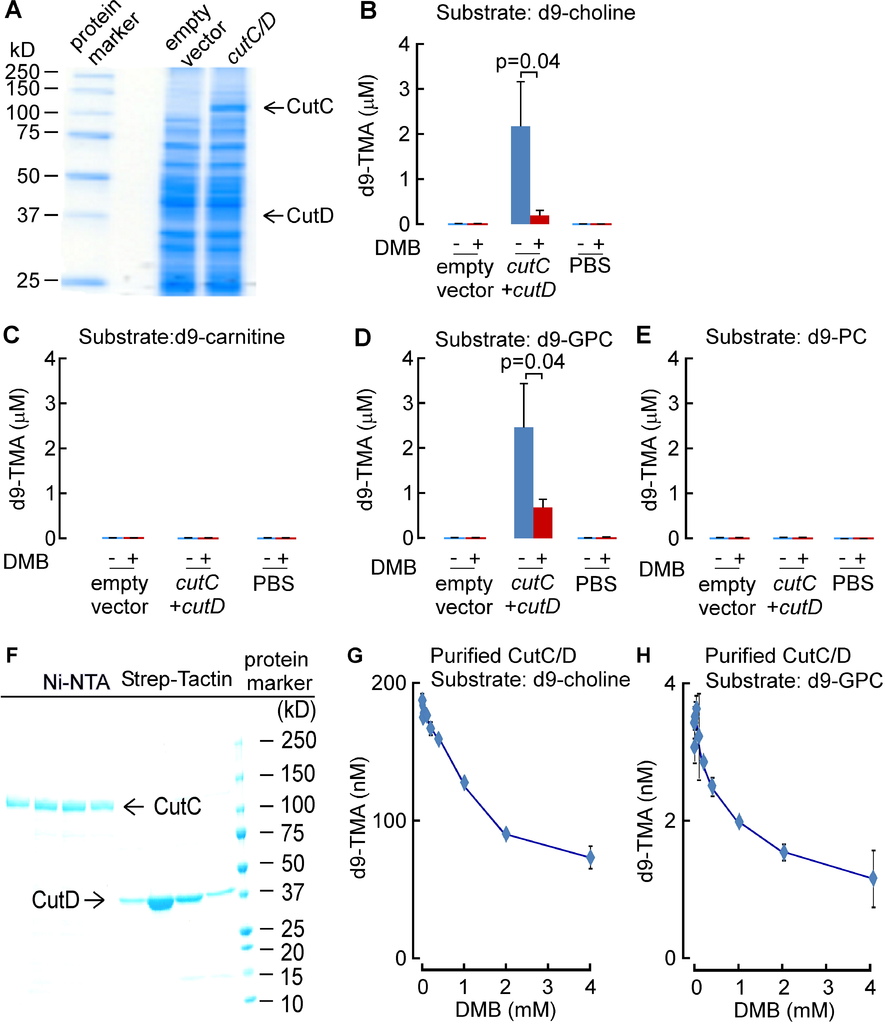 3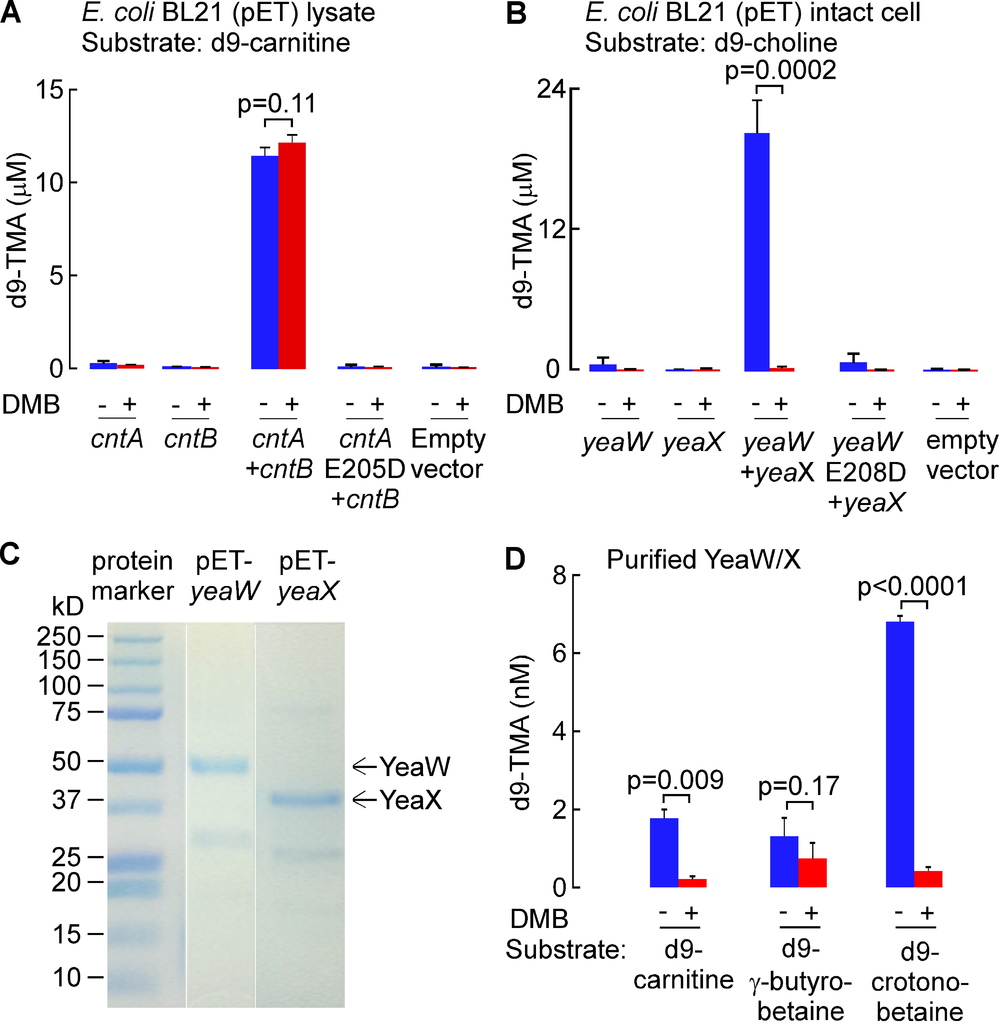 4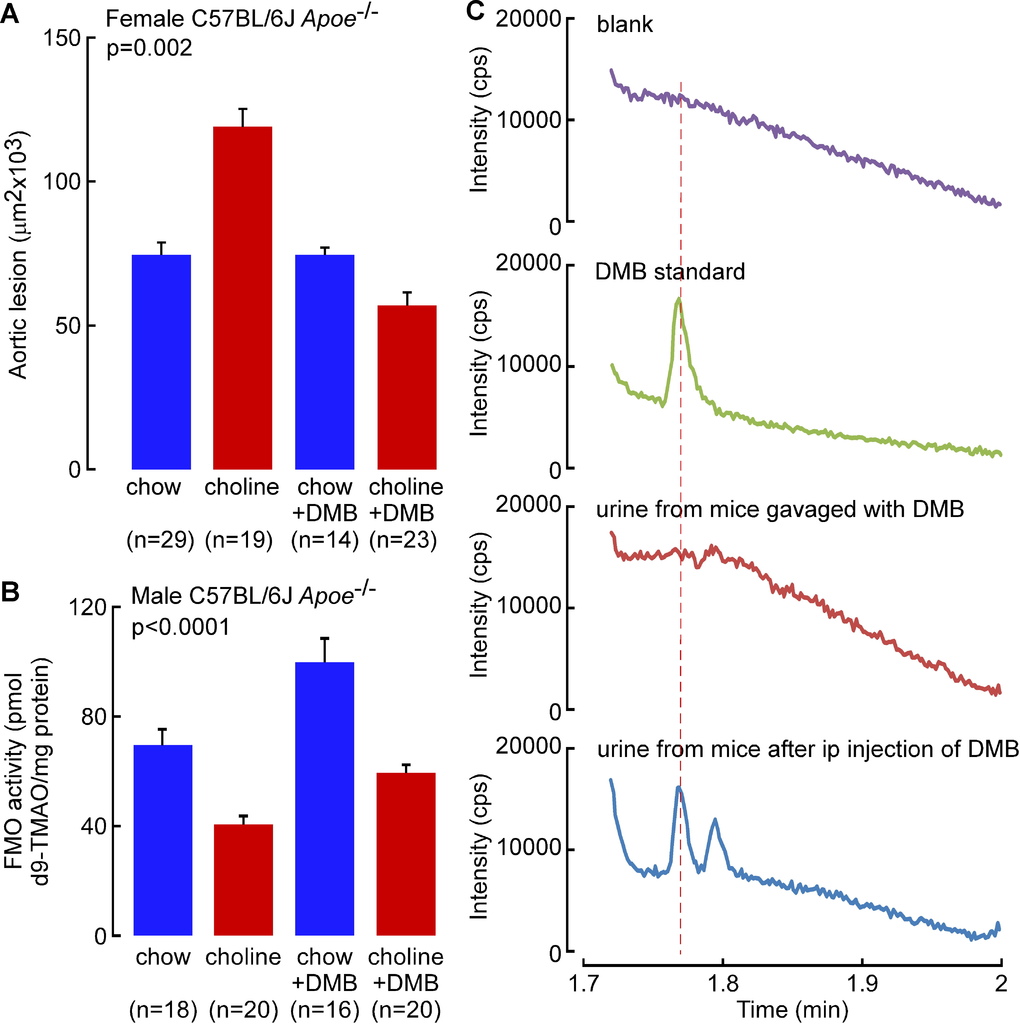 5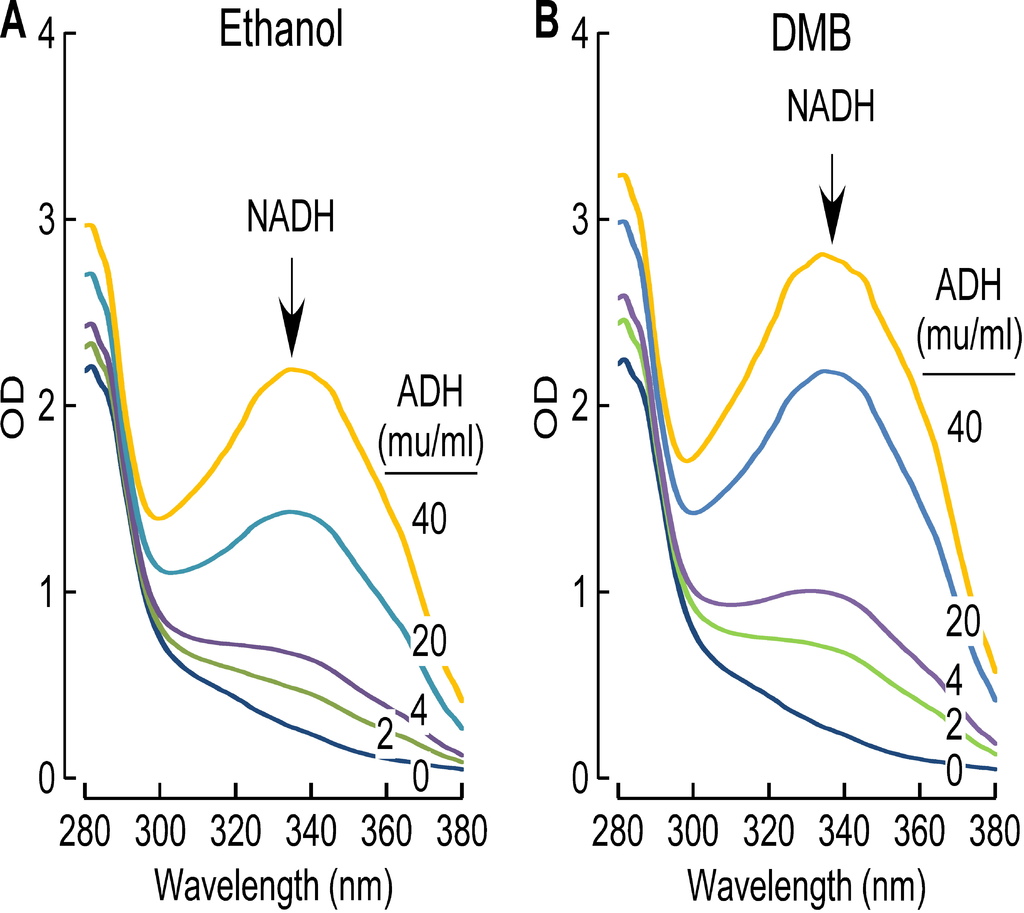 6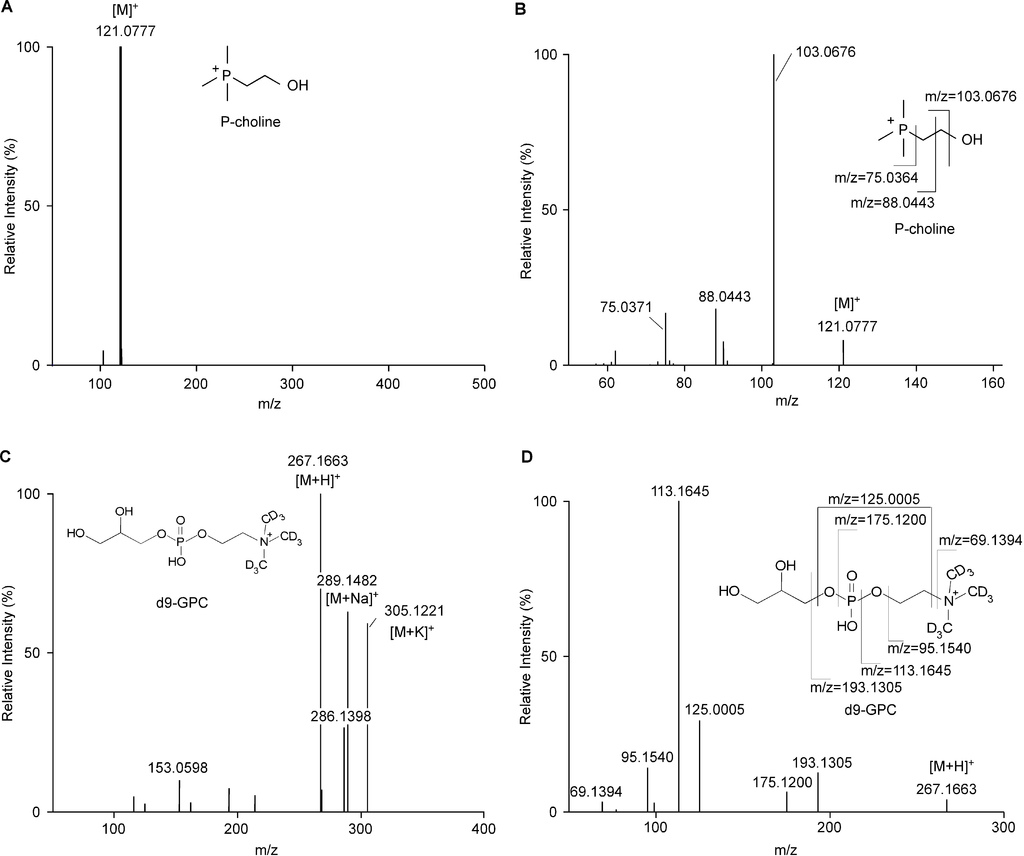 7 Click here to view.(174K, pdf)
8. Click here to view.(32K, docx)