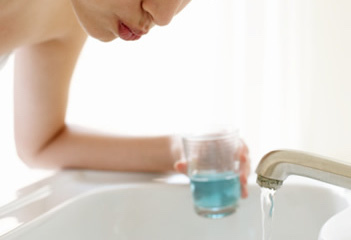 Volume 18, Issue 5, May 2017, Pages 654-662 https://doi.org/10.1016/S1470-2045(17)30109-2
Summary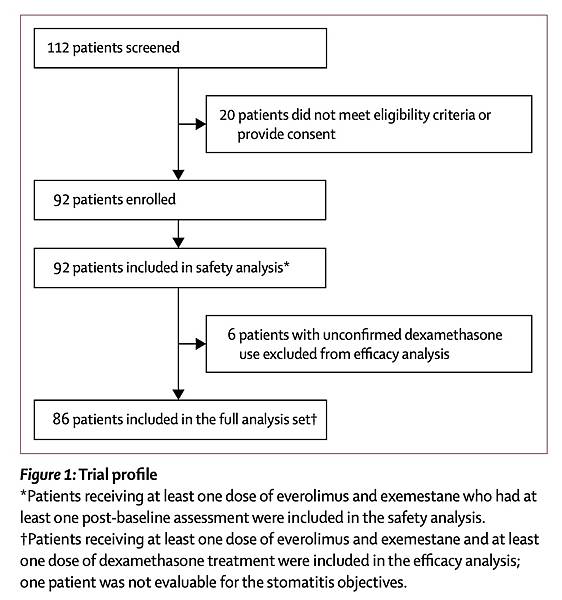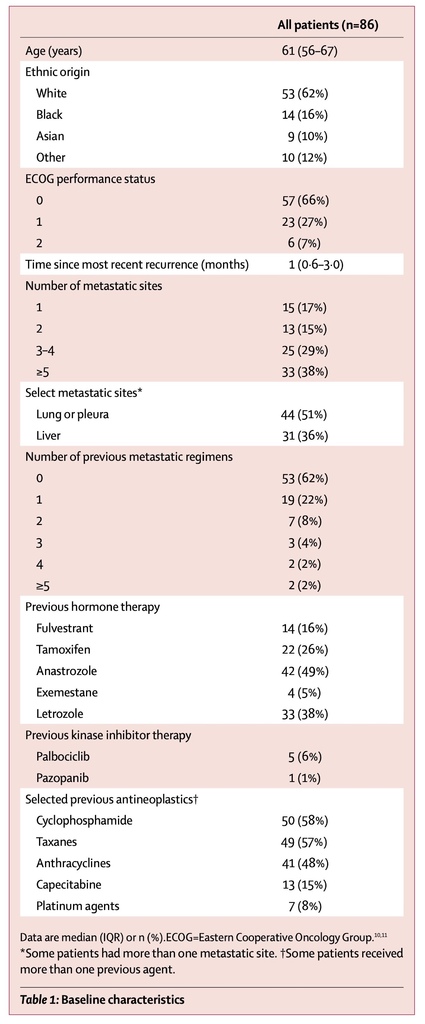 In the full analysis set of 86 patients treated with everolimus and exemestane and dexamethasone mouthwash, one patient with grade 1 stomatitis was not evaluable because of missing Normalcy of Diet Scale assessment. The primary endpoint of grade 2 or worse stomatitis by 8 weeks occurred in two (2% [95% CI 0·29–8·24]) of 85 patients (figure 2) in SWISH compared with 159 (33% [95% CI 28·8–37·4]) of 482 for the duration of BOLERO-2 study (p<0·0001).11Additionally, the proportion of stomatitis occurrence by 8 weeks for BOLERO-2 was calculated (figure 2; appendix p 9). Grade 2 stomatitis resolved to grade 1 or lower after 11 days and 15 days in the two affected SWISH patients, respectively. Two patients with clinical grade 2 stomatitis were classified as grade 1 due to the minimal impact of stomatitis on the visual analogue scale or Normalcy of Diet Scale.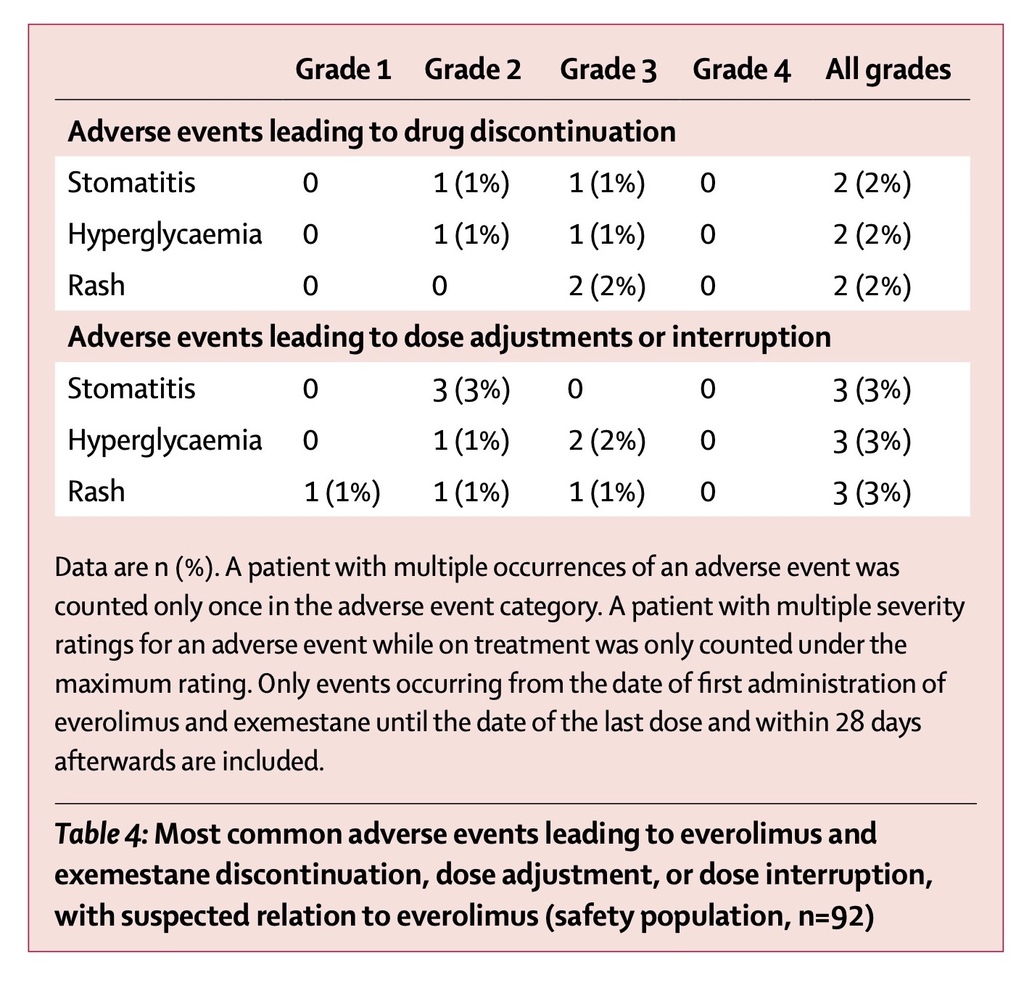 Two patients developed oral candidiasis during antifungal prophylaxis (one treatment related and one not) that resolved with nystatin or oral fluconazole treatment. Six (30%) of 20 patients who received oral antifungal prophylaxis of nystatin developed stomatitis during the study. There was no apparent association between antifungal prophylaxis and prevention of stomatitis or oral candidiasis.
The prespecified analysis of the effect of dexamethasone treatment on patient-reported outcomes was also assessed. Among the 72 patients evaluable at 8 weeks, 68 (94%) reported an ability to maintain a normal diet (score 100) or a diet with no or few restrictions (score 90–100) by 8 weeks. One patient each had a diet score of 80 (all meat) or 50 (soft foods chewable foods) and two patients had a score of 40 (soft foods requiring no chewing). The mean oral pain score was less than 1 at all visits (range 0·1–0·6). In terms of oral hygiene, by the end of week 8, 75 (90%) of 83 patients brushed their teeth once or twice daily, 78 (94%) of 83 patients used a soft-bristled toothbrush, and 60 (73%) of 82 patients flossed daily, one person did not report their flossing routine. The baseline data for hygiene indicate that all 92 patients brushed at least once a day at baseline; of 91 patients, 62 flossed and 29 did not floss at baseline. In the 75 patients with complete ECOG scores available, 66 (88%) maintained or improved their ECOG status (appendix p 3).
Discussion
The results of the SWISH trial show that a commercially available, inexpensive, and well tolerated dexamethasone mouthwash is effective in the prevention of or reduction in the incidence and severity of all-grade stomatitis, especially grade 2 or worse stomatitis at 8 weeks compared with historical controls from the BOLERO-2 trial. Patient-reported outcomes (ability to maintain a normal diet and oral pain scores) further substantiated the efficacy of dexamethasone mouthwash. Reduction of stomatitis and tolerability of the dexamethasone mouthwash might have contributed to the favourable dose intensities for everolimus recorded in this trial; everolimus dose intensity was slightly higher than in BOLERO-2. Good oral hygiene, compliance with administration of mouthwash, and patient education about early onset and management of stomatitis might have further improved tolerability and adherence.
The treatment goal for patients with advanced breast cancer is to delay disease progression while minimising treatment-related adverse events. mTOR inhibitor-associated stomatitis is a mTOR class effect that can diminish oral food intake, drug adherence, and quality of life.5 Given the clinical benefit and potential long-term use of everolimus and exemestane, this study provides compelling evidence of a practical management strategy to effectively prevent or reduce a class-specific toxicity associated with everolimus.
The SWISH study population represents a real-world practice population of patients who were eligible for everolimus and exemestane therapy. As such, small differences in patient characteristics exist between the SWISH and BOLERO-2 populations based on study design. The manner in which the SWISH case report forms were completed made it challenging to ascertain the setting and specific regimens of previous chemotherapy, making it difficult to determine the proportion of patients with previous chemotherapy in specific settings (although the major chemotherapies used in this study population are listed in table 1). Overall, patients in this trial seem to be less heavily pretreated than those in BOLERO-2, which could suggest that they were less prone to developing stomatitis. However, the risk of stomatitis does not seem to correlate with the number of previous lines of therapy. Data from BOLERO-4,16 in which everolimus and letrozole were administered in the first-line metastatic setting, showed all-grade stomatitis in 137 (68%) of 202 patients and grade 3 stomatits in 13 (6%) of 202 patients, which are similar to the rates reported in BOLERO-2.
Although our study design did not include more than four cycles of the study-supplied steroid mouthwash and did not report on the proportion of patients with stomatitis after stopping the mouthwash, most stomatitis events from the safety set occurred within the first 8 weeks of treatment, which is consistent with larger datasets.3 In a meta-analysis of phase 3 trials across indications, 89% of first episodes of stomatitis occurred by 8 weeks.3 In BOLERO-2, 83% of grade 2 or worse stomatitis events occurred by 8 weeks, further supporting the rationale that the 8 week cutoff is sufficient to capture most events. Clearly, dexamethasone prophylaxis had a profound effect in SWISH: it reduced the proportion of all-grade stomatitis by 65% and grade 2 or worse stomatitis by 91% compared with BOLERO-2 by 8 weeks. This pattern reinforces the importance of prophylaxis initiation concurrent with everolimus and exemestane treatment and the rationale for an early and short-term intervention. As such, a reasonable approach based on these data would be to use the steroid-based mouthwash for the first two to four cycles of everolimus and exemestane treatment and then on an as-needed basis for signs or symptoms of stomatitis. Concurrent treatment with a steroid-based mouthwash and mTOR inhibitor during the period of highest risk for stomatitis is an effective strategy to maximise the benefit-to-risk ratio for patients. This approach has the potential to allow broader use of everolimus and exemestane with less toxicity in other indications for which the incidence of stomatitis ranges from 59% in advanced renal cell carcinoma3 to 70% in advanced neuroendocrine tumours.2
A strength of our study was that the eligibility criteria reflected the regulatory approved indication for everolimus and exemestane treatment. The most frequently reported adverse events were consistent with those reported in previous trials of everolimus and exemestane in breast cancer;5, 7 no new safety concerns were noted. Adverse events associated with the dexamethasone mouthwash were minimal (two patients had oral candidiasis), suggesting that the mouthwash presents minimal risk to patients. More than 74% of patients continued the mouthwash for more than 8 weeks, suggesting a benefit in the prevention or treatment of a later event of stomatitis with minimal risk. However, whether or not continuous preventive usage of dexamethasone mouthwash over a longer period could further increase the incidence of candidiasis remains unknown.
To the best of our knowledge, SWISH is the first and largest stomatitis prevention study combining therapeutic management with patient engagement to reduce the incidence and severity of mTOR inhibitor-associated stomatitis in women with hormone receptor-positive metastatic breast cancer. Our results are consistent with anecdotal reports of steroid-based oral rinses for prevention or amelioration of everolimus-related stomatitis.3, 8, 10, 17 These findings are further supported by interim results from a study of 47 patients treated with everolimus, an aromatase inhibitor, and prophylactic hydrocortisone-based or prednisolone oral solution for 12 weeks.18 Specifically, SWISH patients (in the safety set) with 13 weeks' median exposure to everolimus and exemestane reported an incidence of all-grade stomatitis (25 [27%] of 92 patients) that was similar to that reported by Jones and colleagues18 (12 [25%] of 48) in their 12 week study. Grade 2 or worse stomatitis was reduced by more than three times in both SWISH (9% in the safety set) and in Jones and colleagues' study (9%) compared with the 8 week incidence in BOLERO-2 (27%). Several ongoing clinical studies are assessing the effect of preventive and therapeutic rinses on oral mucositis or stomatitis in patients receiving everolimus and exemestane (NCT02229136, NCT02376985, and NCT01265810). These data will shed further light on the role of steroid-based mouthwash in the prevention of stomatitis.4
We recognise that our study has some limitations. This single-arm study does not have a control population; an indirect comparison with historical controls was used. Patients from BOLERO-2 served as a benchmark for the 8 week incidence of stomatitis, an endpoint that was valid because most events were observed within this timeperiod.3SWISH patients seemed to be less heavily pretreated than those in BOLERO-2, which might affect the risk of stomatitis. For the efficacy analyses in SWISH, grade of stomatitis was assessed as a composite score based on investigator confirmation of stomatitis, visual analogue scale, and Normalcy of Diet Scale, whereas it was assessed with CTCAE 3.0 criteria in BOLERO-2. A phase 2, non-randomised trial design for SWISH was chosen because of both ethical and technical issues. For example, it would be unethical to randomly assign patients to best supportive care because this approach has been shown to have a minimal prophylactic effect.19 Non-randomised, single-arm studies might have limited generalisability to populations not included in the study or might not be valid to compare with other studies.20 Confounding variables and unknown factors can bias results,21 including the use of video instructions on stomatitis and good oral hygiene in this trial, which would have improved adherence and outcomes compared with a real-world situation. However, the minimal change from baseline for oral hygiene scores suggests at most a modest impact. Potential bias was minimised by analysis of multiple datasets of stomatitis in patients treated with everolimus and exemestane.
The SWISH trial showed that prophylactic use of a commercially available, inexpensive oral dexamethasone mouthwash resulted in a more than ten-times reduction in the incidence of grade 2 or worse stomatitis at 8 weeks compared with BOLERO-2. Steroid prophylaxis should be considered a new standard of oral care for postmenopausal patients who are receiving everolimus and exemestane for treatment of hormone receptor-positive, HER2-negative advanced breast cancer and metastatic breast cancer, especially in the first 8 weeks of treatment and as needed thereafter. In the future, steroid prophylaxis might be considered as a treatment option in other diseases for which everolimus is indicated (advanced renal cell carcinoma, subependymal giant cell astrocytoma associated with tuberous sclerosis complex, and advanced neuroendocrine tumours).
---
References
J Natl Compr Canc Netw, 11 (2013), pp. 670-678

Afinitor (everolimus) prescribing information, Novartis Pharmaceuticals Corp, East Hanover, NJ (2016)

J Divers, J O'ShaughnessyStomatitis associated with use of mTOR inhibitors: implications for patients with invasive breast cancer

Clin J Oncol Nurs, 19 (2015), pp. 468-474

HS Rugo, KI Pritchard, M Gnant, et al.Incidence and time course of everolimus-related adverse events in postmenopausal women with hormone receptor-positive advanced breast cancer: insights from BOLERO-2

Ann Oncol, 25 (2014), pp. 808-815

HS Rugo, GN Hortobagyi, J Yao, et al.Meta-analysis of stomatitis in clinical studies of everolimus: incidence and relationship with efficacy

Ann Oncol, 27 (2016), pp. 519-525

R Shameem, M Lacouture, S WuIncidence and risk of high-grade stomatitis with mTOR inhibitors in cancer patients

Cancer Invest, 33 (2015), pp. 70-77

DA Yardley, S Noguchi, KI Pritchard, et al.Everolimus plus exemestane in postmenopausal patients with HR(+) breast cancer: BOLERO-2 final progression-free survival analysis

Adv Ther, 30 (2013), pp. 870-884

AP Pilotte, MB Hohos, KM Polson, TM Huftalen, N TreisterManaging stomatitis in patients treated with Mammalian target of rapamycin inhibitors

Clin J Oncol Nurs, 15 (2011), pp. e83-e89

S Sonis, N Treister, S Chawla, G Demetri, F HaluskaPreliminary characterization of oral lesions associated with inhibitors of mammalian target of rapamycin in cancer patients

Cancer, 116 (2010), pp. 210-215

O Nicolatou-Galitis, A Nikolaidi, I Athanassiadis, E Papadopoulou, SSonisOral ulcers in patients with advanced breast cancer receiving everolimus: a case series report on clinical presentation and management

Oral Surg Oral Med Oral Pathol Oral Radiol, 116 (2013), pp. e110-e116

Rugo HS, Gnant M, Geberth M, et al. Everolimus-related adverse events: safety insight from BOLERO-2. St Gallen International Breast Cancer Conference; St Gallen, Switzerland; March 13–16, 2013. Poster 274.

MA List, LL D'Antonio, DF Cella, et al.The performance status scale for head and neck cancer patients and the functional assessment of cancer therapy-head and neck scale. A study of utility and validity

Cancer, 77 (1996), pp. 2294-2301

MA List, C Ritter-Sterr, SB LanskyA performance status scale for head and neck cancer patients

Cancer, 66 (1990), pp. 564-569

D Gould, D Kelly, L Goldstone, J GammonExamining the validity of pressure ulcer risk assessment scales: developing and using illustrated patient simulations to collect the data

J Clin Nurs, 10 (2001), pp. 697-706

ST Sonis, JP Eilers, JB Epstein, et al.Validation of a new scoring system for the assessment of clinical trial research of oral mucositis induced by radiation or chemotherapy. Mucositis Study Group

Cancer, 85 (1999), pp. 2103-2113

M Royce, C Villaneuva, M Ozguroglu, et al.BOLERO-4: phase 2 trial of first-line everolimus (EVE) plus letrozole (LET) in estrogen receptor–positive (ER+), human epidermal growth factor receptor 2–negative (HER2−) advanced breast cancer (BC)

Ann Oncol, 27 (2016), pp. 68-69

MA de Oliveira, EMF Martins, Q Wang, et al.Clinical presentation and management of mTOR inhibitor-associated stomatitis

Oral Oncol, 47 (2011), pp. 998-1003

VL Jones, LL Jensen, KJ McIntyre, et al.Evaluation of miracle mouthwash (MMW) plus hydrocortisone versus prednisolone mouth rinses as prophylaxis for everolimus-associated stomatitis: preliminary results of a randomized phase II study

Cancer Res, 76 (2016)

F Schütz, E-M Grischke, T Decker, et al.Stomatitis in patients treated with everolimus and exemestane—results of the third interim analysis of the non-interventional trial BRAWO

Cancer Res, 76 (2016)

L Zheng, SL Rosenkranz, B Taiwo, MF Para, JJ Eron Jr, MD HughesThe design of single-arm clinical trials of combination antiretroviral regimens for treatment-naive HIV-infected patients

AIDS Res Hum Retroviruses, 29 (2013), pp. 652-657

SR EvansClinical trial structures

J Exp Stroke Transl Med, 3 (2010), pp. 8-18