Edouard Vannier, Ph.D., and Peter J. Krause, M.D.
N Engl J Med 2012; 366:2397-2407June 21, 2012
Human babesiosis is an infectious disease caused by intraerythrocytic protozoa of the genus babesia. The disease is named after Victor Babes, the Hungarian pathologist and microbiologist who identified intraerythrocytic microorganisms as the cause of febrile hemoglobinuria in cattle in 1888.1 Five years later, Theobald Smith and Frederick L. Kilborne identified a tick as the vector for transmission of Babesia bigemina in Texas cattle.2 This seminal observation established for the first time that an arthropod could transmit an infectious agent to a vertebrate host.
The first documented human case of babesiosis was not recognized until about a half century later, when a splenectomized Croatian herdsman rapidly succumbed to an infection subsequently attributed to B. divergens.3 The first case in an immunocompetent person was identified on Nantucket Island, off the coast of Massachusetts, in 1969.4 The causative agent was B. microti,and the vector was the Ixodes dammini tick (now referred to as I. scapularis).5 Additional cases occurred on the island, and the disease became known as "Nantucket fever." During the past decade, the incidence and geographic distribution of babesiosis have increased in the northeastern and upper midwestern regions of the United States. B. microti infection is almost as common as Lyme disease in some areas of southern New England, an observation that is consistent with the high prevalence of B. microti–infected ticks in the region.6-8 Babesiosis is now classified as a nationally notifiable disease and is recognized as an emerging health risk in several parts of the world.9,10
EPIDEMIOLOGY AND TRANSMISSION
More than 100 babesia species infect a wide array of wild and domestic animals, but only a few have been documented to infect humans.5,10-12 The overwhelming majority of cases in the United States are caused by B. microti. Such cases occur in the Northeast and upper Midwest, primarily from May through October (Figure 1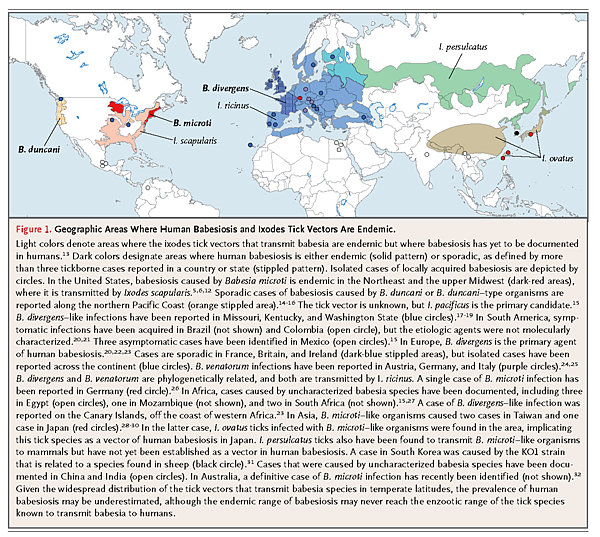 ).10,12 The emergence of babesiosis in these regions has primarily been attributed to the expansion of the white-tailed deer population, encroachment of local communities on wildlife habitats, and greater awareness of the disease on the part of the public and physicians, although cases remain underreported.6,33-35 A small number of cases caused by B. duncani and B. duncani–type organisms have been identified on the Pacific Coast from northern California to Washington State.14-16 Sporadic cases of infection with B. divergens–like organisms have been documented in Kentucky, Missouri, and Washington State.17-19In Europe, most reported cases have been attributed to B. divergens, and a few have been caused by B. venatorum (formerly called EU1) and B. microti.20,22-26 In Asia, B. microti–like organisms have caused illness in Japan and Taiwan, whereas a new babesia agent (KO1 strain) has been identified in South Korea.28-31 Sporadic cases of babesiosis have been reported in Africa, Australia, and South America.15,20,21,27,32
B. microti is primarily transmitted to people by I. scapularis.34 Progression of I. scapularis through each of the three stages of its life cycle (larva, nymph, and adult) requires a blood meal from a vertebrate host (Figure 2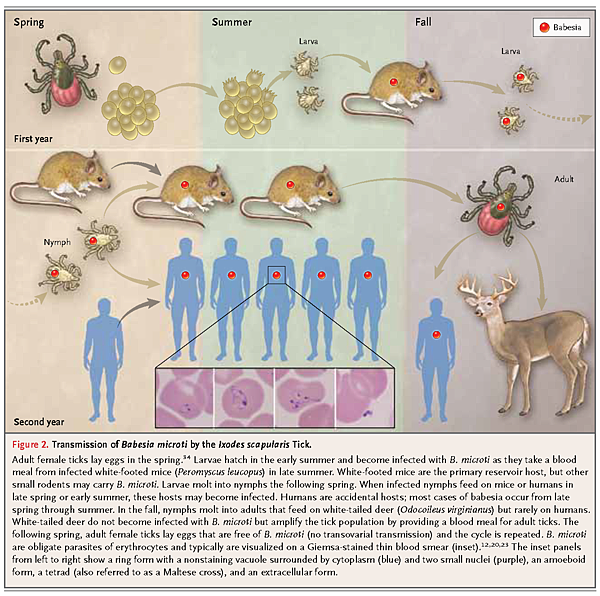 Transmission ofBabesia microti by theIxodes scapularis Tick.