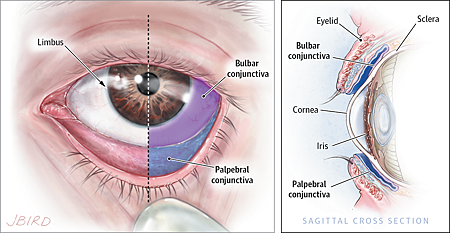 A Systematic Review of Diagnosis and Treatment
ABSTRACT
Importance Conjunctivitis is a common problem.
Objective To examine the diagnosis, management, and treatment of conjunctivitis, including various antibiotics and alternatives to antibiotic use in infectious conjunctivitis and use of antihistamines and mast cell stabilizers in allergic conjunctivitis.
Evidence Review A search of the literature published through March 2013, using PubMed, the ISI Web of Knowledge database, and the Cochrane Library was performed. Eligible articles were selected after review of titles, abstracts, and references.
Findings Viral conjunctivitis is the most common overall cause of infectious conjunctivitis and usually does not require treatment; the signs and symptoms at presentation are variable. Bacterial conjunctivitis is the second most common cause of infectious conjunctivitis, with most uncomplicated cases resolving in 1 to 2 weeks. Mattering and adherence of the eyelids on waking, lack of itching, and absence of a history of conjunctivitis are the strongest factors associated with bacterial conjunctivitis. Topical antibiotics decrease the duration of bacterial conjunctivitis and allow earlier return to school or work. Conjunctivitis secondary to sexually transmitted diseases such as chlamydia and gonorrhea requires systemic treatment in addition to topical antibiotic therapy. Allergic conjunctivitis is encountered in up to 40% of the population, but only a small proportion of these individuals seek medical help; itching is the most consistent sign in allergic conjunctivitis, and treatment consists of topical antihistamines and mast cell inhibitors.
Conclusions and Relevance The majority of cases in bacterial conjunctivitis are self-limiting and no treatment is necessary in uncomplicated cases. However, conjunctivitis caused by gonorrhea or chlamydia and conjunctivitis in contact lens wearers should be treated with antibiotics. Treatment for viral conjunctivitis is supportive. Treatment with antihistamines and mast cell stabilizers alleviates the symptoms of allergic conjunctivitis.
Conjunctiva is a thin, translucent membrane lining the anterior part of the sclera and inside of the eyelids. It has 2 parts, bulbar and palpebral. The bulbar portion begins at the edge of the cornea and covers the visible part of the sclera; the palpebral part lines the inside of the eyelids (Figure 1). Inflammation or infection of the conjunctiva is known as conjunctivitis and is characterized by dilatation of the conjunctival vessels, resulting in hyperemia and edema of the conjunctiva, typically with associated discharge.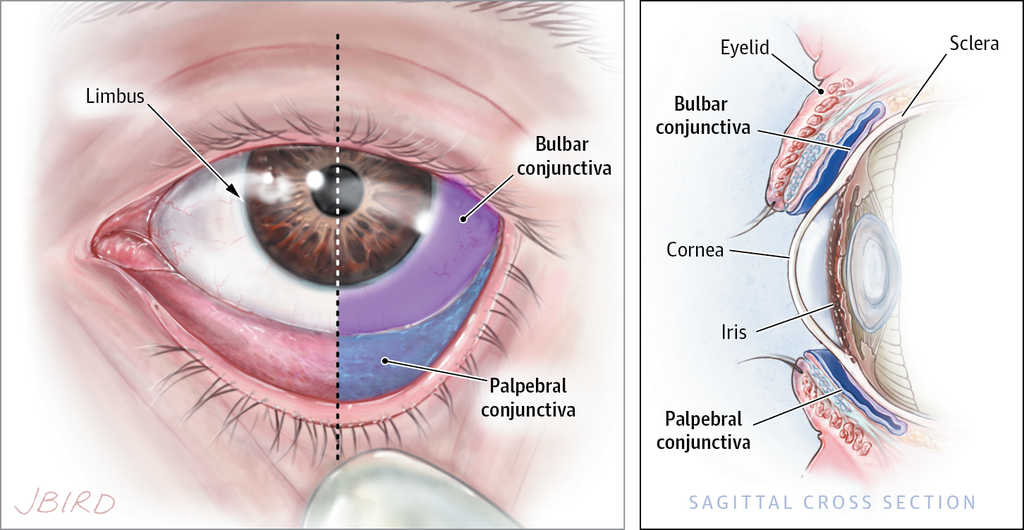 Figure 1.
The conjunctiva is a thin membrane covering the sclera (bulbar conjunctiva, labeled with purple) and the inside of the eyelids (palpebral conjunctiva, labeled with blue).
It is important to differentiate conjunctivitis from other sight-threatening eye diseases that have similar clinical presentation and to make appropriate decisions about further testing, treatment, or referral. An algorithmic approach (Figure 2) using a focused ocular history along with a penlight eye examination may be helpful in diagnosis and treatment. Because conjunctivitis and many other ocular diseases can present as "red eye," the differential diagnosis of red eye and knowledge about the typical features of each disease in this category are important (Table 1).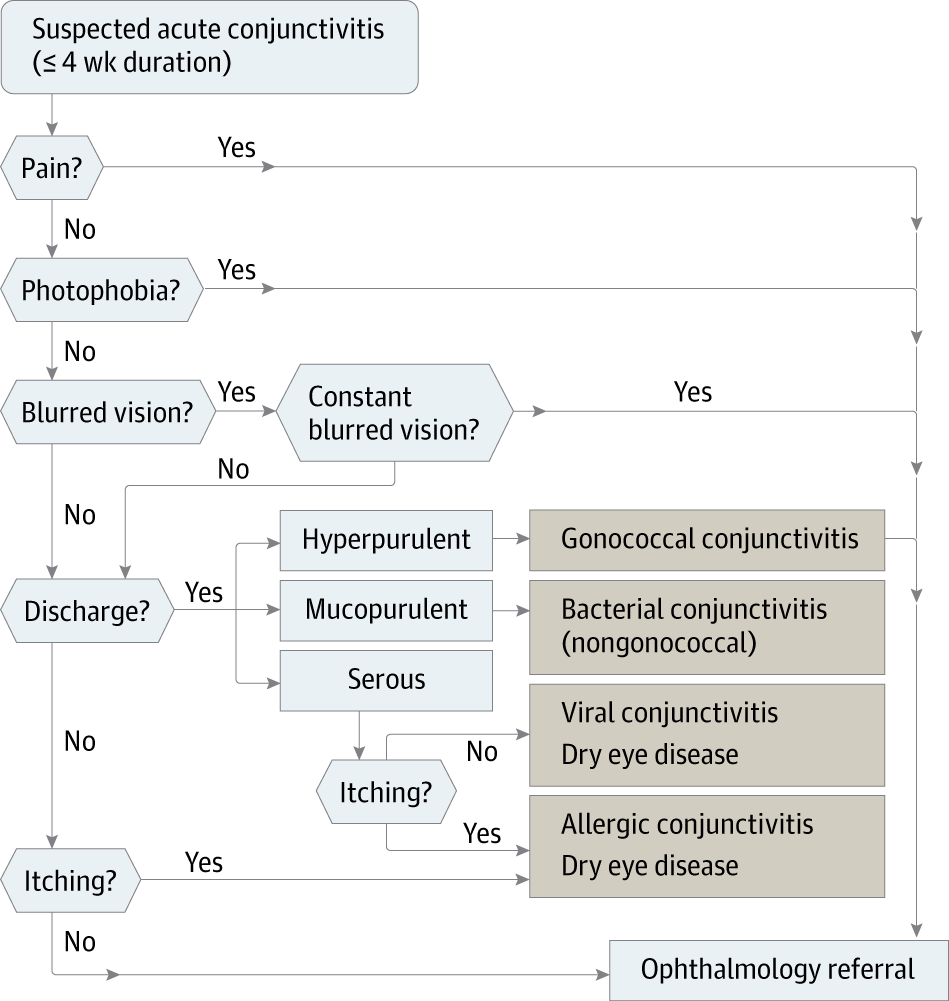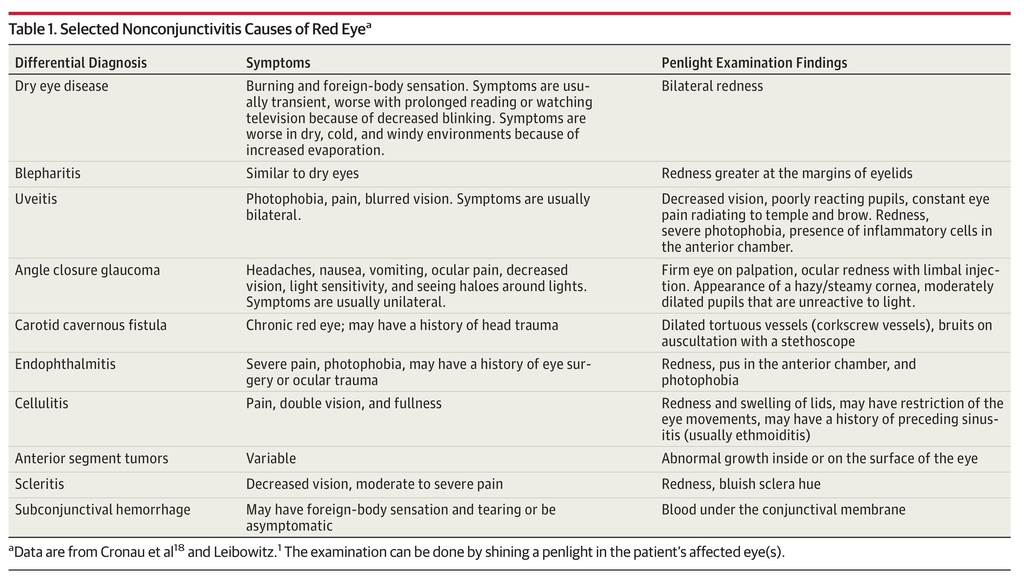 METHODS
The literature published through March 2013 was reviewed by searching PubMed, the ISI Web of Knowledge database, and the Cochrane Library. The following keywords were used: bacterial conjunctivitis, viral conjunctivitis, allergic conjunctivitis, treatment of bacterial conjunctivitis, and treatment of viral conjunctivitis. No language restriction was applied. Articles published between March 2003 and March 2013 were initially screened. After review of titles, abstracts, text, and references for the articles, more were identified and screened. Articles and meta-analyses that provided evidence-based information about the cause, management, and treatment of various types of conjunctivitis were selected. A total of 86 articles were included in this review. The first study8 was published in 1982 and the last19 in 2012. A level of evidence was assigned to the recommendations presented in Table 2 and Table 3 with the American Heart Association grading system: "The strongest weight of evidence (A) is assigned if there are multiple randomized trials with large numbers of patients. An intermediate weight (B) is assigned if there are a limited number of randomized trials with small numbers of patients, careful analyses of non-randomized studies, or observational registries. The lowest rank of evidence (C) is assigned when expert consensus is the primary basis for the recommendation.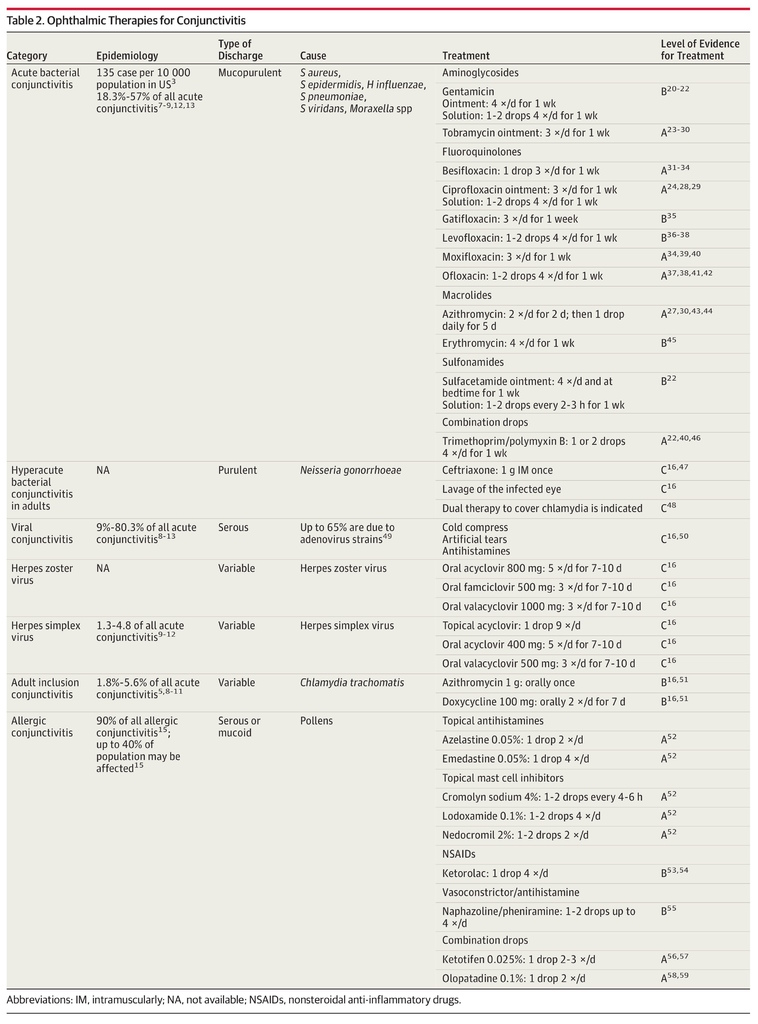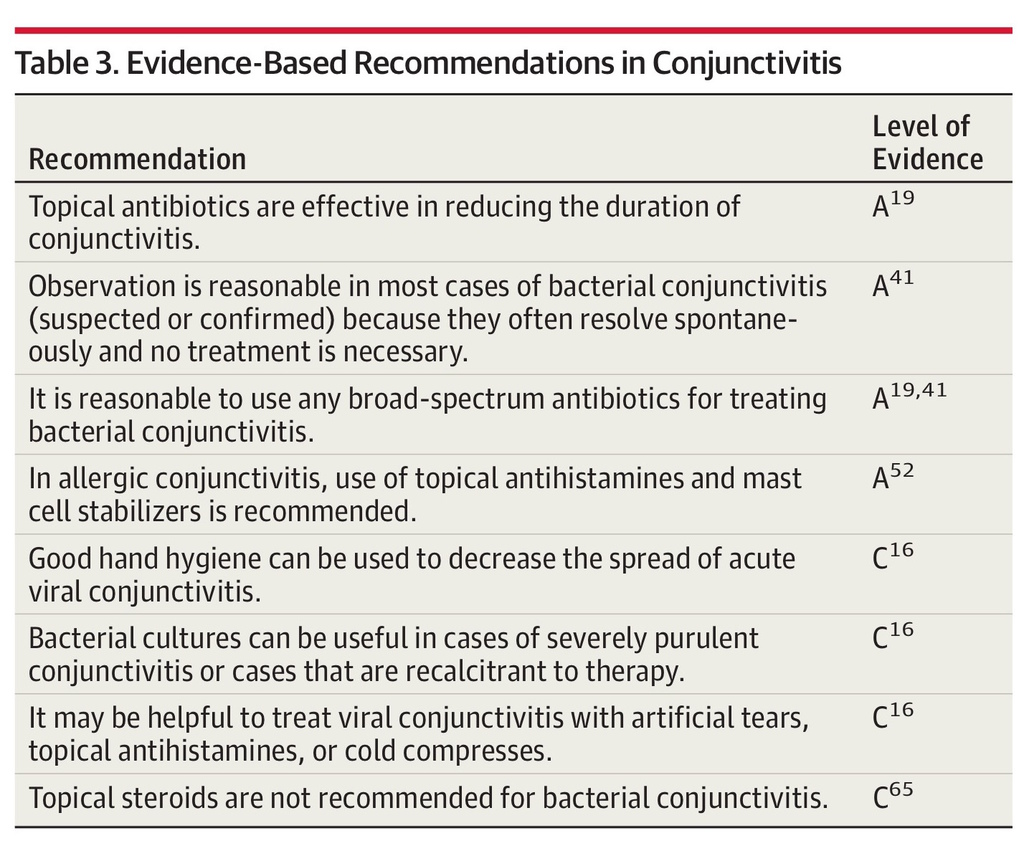 HOW TO DIFFERENTIATE CONJUNCTIVITIS OF DIFFERENT ORIGINS
A, Bacterial conjunctivitis characterized by mucopurulent discharge and conjunctival hyperemia. B, Severe purulent discharge seen in hyperacute bacterial conjunctivitis secondary to gonorrhea. C, Intensely hyperemic response with thin, watery discharge characteristic of viral conjunctivitis. Images reproduced with permission: © 2013 American Academy of Ophthalmology.

In-office rapid antigen testing is available for adenoviruses and has 89% sensitivity and up to 94% specificity.66 This test can identify the viral causes of conjunctivitis and prevent unnecessary antibiotic use. Thirty-six percent of conjunctivitis cases are due to adenoviruses, and one study estimated that in-office rapid antigen testing could prevent 1.1 million cases of inappropriate treatment with antibiotics, potentially saving $429 million annually.
INFECTIOUS CONJUNCTIVITIS
Trachoma is caused by Chlamydia trachomatis subtypes A through C and is the leading cause of blindness, affecting 40 million people worldwide in areas with poor hygiene.79,80 Mucopurulent discharge and ocular discomfort may be the presenting signs and symptoms in this condition. Late complications such as scarring of the eyelid, conjunctiva, and cornea may lead to loss of vision. Treatment with a single dose of oral azithromycin (20 mg/kg) is effective. Patients may also be treated with topical antibiotic ointments for 6 weeks (ie, tetracycline or erythromycin). Systemic antibiotics other than azithromycin, such as tetracycline or erythromycin for 3 weeks, may be used alternatively.
NONINFECTIOUS CONJUNCTIVITIS
Steroid drops or combination drops containing steroids should not be used routinely. Steroids can increase the latency of the adenoviruses, therefore prolonging the course of viral conjunctivitis. In addition, if an undiagnosed corneal ulcer secondary to herpes, bacteria, or fungus is present, steroids can worsen the condition, leading to corneal melt and blindness.
CONCLUSIONS
Physicians must be vigilant to not overlook sight-threatening conditions with similarities to conjunctivitis, as summarized in Table 1.
JAMA也有提供患者衛教單張: