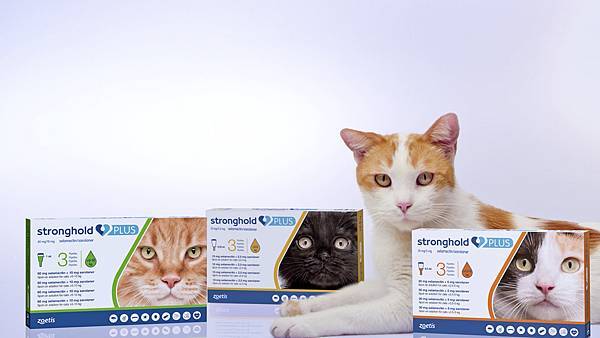 Stronghold® Plus (selamectin/sarolaner), a topical combination of parasiticides that treats ticks, fleas, ear mites, lice and gastrointestinal nematodes and prevents heartworm disease in cats. (Photo: Zoetis)
A new topical parasiticide for cats combines the active ingredient in Stronghold – selamectin – with sarolaner for broadened and extended spectrum of protection

Company introduces first combination product building on its sarolaner platform in the $4.2 billion companion animal parasiticide marke
PARSIPPANY, N.J.--(BUSINESS WIRE)--Zoetis Inc. (NYSE:ZTS) today announced that the European Commission has granted the company a license for Stronghold® Plus (selamectin/sarolaner), a topical combination of parasiticides that treats ticks, fleas, ear mites, lice and gastrointestinal nematodes and prevents heartworm disease in cats.
Veterinarians across the European Union now have a treatment choice that leverages the benefits of sarolaner, a new innovation in the class of isoxazolines, without sacrificing the broad spectrum protection, safety or ease of use they expect.
"The approval of Stronghold Plus enables Zoetis to offer veterinarians a new topical choice that treats the parasites commonly presenting a threat to cats with one convenient monthly dose," said Dr. Catherine Knupp, Executive Vice President and President, Research and Development at Zoetis. "For the first time, we have combined our new, versatile parasiticide sarolaner with the active ingredient in Stronghold, selamectin, resulting in the first approval of sarolaner for use in cats. We see sarolaner as a promising platform for future product lines and lifecycle innovations and are pleased with the positive data that sarolaner and its combination continue to generate in studies."
The market for companion animal parasitic medicines was valued at more than $4.2 billion in 2015, with a compound annual growth rate of about 5% over the previous five years, according to Vetnosis1.
Domenico Otranto, Professor of Parasitology at The University of Bari in Italy, who recently reviewed the product data of Stronghold Plus, said: "A number of laboratory and field studies show the efficacy of the single spot-on application of Stronghold Plus for at least one month. Veterinarians in the European Union will now have a very effective option for the treatment and control of four prominent species of ticks commonly found on cats while maintaining proven efficacy against fleas, GI worms, heartworms, ear mites and lice. Ultimately, pet owners and practitioners have a new tool for improving the health and welfare of cats."
Dr. Michael Stegemann, Senior Director of Veterinary Research and Development at Zoetis, said: "Stronghold Plus was entirely discovered and developed by Zoetis scientists. It provides fast, sustained coverage from the fleas and ticks most often found on cats. The combined action of sarolaner and selamectin allows Stronghold Plus to kill four species of ticks, and it lengthens the duration of protection against fleas to five full weeks with no drop in efficacy at the end of the dosing period -- all without sacrificing protection from other important internal and external feline parasites. We're excited to be able to bring this innovation to veterinarians across the European Union."
About Stronghold Plus product efficacy and safety:
The active substances in Stronghold Plus are selamectin and sarolaner, a new combination of parasiticides. Selamectin has adulticidal, ovicidal and larvicidal activity against fleas (Ctenocephalides spp). Selamectin is also active against ear mites, lice, gastrointestinal nematodes and prevents heartworm disease through its efficacy against Dirofilaria immitis larvae. Sarolaner is a new acaricide and insecticide belonging to the isoxazoline class: it is efficacious against ticks, fleas and mites. The most common side effects of Stronghold Plus are mild and transient pruritus at the application site. Mild to moderate alopecia at the application site, erythema and drooling have been uncommonly observed.
For more information about Stronghold Plus, click here.
About Zoetis
Zoetis is the leading animal health company, dedicated to supporting its customers and their businesses. Building on more than 60 years of experience in animal health, Zoetis discovers, develops, manufactures and markets veterinary vaccines and medicines, complemented by diagnostic products and genetic tests and supported by a range of services. Zoetis serves veterinarians, livestock producers and people who raise and care for farm and companion animals with sales of its products in more than 100 countries. In 2015, the company generated annual revenue of $4.8 billion with approximately 9,000 employees. For more information, visit www.zoetis.com .
DISCLOSURE NOTICES
Forward-Looking Statements: This press release contains forward-looking statements, which reflect the current views of Zoetis with respect to business plans or prospects, expectations regarding products and other future events. These statements are not guarantees of future performance or actions. Forward-looking statements are subject to risks and uncertainties. If one or more of these risks or uncertainties materialize, or if management's underlying assumptions prove to be incorrect, actual results may differ materially from those contemplated by a forward-looking statement. Forward-looking statements speak only as of the date on which they are made. Zoetis expressly disclaims any obligation to update or revise any forward-looking statement, whether as a result of new information, future events or otherwise. A further list and description of risks, uncertainties and other matters can be found in our Annual Report on Form 10-K for the fiscal year ended December 31, 2015, including in the sections thereof captioned "Forward-Looking Statements and Factors That May Affect Future Results" and "Item 1A. Risk Factors," in our Quarterly Reports on Form 10-Q and in our Current Reports on Form 8-K. These filings and subsequent filings are available online at www.sec.gov , www.zoetis.com , or on request from Zoetis.
1 Vetnosis, Animal Health Service: Parasiticides Report (Sept. 2016)