DESCRIPTION
PREZISTA™ (darunavir) is an inhibitor of the human immunodeficiency virus (HIV) protease.
PREZISTA™ (darunavir), in the form of darunavir ethanolate, has the following chemical name: [(1S,2R)-3-[[(4-aminophenyl)sulfonyl](2-methylpropyl)amino]-2-hydroxy-1-(phenylmethyl)propyl]-carbamic acid (3R,3aS,6aR)-hexahydrofuro[2,3-b]furan-3-yl ester monoethanolate. Its molecular formula is C27H37N3O7S • C2H5OH and its molecular weight is 593.73. Darunavir ethanolate has the following structural formula: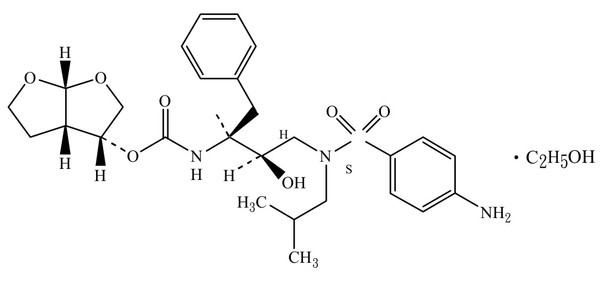 Darunavir ethanolate is a white to off-white powder with a solubility of approximately 0.15 mg/mL in water at 20°C.
PREZISTA is available as an orange, oval-shaped, film-coated tablet for oral administration. Each tablet contains darunavir ethanolate equivalent to 300 mg of darunavir. Each tablet also contains the inactive ingredients colloidal silicon dioxide, crospovidone, magnesium stearate, and microcrystalline cellulose. The tablet film coating, OPADRY® Orange, contains FD&C Yellow No. 6, polyethylene glycol 3350, polyvinyl alcohol-partially hydrolyzed, talc, and titanium dioxide.
All dosages for PREZISTA are expressed in terms of the free form of darunavir.Patient Information Sheet
This is a summary of the most important information about Prezista. For details, talk to your healthcare professional.
What Is Prezista?
Prezista is an oral tablet used for the treatment of HIV (Human Immunodeficiency Virus) infection in adults. HIV is the virus that causes AIDS (Acquired Immune Deficiency Syndrome). Prezista is a type of anti-HIV drug called a protease inhibitor.
Prezista does not cure HIV infection or AIDS. At present, there is no cure for HIV infection. People taking Prezista may still develop infections or other conditions associated with HIV infection. Because of this, it is very important for you to remain under the care of a doctor. Although Prezista is not a cure for HIV or AIDS, Prezista can help reduce your risks of getting illnesses associated with HIV infection (AIDS and opportunistic infection) and eventually dying from these conditions.
Prezista does not reduce the risk of passing HIV to others through sexual contact, sharing needles, or being exposed to your blood.
When used with other anti-HIV medicines, Prezista may reduce the amount of HIV in your blood and increase your CD4 cell count. Reducing the amount of HIV and increasing the CD4 cell count may improve your immune system and, thus, reduce the risk of death or infections that can happen when your immune system is weak.
Mechanism of Action
Darunavir is an inhibitor of the HIV-1 protease. It selectively inhibits the cleavage of HIV encoded Gag-Pol polyproteins in infected cells, thereby preventing the formation of mature virus particles.
Antiviral Activity
Darunavir exhibits activity against laboratory strains and clinical isolates of HIV-1 and laboratory strains of HIV-2 in acutely infected T-cell lines, human peripheral blood mononuclear cells and human monocytes/macrophages with median EC50 values ranging from 1.2 to 8.5 nM (0.7 to 5.0 ng/mL). Darunavir demonstrates antiviral activity in cell culture against a broad panel of HIV-1 group M (A, B, C, D, E, F, G), and group O primary isolates with EC50 values ranging from < 0.1 to 4.3 nM. The EC50 value of darunavir increases by a median factor of 5.4 in the presence of human serum. Darunavir did not show antagonism when studied in combination with the protease inhibitors amprenavir, atazanavir, indinavir, lopinavir, nelfinavir, ritonavir, saquinavir, or tipranavir, the N(t)RTIs abacavir, didanosine, emtricitabine, lamivudine, stavudine, tenofovir, zalcitabine, or zidovudine, the NNRTIs delavirdine, efavirenz, or nevirapine, and the fusion inhibitor enfuvirtide.
Who Should Not Take Prezista?
Do not take Prezista if you:
• are allergic to darunavir or any of the other ingredients in Prezista
• are allergic to ritonavir (Norvir)
• take any of the following types of medicines because you could experience serious side effects:
o antihistamines (to treat allergy symptoms)
o ergot derivatives (to treat migraine and headaches)
o gastrointestinal motility agents (to treat some digestive conditions)
o neuroleptics (to treat psychiatric conditions)
o sedative/hypnotics (to treat trouble with sleeping and/or anxiety)
What Are The Risks?
The following are the major potential risks and side
effects of Prezista therapy. However, this list is not complete.
• Mild to moderate rash has been reported in 7% of subjects receiving Prezista. In some patients, Prezista has been reported to cause a severe or life-threatening rash. Contact your healthcare provider if you develop a rash.
• High blood sugar (hyperglycemia) and diabetes. This can happen in patients taking Prezista or other protease inhibitor medicines. Some patients have diabetes before starting treatment with Prezista which gets worse. Some patients get diabetes during treatment with Prezista. Some patients will need changes in their diabetes medicine. Some patients may need new diabetes medicine.
• Increased bleeding in patients with hemophilia. This may happen in patients taking Prezista as it has been reported with other protease inhibitor medicines.
• Changes in body fat. These changes can happen in patients taking anti-HIV medicines. The changes may include an increased amount of fat in the upper back and neck, breast, and around the back, chest, and stomach area. Loss of fat from the legs, arms, and face may also happen.
• Immune reconstitution syndrome. In some patients with advanced HIV infection (AIDS) and a history of opportunistic infection, signs and symptoms of inflammation from previous infections may occur soon after anti-HIV treatment is started. It is believed that these symptoms are due to an improvement in the body's immune response, enabling the body to fight infections that may have been present with no obvious symptoms.
• The most common side effects that may occur with Prezista include: diarrhea, nausea, headache, and common cold.
What Should I Tell My Healthcare Professional?
Before you start taking Prezista, tell your healthcare professional if you:
• are allergic to sulfa medicines.
• have diabetes. In general, anti-HIV medicines, such as Prezista, might increase sugar levels in the blood.
• have liver problems.
• have hemophilia. Anti-HIV medicines, such as Prezista, might increase the risk of bleeding.
• are pregnant or planning to become pregnant. The effects of Prezista on pregnant women or their unborn babies are not known. You and your doctor will need to decide if taking Prezista is right for you. If you take Prezista while you are pregnant, talk to your doctor about how you can be included in the Antiretroviral Pregnancy Registry.
• are breastfeeding. Do not breastfeed if you are taking Prezista. You should not breastfeed if you have HIV because of the chance of passing HIV to your baby. Talk with your doctor about the best way to feed your baby.
Can Other Medicines Or Food Affect Prezista?
Prezista and certain other medicines can interact with each other. Tell your healthcare professional about all the medicines you take including prescription and non-prescription medicines, vitamins, and herbal supplements, including St. John's wort. Sometimes serious side effects will happen if Prezista is taken with certain other medicines. Know the medicines you take. Keep a list of them with you to show your healthcare professional.
Especially tell your healthcare professional if you take:
• any of the medicines listed in "Who Should Not Take Prezista"
• estrogen-based contraceptives. You must take additional precautions for birth control such as a condom.
• other anti-HIV medicines. Prezista can be combined with some other anti-HIV medicines while other combinations are not recommended.
• antiarrhythmics (to treat abnormal heart rhythms)
• anticoagulants (to prevent the clotting of red blood cells called platelets)
• anticonvulsants (to treat epilepsy and prevent seizures)
• antidepressants
• anti-infectives (to treat bacterial infections)
• antifungals (to treat fungal infections)
• antimycobacterials (to treat bacterial infections)
• calcium channel blockers (to treat heart disease)
• corticosteroids (to treat inflammation or asthma)
• HMG-CoA reductase inhibitors (to lower cholesterol levels)
• immunosuppressants (to prevent organ transplant rejection)
• narcotic analgesics
• PDE-5 inhibitors (to treat erectile dysfunction)
• selective serotonin reuptake inhibitors (SSRIs)
(to treat depression, anxiety, or panic disorder)
How Should I Take Prezista?
• Take Prezista tablets every day exactly as prescribed by your doctor. You must take ritonavir (Norvir) at the same time as Prezista.
• Take Prezista and ritonavir (Norvir) with food. The type of food is not important.
• Swallow the whole tablets with a drink such as water or milk. Do not chew the tablets.
• Continue taking Prezista and ritonavir (Norvir) unless your doctor tells you to stop. Take the exact amount that your doctor tells you to take, right from the very start. Do not skip doses or interrupt therapy.
• If you miss a dose of Prezista or ritonavir (Norvir) by more than 6 hours, wait and then take the next dose of Prezista and ritonavir (Norvir) at the regularly scheduled time. If you miss a dose of Prezista or ritonavir (Norvir) by less than 6 hours, take your missed dose of Prezista and ritonavir (Norvir) immediately. Then take your next dose of Prezista and ritonavir (Norvir) at the regularly scheduled time.
Date Approved: 06/23/06
以上資訊來自藥廠及FDA